Luscious, creamy vanilla cheesecake bars with a swirl of fresh peach puree and a sweet and salty pecan-infused cookie crust are just what you need to top off the summer!
Baking cheesecake in bar form transforms a fussy, formal dessert into a casual, everyday delight—this summery version pairs a delicate vanilla bean cheesecake with a swirl of vibrant peach.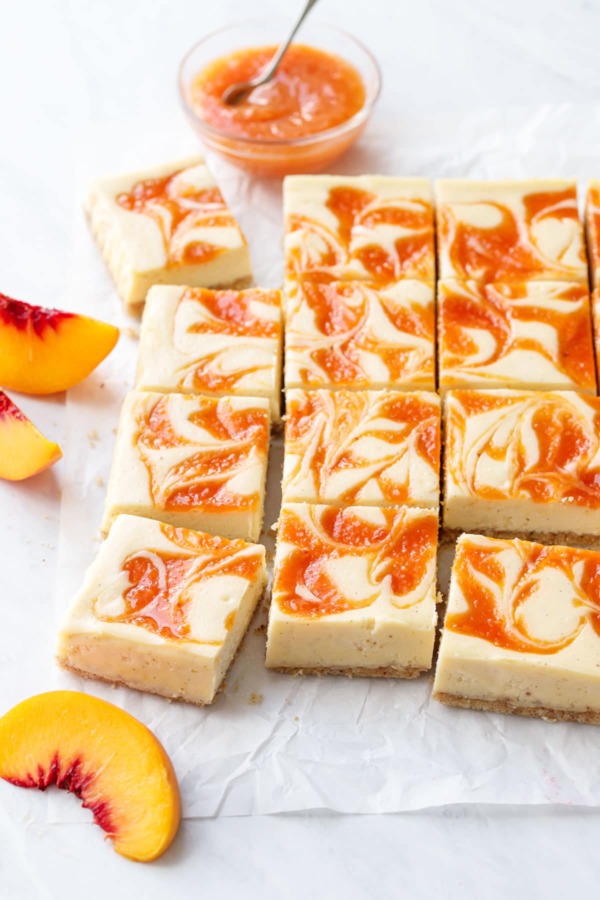 Peach season is sadly coming to an end. I still had a few peaches left from that box of seconds I bought that needed to be used. And after toying with the idea of some sort of pie or cobbler bar, I ultimately decided to make a cheesecake since I feel like cheescakes are lacking representation on this here blog (I admit to being slightly biased towards other desserts… cream cheese just isn't my favorite thing in the world). That said, I can totally get behind a really good cheesecake, and these peachy squares are just that.
The delicate vanilla bean cheesecake and the sweet and salty pecan and vanilla wafer crust combined with the bright and fruity peach swirl on top makes for a truly wonderful (and gorgeous) combination.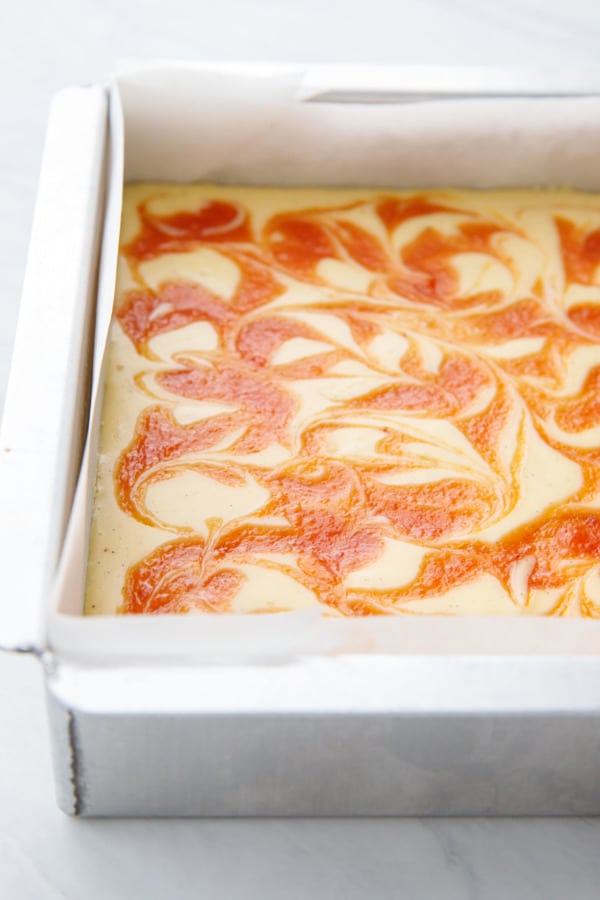 This recipe is loosely based on my blueberry crème fraîche cheesecake, minus the blueberries and the top glaze (because why cover up that beautiful swirl?) It's my favorite cheesecake base, light and silky smooth with a bit of tang from the crème fraîche that cuts the sweetness perfectly.
Obviously I had to make some adjustments in addition to the peach swirl (namely halving the recipe, removing the blueberry, and adding vanilla bean paste for a subtle vanilla flavor and precious vanilla bean specks throughout). I was optimistic that it would translate into bars, and was pleasantly surprised that these turned out so well on the first try. That's the sign of a solid recipe, when it can be adapted into different shapes and sizes without any hassle whatsoever.
I was especially pleased with how defined the peach swirl turned out; I was worried about it sinking or bubbling but it stayed pretty much pristine throughout the entire baking process!