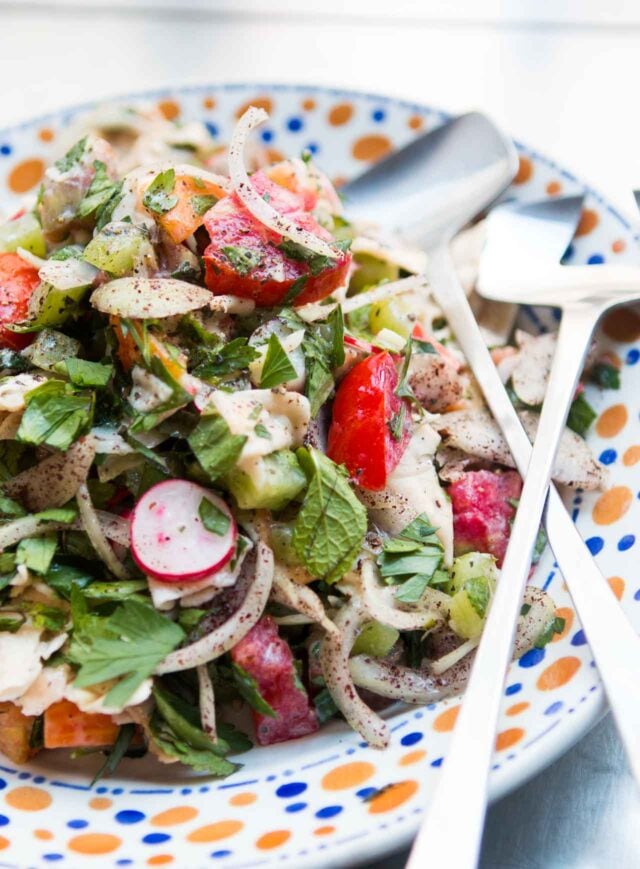 One of my very favorite salads is Fattoush. There are various versions of the salad, whose name comes from fatta, which refers to the crumbled or torn pieces of flatbread in the salad. But I've never had Fattoush with buttermilk dressing, so was intrigued when I saw a recipe for it in Falastin: A Cookbook by Sami Tamimi and Tara Wigley, a book which eloquently presents and reflects on Palestinean cuisine, its history, its people, and its culture. As soon as I got the book, the first thing I said to myself was, "This is one of the best books of the year." It's a great book.
A few years back, Sami told me that he was going to do a cookbook that updated the dishes and recipes of his homeland, making them relevant to today, just as he and Yotam Ottolenghi did for the diaspora of Middle Eastern foods in their previous books. Sami admits that this is a non-traditional Fattoush, one that his mother made, but likes it so much that he wanted to share it.
Continue Reading Buttermilk Fattoush...