This homemade hot fudge sauce recipe couldn't be easier or more delicious. It's sure to be your favorite ice cream topping all summer long.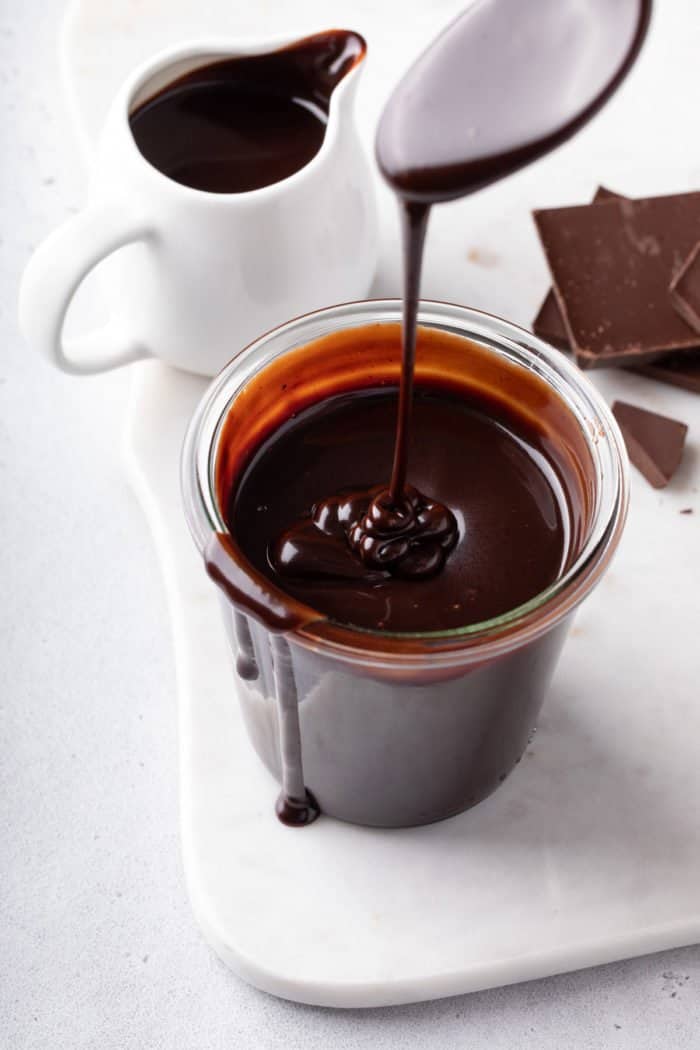 When I was a kid, we briefly lived with my great grandmother, Lottie. She was a magnificent woman and an incredible cook. I was quite young – about 5 or so, but I have some pretty vivid memories of the time we spent in her home.
I remember sitting at her dining room table and coloring for hours with the crayons she kept in an old coffee can, and an old fashioned rotary phone that sat on her perfectly organized desk.
Her home was immaculate and I remember giggling every time she told me to keep my feet off of her davenport.
She had a drawer devoted to her beloved baking tools, and even went so far as to purchase a set of miniature tools just for me. She'd neatly pull my hair back and keep it out of my face with a babushka, and then put a ball of dough in front of me.
We'd sit at the kitchen table for hours, rolling dough and cutting perfect circles with the top of a glass. Then we'd fill, fold, and crimp each of the dough circles to create the most amazing pierogies.
On summer evenings, we'd all load up into the car and head to the ice cream parlor.
I was always a caramel sundae kind of girl, but I remember snagging bites of my dad's Tin Roof Sundaes that were slathered in the most incredible hot fudge sauce. And even though I've never been much of a hot fudge kind of girl myself, Elle can't get enough of all things chocolate.
And during the summers she is all about ice cream, especially when it's topped with a bit of chocolate sauce, Reddi Wip, sprinkles, and – of course – a cherry.
Whether you're out of the jarred stuff or just craving a rich, chocolatey, homemade treat for your favorite ice cream, this homemade hot fudge sauce should definitely be on your summer bucket list!
(more…)
The post Hot Fudge Sauce Recipe appeared first on My Baking Addiction.