These soft and chewy, marzipan-like cookies are stuffed with luscious amarena cherries for a sweet surprise.
Cherry and almond are a truly lovely flavor combination, which makes the dark amarena cherries the perfect filling for these soft Italian amaretti cookies.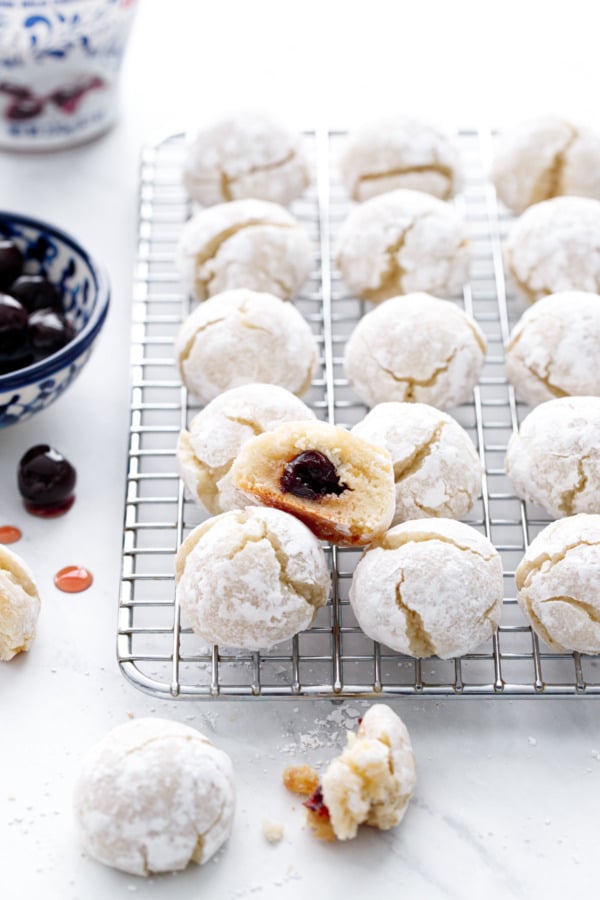 Lately I've been… well, languishing. As you may very well have noticed by the fact that new recipes have been less than abundant around these parts. (Can you believe there was a time I used to post 3 times a week? The past few years I thought I was easing up by doing two. But lately… well, if I can manage one a week that's an achievement. 2 or 3 a month is becoming the new normal.)
It's not that I am not inspired. I've actually got dozens of ideas for new recipes in my draft calendar, just no actual motivation to put down my latest book and make anything.
After yet another recipe failure quashed my momentum and vanquished my motivation, leaving me without anything to post for another week… I knew I needed something quick and straightforward that would work on the first try, one that didn't need hours of prep or planning or fancy ingredients.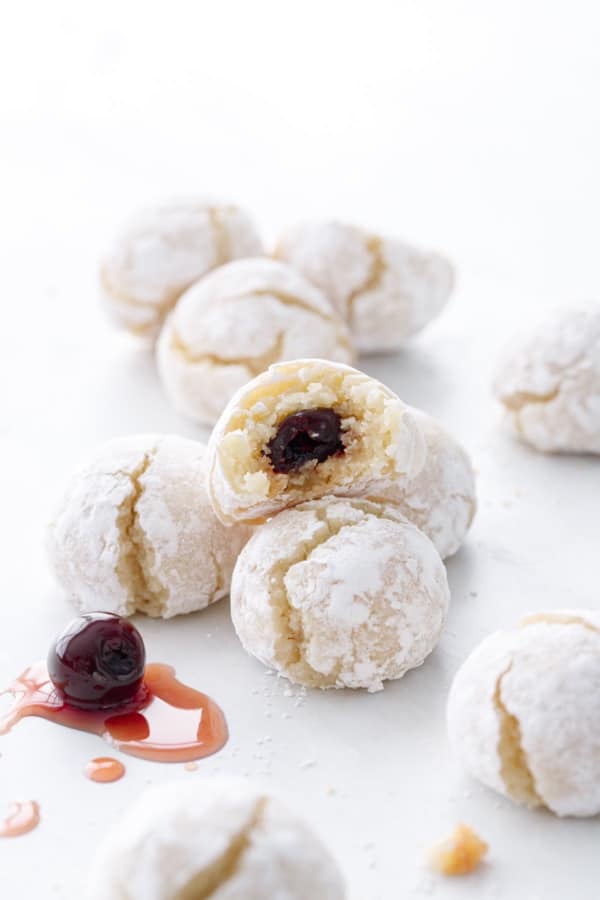 Is it a surprise that I ended up making another variety of my favorite cookie: the amaretti (they're also one of your favorites too, made clear by the fact that at least a few of the flavors typically hovering the top 10 at any given time). This time with a cherry stuffed inside.
Tell me though… at what point am I legally required to rename this blog Love & Amaretti? When the amaretti recipes outnumber the olive oil ones? Because at this point I've done flavored and swirled and stuffed. What's next, amaretti sandwiched or thumbprinted or super-sized and layered into a cake? (Actually, I kind of love that idea.)
If keeping up with a regular posting schedule means unlimited variations of amaretti and coffee cake in lieu of brand new recipes, I'm cool with that. Whatever it takes to get me out of this funk and back into the swing of things.