These glorious glazed pumpkin donut waffles are a must make for fall: with a fluffy, yeasty waffle base infused with pumpkin and brown butter, dipped in a sweet vanilla cardamom glaze.
The yeasted batter gives these waffles a donut-like flavor even before they're glazed, with whipped egg whites and a bit of baking soda for a light and airy texture with a crisp exterior. Make the batter the night before for a guaranteed good morning.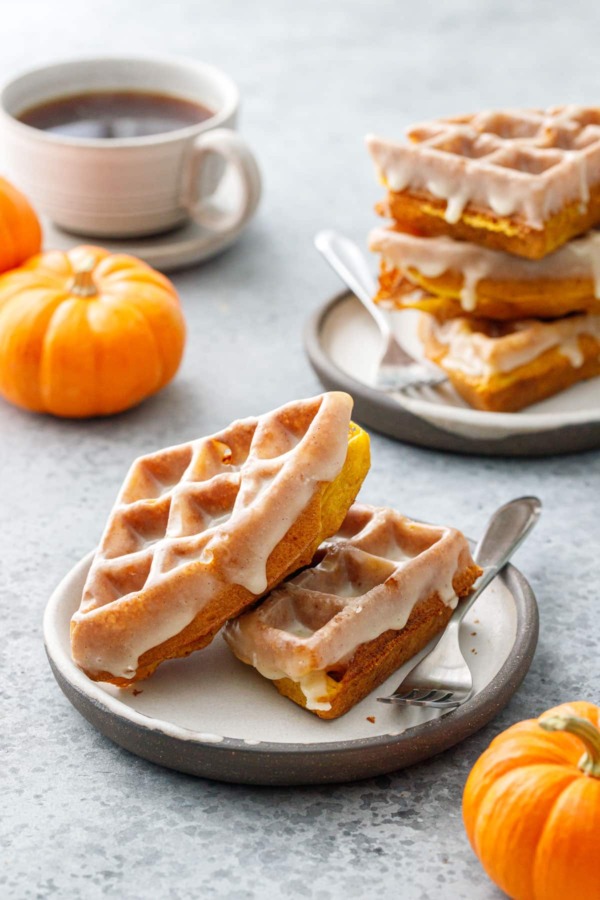 The full name of these waffles could be something like Overnight Yeasted Pumpkin (but NOT Pumpkin Spice) Brown Butter Donut Waffles with Vanilla Cardamom Glaze, but I thought that was rather a mouthful.
Though these waffles certainly are a mouthful (in the best way possible) so maybe it's fitting that the name be too.
The recipe is based on my original Donut Glazed Yeasted Waffle recipe from a few years back, which is still one of my favorites. The waffles are ultra crispy, with a light and fluffy interior and a yeasty flavor that makes them taste just like, you guessed it, a raised donut (NOT a cake donut, let's just clear that up right now).
The waffles are best when the batter sits overnight, which means you pretty much have to do most of the prep ahead of time, ideally the night before. In the morning, you'll just need to mix in the egg yolks and whip the egg whites, then make the waffles and glaze them.
If you'd rather do even more work ahead of time, make the batter two days in advance, make the waffles the day before, then the morning of simply reheat the waffles in the oven (which somehow makes them even crispier) and dip them in the glaze.