An ultra-creamy, deep dish quiche made with caramelized onions, melty cheese, and a crispy phyllo crust for a brunch delight you'll simply adore!
Quiche is a satisfying meal whether enjoyed for brunch, lunch, or even dinner (seriously, you know our feelings on breakfast for dinner so this should be no surprise). This vegetarian cheese & caramelized onion version hits all the right notes.
This recipe was created in partnership with Roth Cheese, award-winning cheeses made in Wisconsin with milk from local family farms. Now available at a store near you!
When it comes to brunch, I used to be all about the sweet. From pancakes to waffles to syrup-slathered French toast, I always gravitated towards the sugar-filled dishes on the menu.
But lately (lately as in 10 months ago when we still went out for brunch… ah the good old days) I've been finding myself coveting Taylor's savory selections more and more.
Does this mean I'm actually becoming a grown up? Not sure how I feel about that idea.
Still, the concept of a savory egg dish for brunch is quite appealing to me now, and this cheesy onion quiche seriously hit the spot (although I have to say after 4 back to back quiches, French toast is sounding awfully good at the moment… and yes, it really did take us 4 tries to nail this recipe because I'm apparently becoming more of a recipe perfectionist in my old[er] age as well.)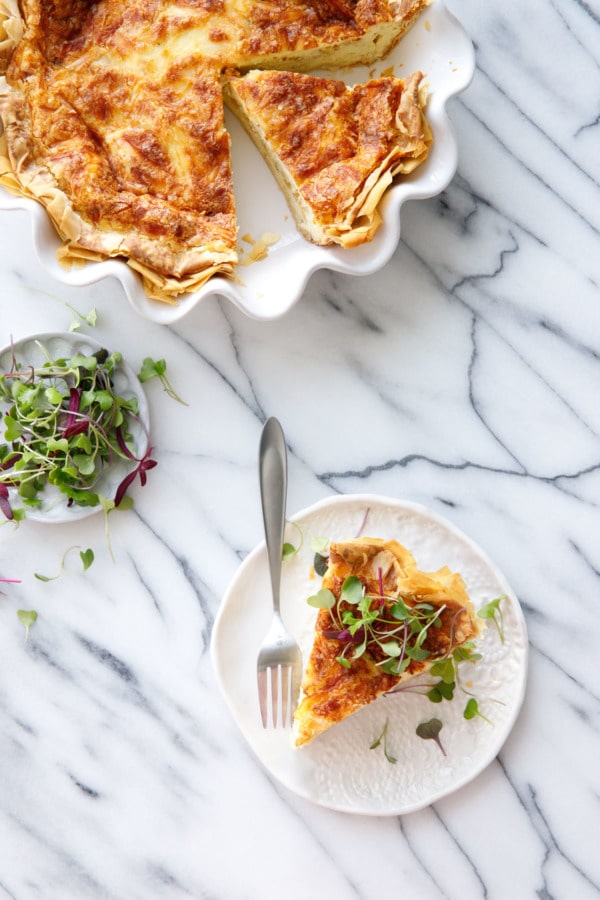 The flavor combination of this quiche pairs golden brown caramelized onions with melty, nutty cheese and an ultra-flaky phyllo dough crust. Sort of like how the best part of French onion soup is the melted cheese on top? Same general flavor combination going on here.
We love the mild nuttiness of the Roth Grand Cru Alpine-style cheese in this recipe—it perfectly compliments the caramelized onions and the rich creaminess of the quiche itself. The cheese is no bully: its mellow flavor won't force itself to the forefront of your tastebuds; rather, it's more of a blank canvas that lifts up the other flavors rather than overpowering them. It's really one of our favorite cheeses for that reason.
The original version is aged 4 months for a mellow, nutty flavor, but Roth also has a 6 month Reserve version and the 9 month Surchoix, which almost takes on a Parmesan-like character.