Celebrate summer with scoop of this fresh peach and goat cheese ice cream: it's bright and peachy with vanilla and almond extracts and just a hint of tangy goat cheese flavor.
Eggless ice creams are a breeze to make and even easier to eat: this one only requires a quick whir in the blender before churning, no heat required.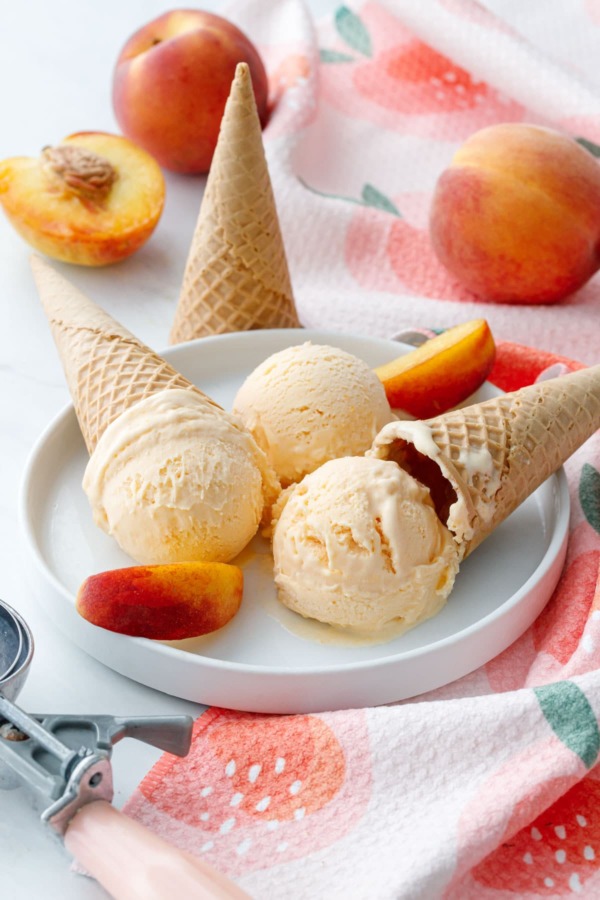 I've been on an ice cream kick this summer, especially now that the summer heat has hit with a vengeance. From toast & jam ice cream to strawberry funfetti ice cream cake, my ice cream machine has gotten plenty of exercise these past few months (I've actually got another ice cream recipe in the chute as well, one with a very interesting flavor you might raise your eyebrow at first, but trust me, it's a good one. Alas, in an effort to spread things out and alternate some savory recipes in there too, you may have to wait a few weeks for that one).
This recipe uses a similar ice cream base as the strawberry buttermilk ice cream I used in my funfetti ice cream cake, simply swapping peaches for strawberries and goat cheese instead of the buttermilk.
Best of all, this ice cream is easy as pie (so the saying goes but honestly, pie is anything but easy, easy as eggless ice cream is much more apt). Simply blend up all the ingredients in a food processor or blender and pour it right into your ice cream maker. No eggs, no tempering, no fuss.
Sometimes I opt to chill my base a bit more before churning (colder base = faster churn time = creamier ice cream), but if all your ingredients are pretty cold to begin with, you have permission to go straight from blender to ice cream maker.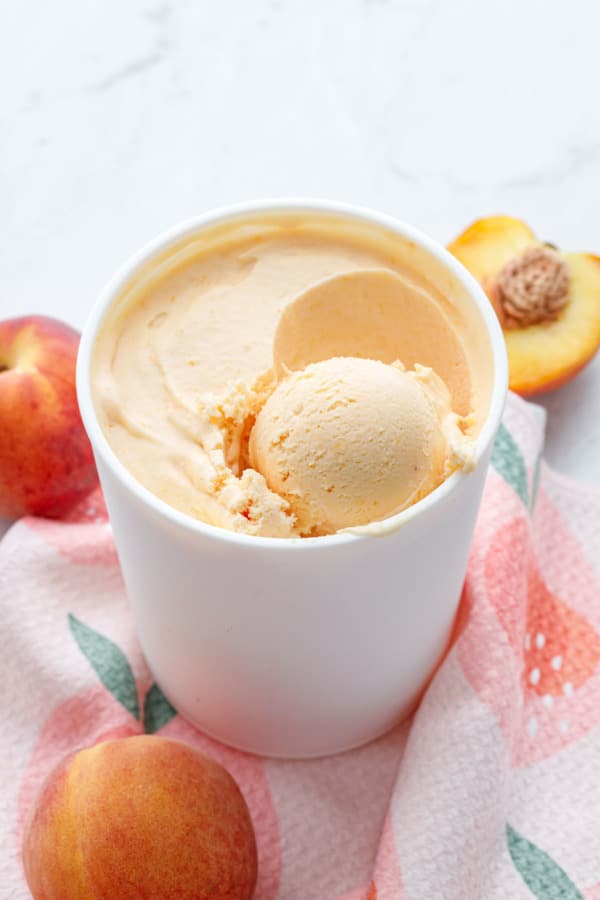 The goat cheese is not an overpowering flavor, rather just a hint, enough to give it some body and tang without veering into funky territory (Taylor was worried about this when I first posed the idea, but trust me that he's more than come around to it after tasting the final product). I do recommend using a mild goat cheese, we picked up a tub of fresh goat cheese at our local farmers market, and it was lovely. I feel like store bought cheeses, the kind in the plastic logs, are typically more pungent in flavor.