Classic crème brûlée gets a nutty new twist in this ultra-creamy pistachio crème brûlée recipe, made with luscious pistachio cream for a gorgeous flavor and color.
With a golden brown caramelized sugar topping a touch of gold leaf for added elegance, this dessert is as stunning as it is easy to prepare, making it perfect for both holiday and everyday entertaining.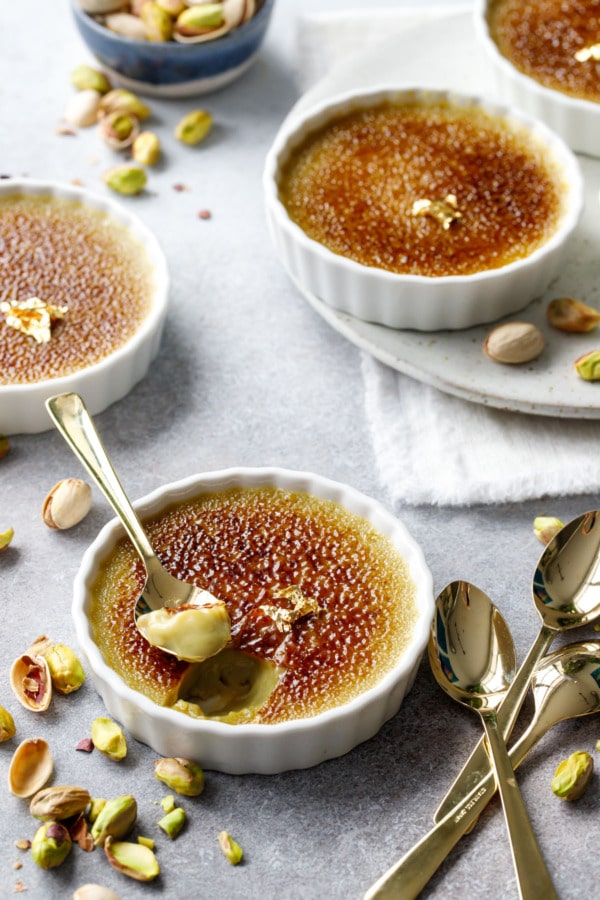 I originally set out to update my pumpkin crème brûlée recipe from years ago (which is delicious, but the photos could definitely be better).
But as I scrolled through the 70+ comments on that recipe (don't you miss the olden days of blogging when we actually got comments?! *sob*). Anyway, one of the comments mentioned having recently made a pistachio crème brûlée and, well, I changed gears real fast.
Luckily I had some pistachio creme left in the pantry from previous recipe experiments (I seriously love this stuff), and so I whipped up a test batch of this pistachio crème brûlée.
And let me tell you… it is perfection.