Roasting carrots brings out their natural sweetness; when topped with a tangy pesto made with the parsley-like carrot tops (just say no to food waste!) it makes for a perfect seasonal side dish.
The feathery carrot greens are blended with sweet basil, pine nuts, olive oil and vinegar to make a tangy green sauce that's a perfect compliment to the natural flavor and sweetness of the carrots.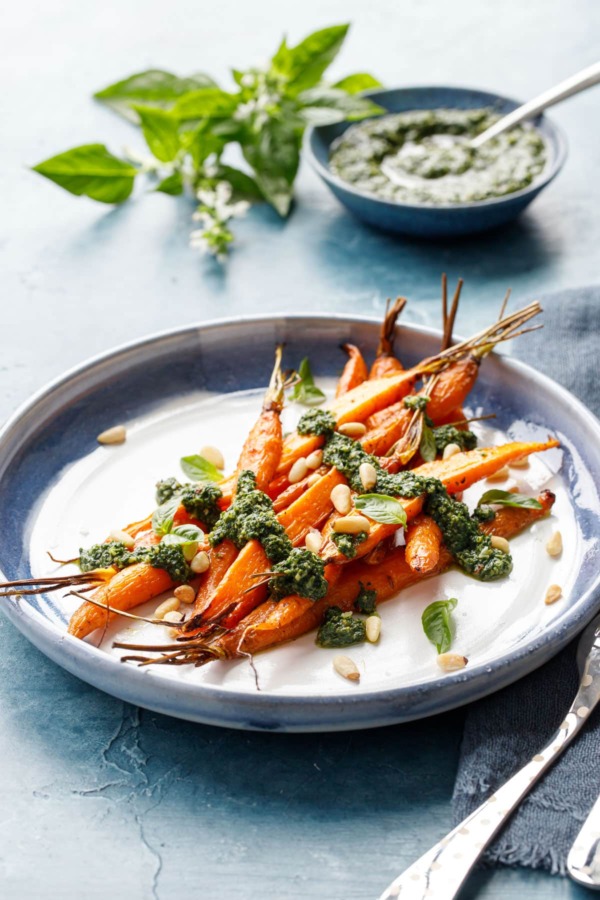 We've been getting big beautiful bundles of carrots in our CSA lately, vibrantly orange and sweet, with plumes of feathery greens still attached that I hate to just throw away (yes, they're edible just like beet greens or turnip greens). Add in bunches of fragrant sweet basil that came with our most recent share, and this recipe basically developed itself.
If you haven't had them before, carrot greens have an earthy, parsley-like flavor that can be used in myriad different ways, including this unique and flavorful pesto-like green sauce. It's somewhat similar to the carrot top pesto I served with this creamy carrot soup; the flavors of the sweet carrot and grassy pesto are perfect compliments to each other. You know what they say, if they grow together, they go together (actually, I don't know anyone who says that, but in this case it totally fits).