Put that sourdough discard to good use and whip up a batch of these fluffy buttermilk pancakes, studded with fresh blueberries and topped with a drizzle of maple syrup.
With a flavor somewhere between a classic buttermilk pancake and a slice of French toast (you can thank the sourdough starter for that), these sourdough pancakes are light, fluffy, and buttery with just a hint of sweetness.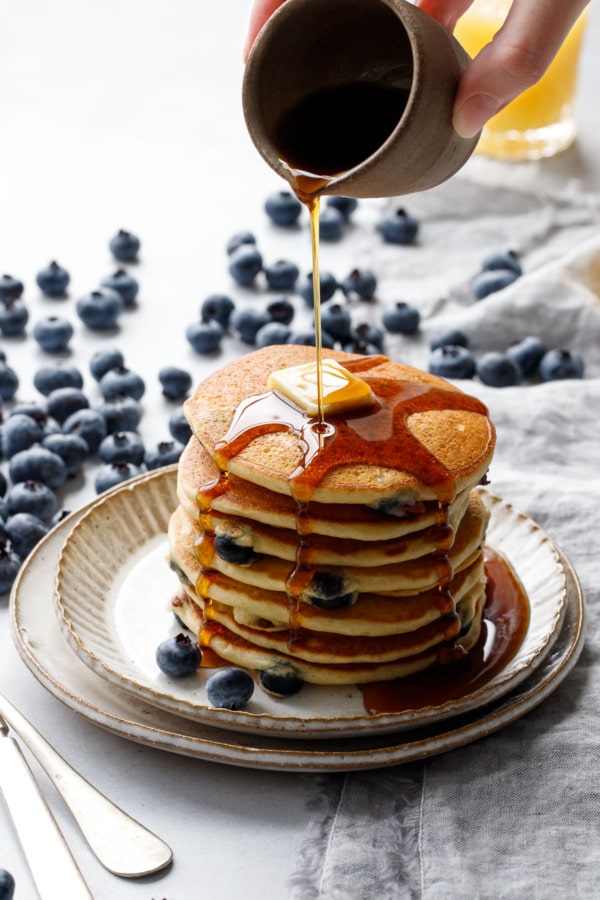 If you haven't given up on your sourdough starter yet, here's another recipe to make use of that discard.
And in fact, these pancakes or so good, you may find yourself feeding the yeasty beast for the discard alone, just to make this recipe.
That's totally allowed. I'm sure your starter, comfy as it is napping in the fridge, will appreciate the exercise, even if it doesn't result in a loaf of homemade bread.
How are these pancakes different from old-fashioned buttermilk pancakes? Upon first taste, you might think they were just regular old blueberry pancakes. They are light and fluffy and buttery and everything that a blueberry pancake should be.
However, as you eat, you might start to notice a hint of… something… a fascinating undertone of flavor that you can't quite pinpoint. All you know is these are possible the best pancakes you've ever tasted.
I like to describe them as a French toast-flavored pancakes. Which, if you think about, makes sense, since ingredient-wise they are almost identical: French toast is made from bread, milk and eggs, and pancakes made from flour, milk and eggs. Yeast, in this case, is the critical difference. So adding some natural yeast in the form of a sourdough starter, it's no wonder they end up tasting a bit like French toast.
Now, sourdough bread has a distinctive sour flavor (I mean, that's why it's called sourdough, right?) but I would in no way describe these pancakes as such. There is a bit of tang, sure, but it's more from the buttermilk, and the blueberries, than the sourdough. I think the sugar and butter tempers the sour flavor, leaving only the yeasty undertones.