There are few things as perfect as a simple chocolate dipped strawberry, and these impressive little entremet cakes transform that classic pairing into a chocolate covered dome of delight, with a luscious strawberry mousse and rich chocolate brownie core.
Featuring a cloud-like strawberry mousse and a square of fudgy chocolate brownie, all covered with a glossy chocolate ganache glaze, these little mousse cakes are as stunning as they are delicious. While entremet-style desserts do require a bit of effort and planning, the work is easily manageable when split over a few days.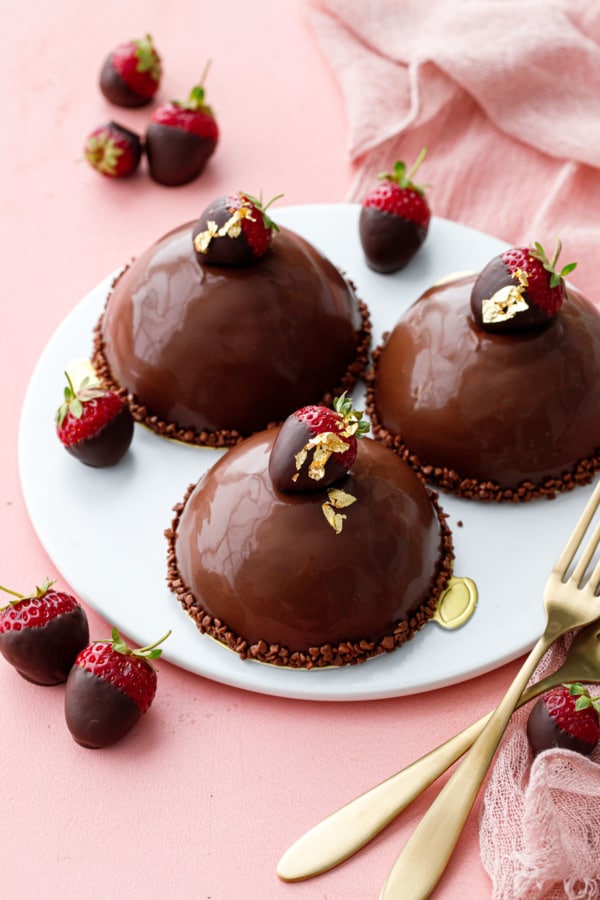 My blueberry mousse cake recipe is surprisingly popular given its complexity; and I'm giddy with delight every time I'm tagged in a photo by someone who's made them.
This recipe is a similar entremet-style dessert, but with different components: a rich chocolate brownie instead of the almond sponge, a light strawberry Bavarian mousse (distinctive in its use of egg yolks in the base), and then a chocolate ganache coating instead of the mirror glaze.