The summer fun has just begun! This colorful strawberry funfetti ice cream cake will have you smiling from ear to ear (or mouth to stomach, rather).
If happiness could be frozen, sliced and eaten with a fork, it'd probably look something like this: a thick layer of freshly churned strawberry buttermilk ice cream sandwiched between moist yellow cake freckled with colorful confetti sprinkles.
Strawberry season is just about over here in Tennessee, but we managed to make it out to the fields to pick some before the fragile berries are smothered by the summer heat.
The berries were much smaller this year, so it took us a bit longer to pick a full bucket of them, but boy are they delicious. Tiny and sweet and oh so fragrant, I had to consciously restrain myself from eating every other berry that I picked (I've given myself plenty of stomachaches from eating too many strawberries, but I never seem to remember this when I've got a bucket of ruby red beauties on my arm.)
Honestly I can think of no better way to spend a long weekend then making all the strawberry things, from ice cream and pie to shortcakes and (of course) jam.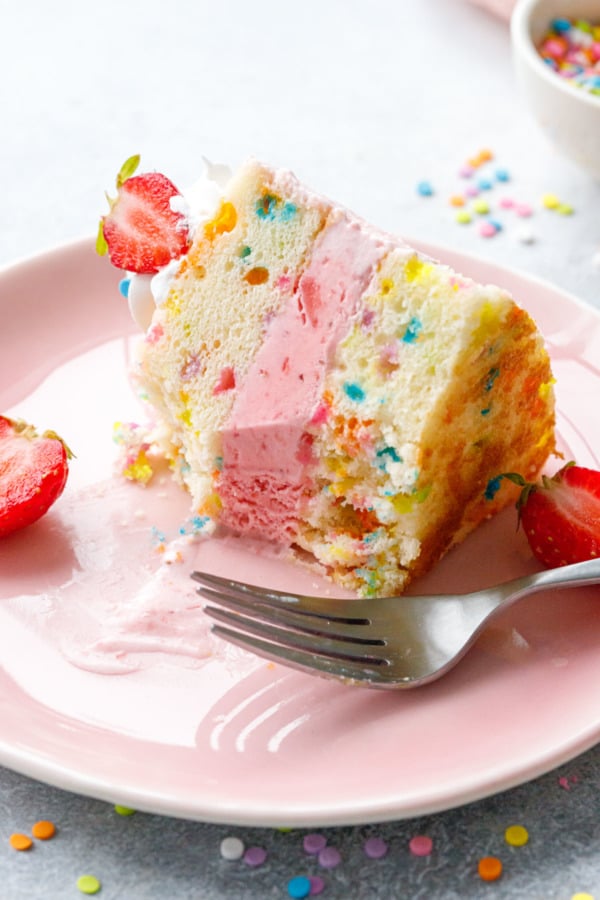 This recipe combines two of my favorite things: funfetti cake and fresh strawberry ice cream. It's bright, fun, and fruity and guaranteed to make you smile.
Serve it topped with freshly whipped cream, ripe local strawberries, and even more rainbow sprinkles for good measure (really, can you ever have too many sprinkles?)