These chewy hazelnut amaretti cookies have a hidden surprise inside: a core of molten Nutella.
Swapping hazelnut flour for almond flour in my soft amaretti cookie recipe results in a chewy, nutty cookie that's downright delightful and naturally gluten free. The nugget of molten hazelnut spread in the middle makes it over the top delicious!
I've thoroughly explored the options for flavored amaretti, from chocolate to raspberry to colorful confetti sprinkles, but this is the first time I've attempted stuffing them.
I'd actually tested a hazelnut amaretti some time ago, but shelved the idea, planning to revisit it during the holidays. And in an attempt to do something a bit different with it instead of just swapping out the nut flour (otherwise this recipe is virtually identical to all my other amaretti), I decided to combine my love of amaretti with my obsession with stuffing stuff inside cookies.
The result?
Simply magical.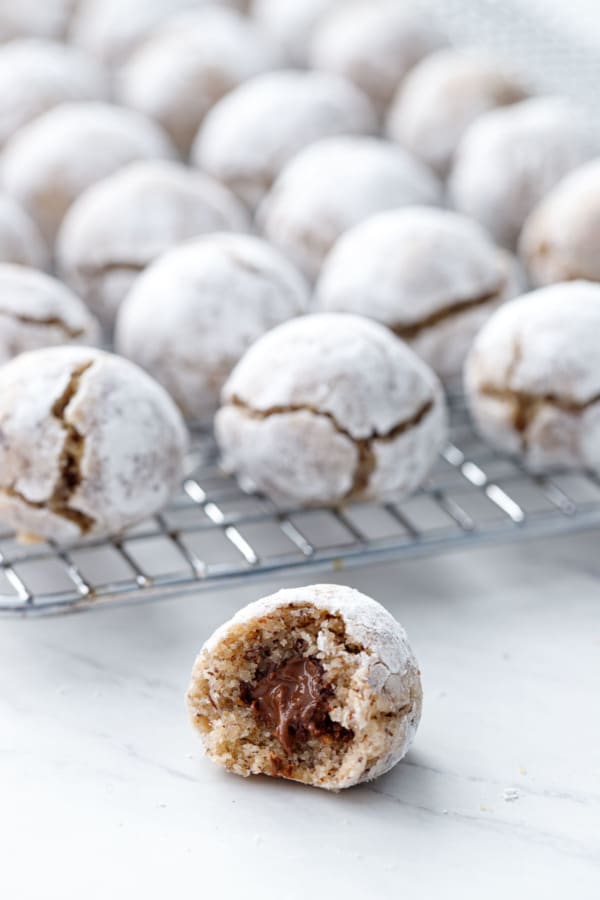 The hazelnut flour has a much stronger flavor than almond, nutty and toasty and robust, with just a hint of almond serving as a fragrant foundation that rounds out the flavor profile quite nicely.
The texture is similar to that of the almond amaretti, although depending on the coarseness of your hazelnut flour you may end up with a softer, more open crumb which I found quite lovely.
The bottoms bake up slightly crispy (be sure to use a double layer of cookie sheets which helps insulate the bottoms and prevents them from getting too dark), with a chewy outside and a marzipan-like inside, and a core of molten Nutella hidden inside.