Adorable mini-sized naked cakes with gorgeously defined layers of moist chocolate cake, whipped cookie dough, and rich chocolate ganache.
Naked cakes are undoubtedly impressive, especially for how easy they are to assemble (no finicky frosting to deal with on the outside). This chocolate and cookie dough creation is no exception!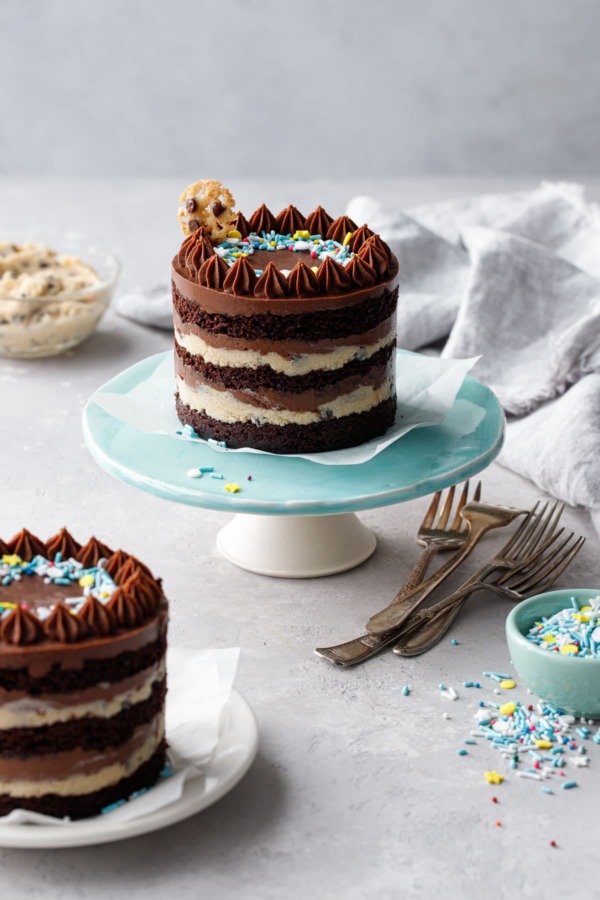 Another year, come and gone.
Not much celebration happening this year for Taylor's 38th birthday, but the fact that it was just the two of us doing the celebrating doesn't mean I skipped the cake (I mean, what kind of wife would I be then?)
Because it's Taylor, the cake is always chocolate, but I do my best to mix it up a bit in a way that doesn't get too weird for him, but still gives me a unique recipe to share with y'all here (two birds, right?)
I've made Milk Bar-style naked cakes (ala Christina Tosi) twice before, once following a recipe straight out of her cookbook and the second piecing together a few different parts to create a chocolate-pistachio-masterpiece. Actually, I did make a third one at some point that included freeze-dried strawberries and pop-rocks and, while good in theory, left a bit to be desired in terms of presentation and execution (maybe I'll revisit it someday).
This year I've taken the basic idea of the naked cake and miniaturized it, making two adorable 4-inch cakes that are perfect for two (well, if we're being honest, the cake is so rich that each mini cake is more like 4 servings, but who's counting?)
The layers include a moist chocolate cake, creamy dark chocolate ganache, and a creamy whipped cookie dough studded with chocolate chips (eggless and safe to eat raw!) Assembling the cake in a ring of acetate makes for perfectly defined layers, like a core sample of sedimentary rock (but so much tastier).
The result? Well, let's just say I almost wished I had made a full size cake because it was so darn good we devoured the little ones in no time.