Hello, springtime! This springy, spongy, stenciled cake roll is filled with a layer of rich kaya (coconut jam) and fluffy pandan whipped cream.
If your piping skills aren't up to snuff, stencils make for gorgeous prints and patterns with minimal effort… like screen printing, but with cake batter. This monstera leaf design is achieved with 3 different colors of green batter for a water-color like effect, on a pale pink background that's perfectly on trend.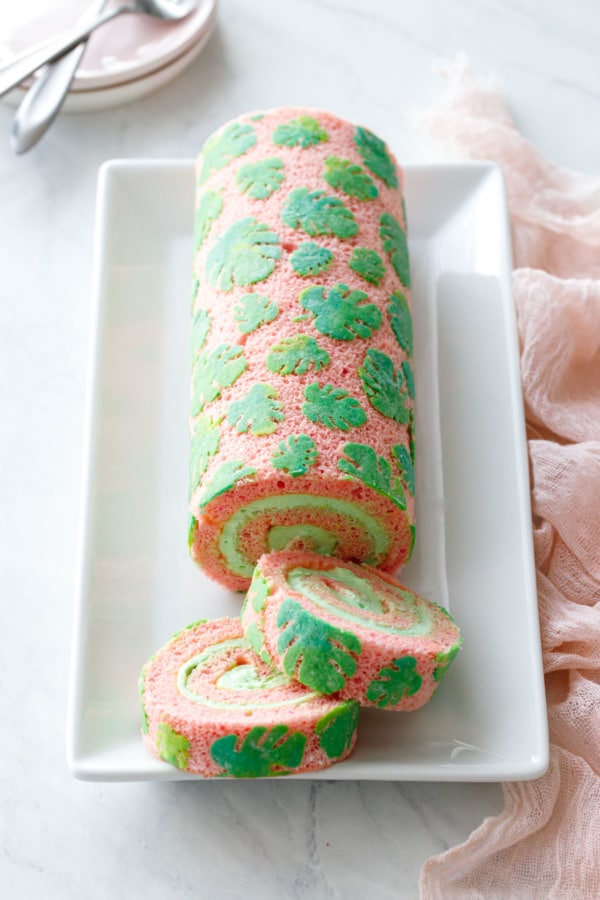 This recipe is the product of months of dreaming and weeks of testing. It's something I've been planning for quite a long time (I actually bought the monstera stencil before the wood-grain stencil from my holiday cake roll), but ended up waiting until spring when the design would better match the weather.
The idea for the design popped into my brain and has remained pretty much unchanged (and the fact that the final result matches my vision so closely… well, I'm pleased as punch).
But that still left me with the question of… what do I fill it with?
I knew I wanted something green, to match the monstera leaf design. And I also wanted something a bit different than my usual green-go-to's (aka matcha and pistachio). The perfect solution came in the form of Pandan: a grass-like leaf native to Southeast Asia which is often used in flavoring sweets and desserts.
I also added a thin layer of Kaya, a coconut-egg jam popular in Southeast Asia (especially Malaysia and Singapore), to give it an extra kick of flavor and sweetness and again, to make it a little bit different from my previous cake roll recipes. The punch of coconut is a perfect pairing for the subtle vanilla notes of the pandan. I simply adore this combination and couldn't be more delighted with how the final product turned out (although, I'd maybe be slightly more delighted if it didn't take me 5 rolls to get it just right…)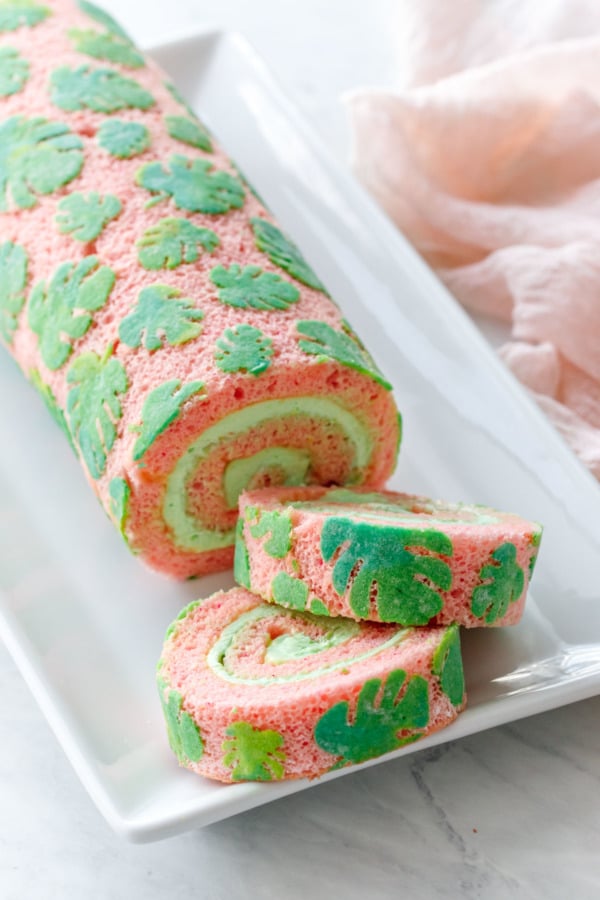 As is the case with this recipe, I am often inspired by Asian ingredients, flavors, and techniques, and I try my best to show my appreciation for the origins and cultural histories of these amazing and diverse foods. I truly believe we can all enjoy these unique recipes and ingredients, while still appreciating the cultures from which they hail and without laying claim to them as our own (there is a fine line between appropriation and appreciation, and I try very much to fall under the later with my recipes).
I simply didn't feel comfortable posting a recipe like this one, inspired by Japanese techniques and Southeast Asian flavors, without addressing the increasing violence and hateful rhetoric directed towards Asian Americans in this country. Sadly, it is nothing new: Asian-Americans have been discriminated against in this country since before it was a country, even. This Twitter thread is rather eye-opening; did you learn about any of this in history class? Because I sure didn't.
Talk is good and all (the more we can create awareness about what's happening, the better), but I'm committed to putting my money where my mouth is, as they say. So I've committed to donating 100% of the ad revenue from this post to the AAPI Community Fund, which aims to address the urgent issues that face the AAPI community as well as broader, systemic problems through grants issued to trusted AAPI organizations working to rectify the racial inequalities in our society.