Here's a satisfying street taco recipe that comes together in a flash. It's topped with a tangy chipotle-lime coleslaw that provides flavor, spice and crunch to these satisfyingly savory street tacos.
When Aristotle said the whole is greater than the sum of the parts, he was talking about tacos, right? Because these tacos are made up of some seriously good parts: thin slices of savory seared steak, toasted flour tortillas, a tangy chipotle-lime slaw, and a sprinkle of pickled jalapeños and fresh cilantro.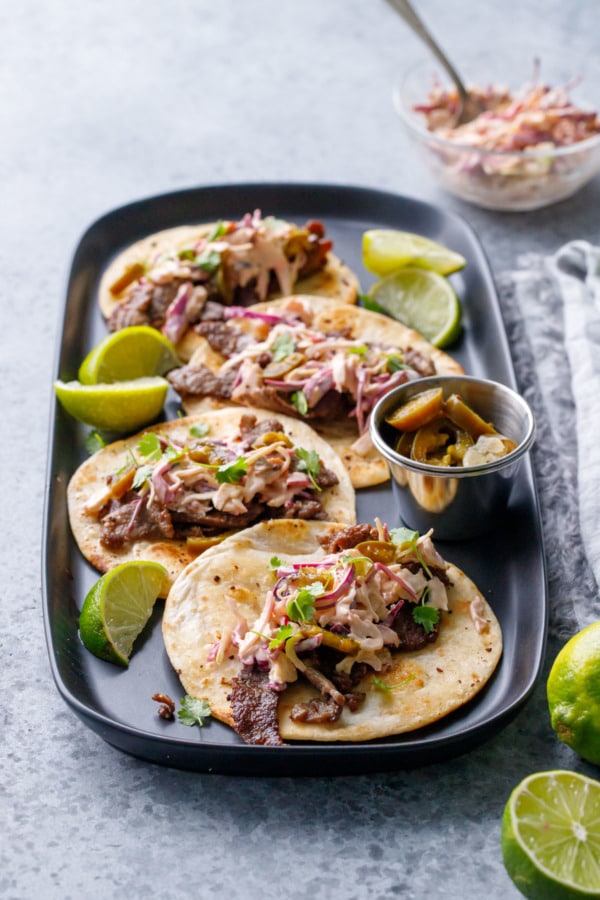 This post is sponsored by Duke's Mayonnaise and includes tracking links. For more information about tracking links and how to opt out, please visit All About Do Not Track prior to clicking any links found in this post.
The perfect taco hits all the right notes, combining spicy and sweet, soft and crunchy, salty and tangy.
And these steak street tacos do just that, with thin slices of steak browned to perfection, and topped with a bright and crunchy slaw made with a mix of Duke's Mayonnaise, smoky chipotle, and fresh squeezed lime juice.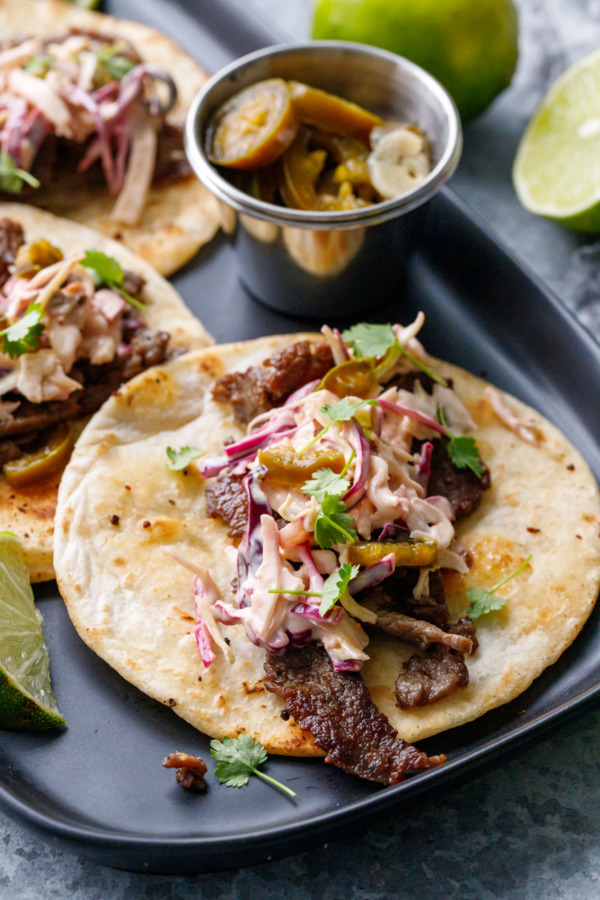 What makes it a street taco and not just a regular taco? The size, essentially.
Street tacos are generally smaller, about 4-5″ in diameter versus a more typical 6″ corn tortilla or 8″ flour tortilla. The handheld size makes them easy to eat standing in the street. We've found both corn and flour tortillas labeled 'street taco size' recently, and although we opted to use flour here, you could really use either.
Even better… warm the tortillas in the same skillet with all the flavorful fat and brown bits leftover from cooking the steak. Inspired in part by a drool-worthy binge-watch of the Taco Chronicles series (which I highly recommend checking out), specifically the episode on Suadero tacos. This particular kind of taco is made with seasoned beef cooked long and slow in a bath of its own fat (beef confit, essentially); the tortillas are also drenched in fat and toasted prior to being loaded up with the juicy, flavorful meat and simple toppings.
While our steak tacos are not even close to authentic Suadero tacos (the thin slices of steak cook in mere minutes, rather than slow cooking for hours as is traditional), we were certainly inspired by the preparation and especially the brilliant step of fat-soaking the tortillas.
Since we can't exactly travel to Mexico right now to enjoy the real thing, this will have to do.