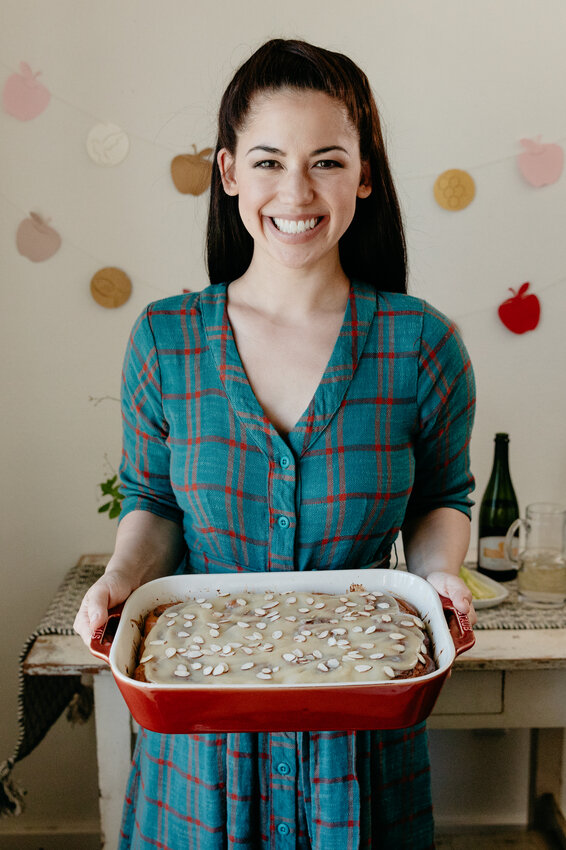 My concept of time right now is all thrown off, I've just gotten home from celebrating Hanukkah* (and I have the dreidels on my nails to show it), summer has decided to come back for a weird unwelcome encore (get away!!), and I spent all last week testing Christmas cookie recipes. And the tomatoes have finally decided to turn red. Have you ever had a tomato and mayonnaise sandwich for lunch followed by a piece of stollen for dessert? It's so weird. I mean, ok, I can't complain, it's all good things except for the gross 80 degree heat but I am ready to truly immerse myself in the upcoming high holidays because I think Rosh Hashanah is my preferred new year out of the three new years that we do. I just feel like the fact that it happens at the beginning of the school year and the start of sweater weather makes it feel way more like the dawn of something exciting than the Gregorian New Year (which hasn't really been fun since I was 22 and could drink a Red Bull and vodka together) and the Chinese New Year (which is delicious and great but January as a month is kinda a drag. And I'm too old to get envelopes of money now ??‍♀️).
*We just filmed the Hanukkah Cooking Championship for Food Network! It was a dream. I even got kinda emotional over the fact that there is actually going to be a Hanukkah show on Food Network!! The food was so delicious and the other people on it were the bee's knees. Whether or not you celebrate Hanukkah, you guys are going to lurrrv this show.
Speaking of celebrating Jewish holidays on the TV (!), this weekend is the Rosh Hashanah brunch episode of Girl Meets Farm! Both Stoopie and my silly Aunt Cathy came to town to film this episode and it was a blast. I cooked brisket with my mom, made a celery cocktail with Aunt Cathy, and introduced Bernie to her crazy family. The recipe I'm most excited about is these apple butter rolls, which look just like cinnamon rolls, but they're better because they're topped with honey marzipan frosting. If you've ever thought omg challah baking in the oven is the best smell evarrr, try filling little swirly rolls of challah with a very cinnamony apple butter and grated almond paste and, wow, your pumpkin spice candle didn't stand a chance. And then they get topped with a frosting made of marzipan butter and honey which is thick, glossy, luxurious, parve, and perfect. So you're checking all of the Rosh Hashanah boxes with these rolls: Round challah? Check. Apples? Check. Honey? Check. A make-ahead situation? Check check. And marzipan, because a few years back I started including marzipan with the apples and honey tradition since almonds go so well with both apples and honey, and it just decided to stick around. They are so soft and fluffy and decadent and good. Exactly the ticket for a sweet New Year!
---
Apple and Honey and Marzipan Rolls
Makes 12 rolls
ingredients
1 c (236ml) almond milk, warm (105-110ºf)
2 1/4 tsp active dry yeast
1 tsp + 1/4 c (50g) sugar
4 1/2 c (585g) all-purpose flour
1 tsp kosher salt
1 tsp cinnamon
a pinch of cardamom
2 large eggs
1/2 c (100g) flavorless oil
1/4 c (84g) honey
1 tsp vanilla
filling
3/4 c (204g) apple butter, store-bought or homemade
1 tsp cinnamon
6 oz (170g) almond paste, grated on the big holes of a box grater or finely chopped
Eggwash: 1 large egg beaten with a splash of water
frosting
1 1/2 c (192g) blanched almonds
1/4 c (84g) honey
Zest from 1/2 a lemon
1/4 tsp kosher salt
1 tsp almond extract
6 tb (89ml) almond milk
Toasted sliced almonds, for topping
clues
Combine the milk, yeast, and 1 teaspoon of sugar and swirl together. Let sit for 5 minutes, or until foamy on top.
In a large bowl or bowl of a stand mixer fitted with a dough hook, combine the flour, salt, cinnamon, and cardamom. In a medium bowl, whisk together the eggs, oil, honey, and vanilla. Stir the yeast mixture and the oil mixture into the dry mixture and then knead, either on a work surface or with the dough hook, adding more flour as needed, until the dough is smooth and slightly sticky, 7-10 minutes. Place in an oil bowl, cover with plastic wrap, and let rise for 1 1/2-2 hours, or until doubled in size.
Turn the dough out onto a clean surface and roll it out into a large 18" x 12" rectangle. Spread it with the apple butter and sprinkle with the cinnamon and almond paste. Roll it up tightly the long way, and pinch the edges to seal. Cut into 12 rolls and place evenly spaced in a 9" x 13" baking dish (3 rows of 4). Cover with plastic wrap and refrigerate overnight, or let rise at room temperature for another hour and then go directly to the baking step.
When ready to bake, remove the rolls from the refrigerator and let sit at room temperature for 1-2 hours, until puffy. Preheat the oven to 350ºf. Remove the plastic wrap and brush with the egg wash. Bake until the rolls are lightly browned; begin checking for doneness at 35 minutes.
To make the frosting: Blend the almonds in a food processor, scraping the sides occasionally, until creamy and spreadable, about 5-10 minutes. Add the honey, lemon zest, salt, and almond extract and continue to blend (it may clump together at this point up that's ok) as you drizzle in the milk. Blend until creamy. This can be made the day before and stored in the fridge.
When the rolls come out of the oven, spread them with the frosting, sprinkle with the almonds and serve.
Print this recipe
---
-yeh!
photos by chantell and brett quernemoen.