Golden brown roasted potatoes are tossed with a bright and peppery arugula chimichurri sauce for a fabulously flavorful side dish.
No more boring baked potatoes: these little gems are roasted until golden brown and bathed in a tangy, arugula based green sauce that's very similar to traditional Argentinian chimichurri sauce (just with arugula instead of the typical cilantro or parsley).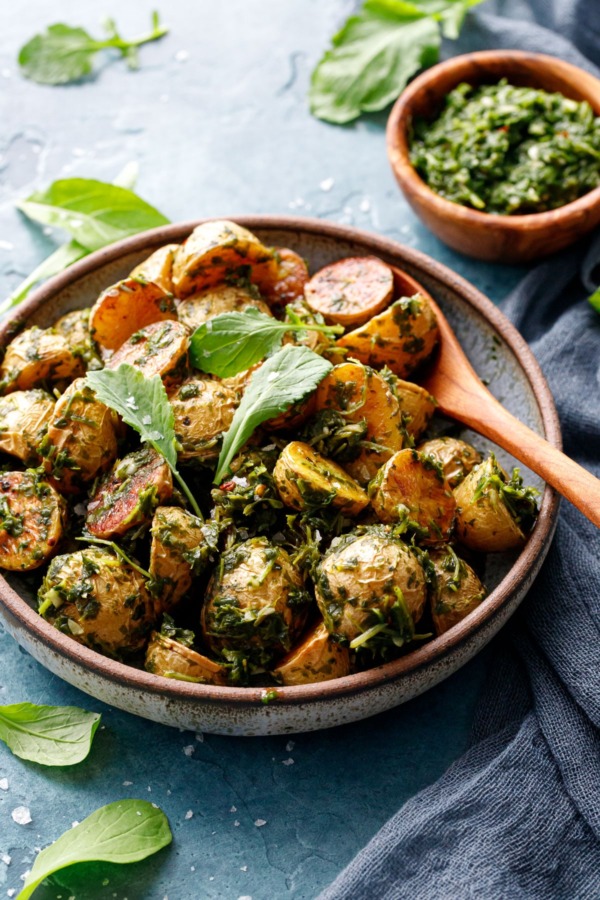 It seems like every culture around the world has their own green sauce. From Italy's pesto to North Africa's chermoula to Argentina's chimichurri, they all feature a base of primarily green herbs, mixed/chopped/blended into a loose sauce of sorts, usually with ample fresh garlic and a bit of acid, salt and sometimes heat. But the similarities end there: classic Genovese pesto includes pine nuts and cheese, chermoula brings in fragrant spices such as cumin, cayenne, and paprika in addition to tangy lemon juice. Chimichurri is typically cilantro or parsley-based, and notable in its use of red wine vinegar instead of citrus juice.
All these green sauces are ever so versatile, used on everything from meats and marinades to pastas and potatoes, the specific herbs used in each easily swappable for whatever seasonal greenery you have on hand.
In this case, we used a bag of gorgeous locally grown baby arugula from Caney Fork Farms (our CSA). Arugula, while not technically an herb, behaves like one in this recipe, lending a spicy, peppery green flavor to this distinctive green sauce that is most similar to Argentinian chimichurri.
While I've made arugula pesto plenty of times before before (I like using pistachios instead of pine nuts and a bit of parmesan and serving it on pasta or pizza), but pesto didn't seem like the right moniker for this particular concoction, what with its notable lack of cheese and nuts. I ultimately decided it was the most similar to chimichurri with the addition of garlic, pepper flakes and red wine vinegar.