Talk about starting the day off right, this decadent marzipan-stuffed French toast is an almond lover's delight. Two thick slices of buttery brioche with a layer of creamy marzipan spread in between, it takes Brunch to an entirely new level.
If you love the flavor of marzipan, this stuffed French toast is right up your alley. The creamy almond filling is similar to what you'd find in the middle of an almond croissant, soft and gooey and bursting with almond flavor.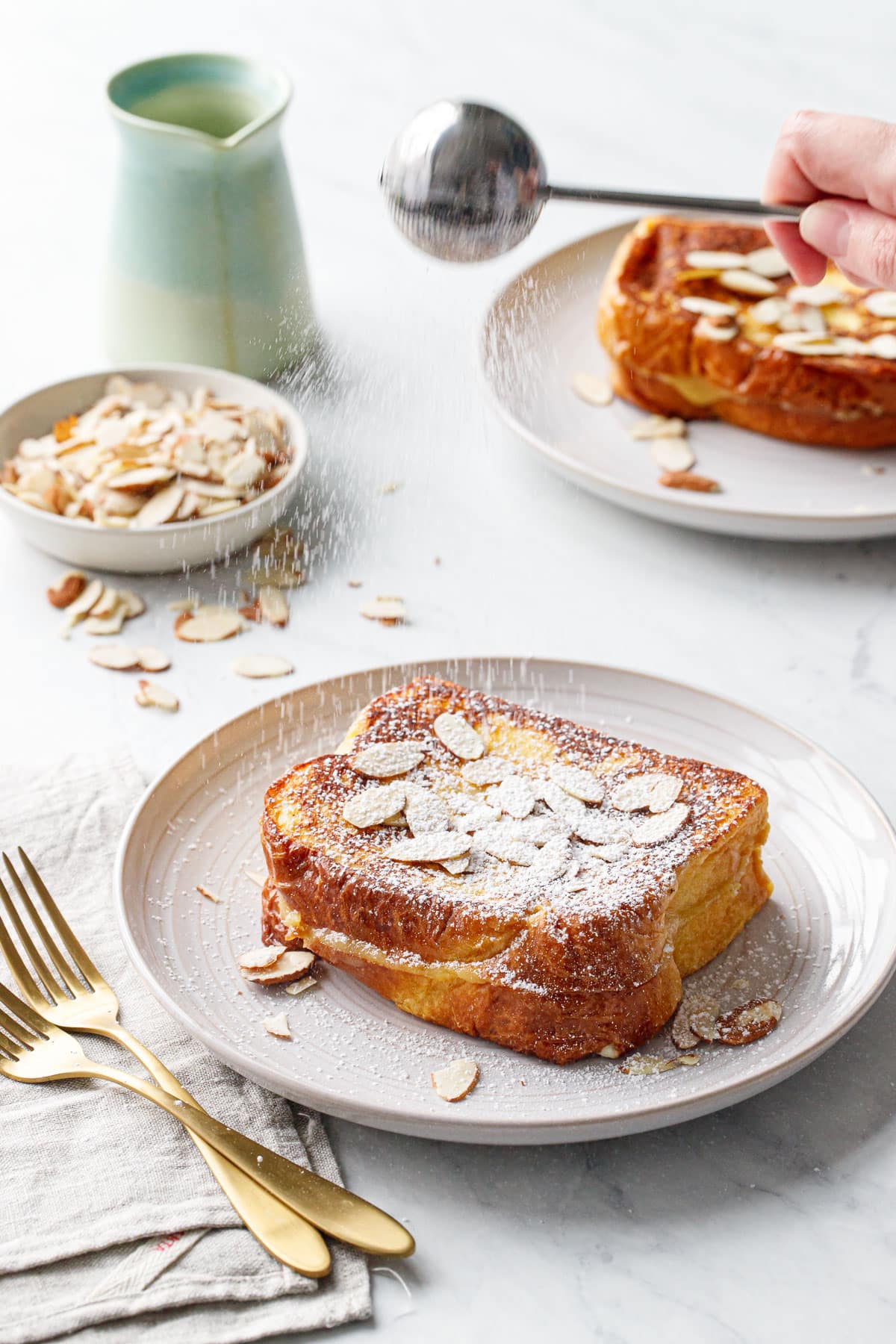 What's not to love: a creamy almond filling sandwiched between two thick slices of buttery brioche, then soaked in an egg and milk custard and pan-fried for a perfectly golden brown and crispy finish. Topped with toasted almonds, a dusting of powdered sugar and a drizzle of maple syrup, it's the perfect brunch recipe you never knew you needed.
Yes, I've called it marzipan-stuffed French toast, but if you want to nit pick, almond paste-stuffed would be the technically correct name. But that doesn't sound nearly as appealing as marzipan-stuffed, does it? In reality almond paste is a more rustic version of marzipan, marzipan being a sweeter and more finely textured almond paste. At least here in the States, what is sold as marzipan and almond paste are two different things (in Europe good quality marzipans are much more prevalent, unlike the dried out, overly sweet stuff we're stuck with here).
The filling is similar to that of an almond croissant; when it's cooked it gets wonderfully gooey but still retains that distinct almond flavor (there's no denying this recipe is plenty almondy even without any added extract).
The filling could also be described as a frangipane-like, which is an almond custard used in fruit tarts and other baked goods (though frangipane usually starts with almond flour rather than almond paste).