This hand-held version of my go-to banana bread is moist, flavorful, and chock-full of crunchy pecans and mini chocolate chips (trust me, banana bread is all the better with chocolate).
These banana bread muffins make for the perfect mid-morning or afternoon snack, when you need something to sustain you to the next meal. Personally, I'd rather have a banana bread muffin than a granola bar any day.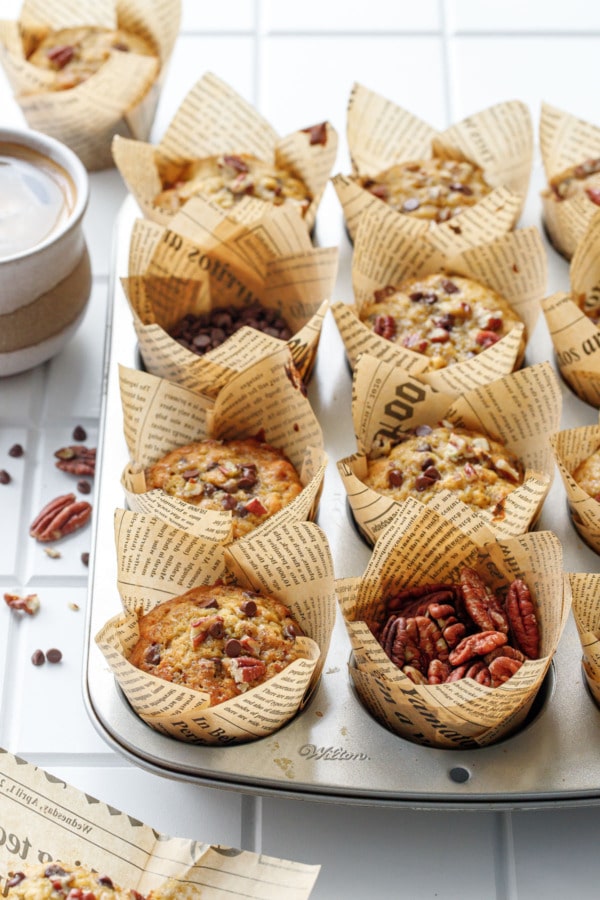 Bananas never go bad in our house, even the squishiest, brown-skinned fruit always finds its way into a quick bread of some sort. And yet, have you ever noticed that quick breads are never actually quick to bake? A full loaf can take upwards of an hour to bake!
But these quick and easy banana bread muffins are actually worthy of being called quick bread: their compact size means you can go from mash to mouth-full in less than 30 minutes (ok, maybe 40… you should probably let them cool a little bit before you dig in). Still, compared to the nearly hour-long bake time of most loaf recipes, it's a significant time saver.
If you ask me, banana bread may as well be one of the major food groups (along with french fries, tacos, matcha, and chocolate.) I mean, it totally counts as a daily serving of fruit, right? (Yes. It does.)
These tender, flavorful muffins stay moist for days (we had 1 muffin left 6 days later and it was still as moist as the day it was baked). It must be banana magic or something because normal muffins never keep this well.