This delicious birria recipe (Mexican beef stew) is so flavorful and comforting, and it's easy to make in Crock-Pot, Instant Pot or on the stovetop.  Serve it as a simple stew or use this recipe to make birria tacos (or fried birria quesatacos)!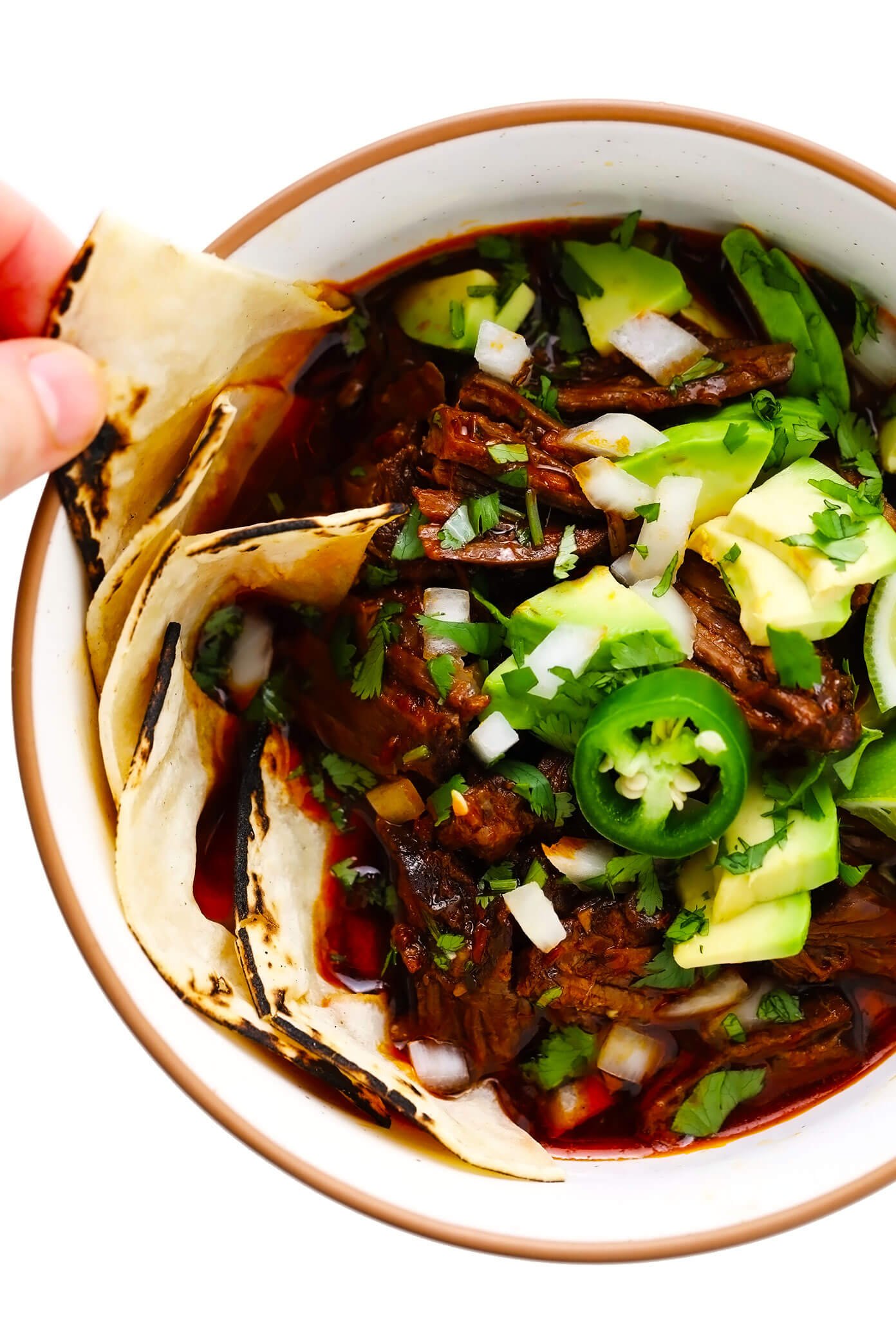 Guys, have you tried making homemade birria yet?
This traditional Mexican stew seems to be trending everywhere I look lately, most often in the form of birria tacos or fried birria quesatacos (a.k.a. quesabirria tacos), whose melty cheese pulls and consommé-dunking boomerangs definitely seem to be the fast-rising star on taco menus around the world.  Stay tuned here on the blog for more on birria tacos to come later this week.
But first, I wanted to go back to the basics and share a birria recipe served in its original and most simple form…as a cozy stew. ♡
As I explain below, there are endless variations of birria to be found nowadays around different regions in Mexico, made with various kinds of meat, cooking methods, signature blends of seasonings, consistencies of consommés (broths), and more. But the original dish is said to have originated in Jalisco, Mexico, where it is traditionally served as a stew for holidays and special occasions and made with either goat, sheep, or (my preference) beef. The meat is always slow cooked in a richly-flavored adobo (marinade) until it was melt-in-your-mouth tender, then ladled up into bowls along with plenty of its broth, garnished with lots of fresh toppings, and finally served with a side of warm corn tortillas. And as you can imagine, it is delicious.
That said, if you're new to birria, the absolute magic of this particular Mexican stew is the delicious mix of flavors layered into its amazing broth. Good birria is always made a mixture of savory, sweet, earthy, smoky and spicy seasonings that lend soooo much flavor to every single bite. It's essential to use some dried chiles here to season the broth, but they are incredibly easy to work with. Then I also highly recommend loading your birria up with lots of creamy avocado and fresh cool toppings (such as cilantro, chopped or pickled onions, radishes, etc), which pair perfectly with the warm stew and make this dish downright irresistible.
I've included options in the recipe below for how to make birria either in the Instant Pot, Crock-Pot or on the stovetop, so feel free to choose whichever cooking method you prefer. Granted, all three of these methods still require a few hours to make from start to finish, so be sure to plan ahead. But the birria recipe itself is totally simple to make and totally — as we say in Spanish — "vale la pena" (worth it).  So if you have yet to give homemade birria a try, I say it's time.
Let's make a batch together!