This homestyle egg noodle recipe is incredibly easy to make by hand in just 15 minutes with 4 basic ingredients.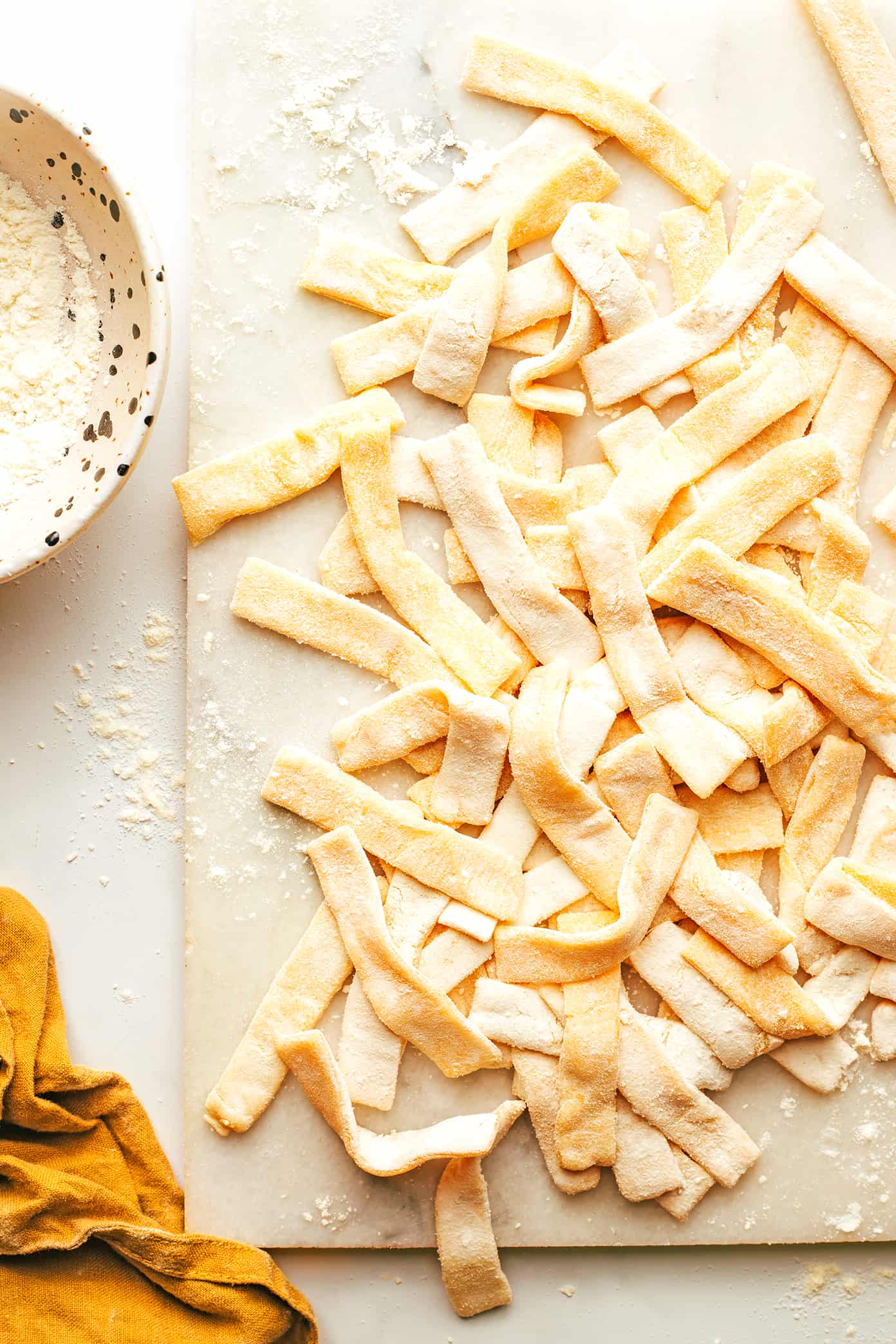 Flour + eggs + water + salt. ♡
Chances are you already have everything needed to make a batch of my favorite homestyle egg noodles!
This simple recipe is inspired by the bags of Reames egg noodles that we always used to keep stocked in our freezer growing up, ready to toss into a simmering pot of chicken noodle soup or a quick tuna casserole at a moment's notice. But while I'm usually down for a good freezer-shortcut, I'm here today to try and convince that it is one-million percent worth it try making homemade egg noodles from scratch instead.
First off, this egg noodle recipe is sooo simple that it's practically foolproof, making it a fun project for even for some of the youngest sous-chefs in your kitchen. All you need are 4 basic ingredients, 15 minutes of total prep time, and zero fancy equipment (just a basic rolling pin and a pizza cutter). Just stir the dough together and give it a quick knead by hand, roll it out to be as thick-and-chewy or melt-in-your-mouth-thin that you prefer, use a pizza cutter (or a knife) to slice the dough into your desired size of strips or shapes…and voila! A delicious batch of homemade noodles will be yours to enjoy in no time.
These homemade egg noodles would taste wonderful in any number of soups, stews, sautés, casseroles, stroganoffs and more. Or if you happen to be craving some retro buttered noodle, I'm telling you, a quick toss of browned butter, Parmesan and black pepper can't go wrong. Truly, the fresh flavor and soft texture that these homemade noodles bring to any dish is genuinely worth the extra effort if you have 15 minutes to spare. So the next time you're tempted to reach for a bag of frozen noodles, grab your rolling pin instead and let's make a quick batch from scratch together!