The panade recipe in The Zuni Cafe Cookbook came to my attention when a friend baked a beautiful double-version of it in an over-sized AGA dutch oven and served it at a dinner party years ago. It was the show-stopping centerpiece of a meal flanked by a beautiful winter green + chicory salad and gem-shaded glasses of wine. The combination of bubbling cubes of brothy bread and caramelized onions silkily merging with molten threads of cheese is knee-buckling. It's the perfect example of a short list of the simplest ingredients coming together into something much more than then sum of their parts.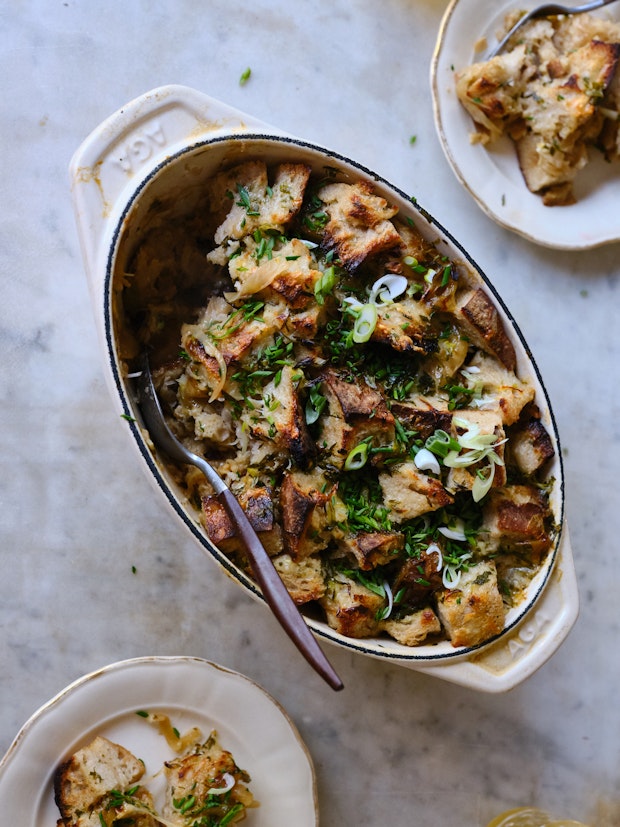 I've baked variations of this panade in the years since, and it never disappoints. It's endlessly adaptable, meaning that you can add seasonal ingredients to suit your fancy. For example, in my case, I do a vegetarian version by switching up the broth, and I like my onions on the caramelized side of the spectrum. I'll add whatever sautéed greens or roasted vegetables I have around. Judy also listed a range of ideas and variations in the cookbook, so if you have it (and you should!) be sure to have a glance at those for year-round inspiration. Her original had chard. I use lots of scallions in mine. In short, it's one of those IYKYK recipes. Molly Wizenberg knew what was up way back in 2005 when she wrote about the Judy panade recipe here. 

I'm going to dive in and answer a number of questions here that might pop up. The ingredient list for this panade couldn't be simpler, but the devil is in the details and navigating personal preferences.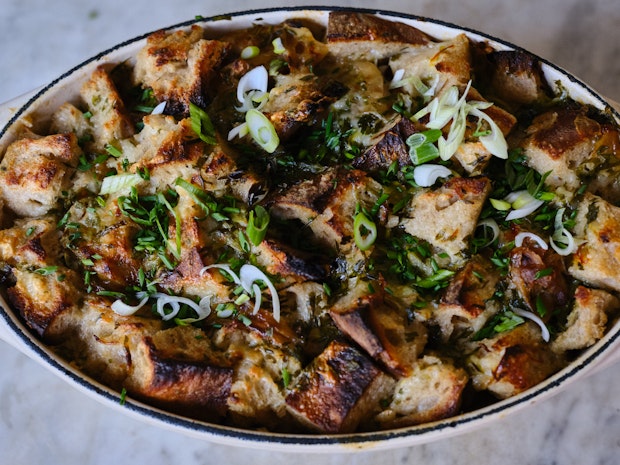 What Kind of Bread for this Panade?
The short answer is a good, chewy artisan sourdough loaf. That said, I will also argue that a lot of this is personal preference. If you bake sourdough at home, by all means, use that. Either one of these choice will likely result in a nicely structured panade with nice distinction between some of the components. The bread choice is such a big deal in this recipe, each one will impact your end result immensely. I learned the hard way when I used a more commercial sourdough loaf to make the panade one night – much finer crumb, less/no chewiness, and I'm guessing it was 100% all-purpose flour. The resulting panade broke down too far, into an unstructured slump. You want the bread to put up a fight and hold a bit of tension. Not go to mush altogether.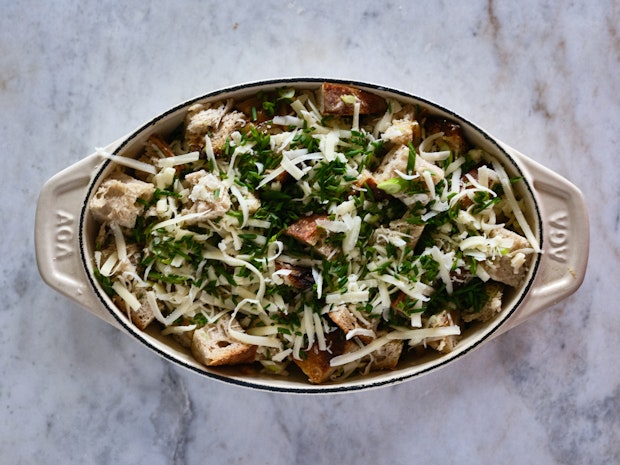 Crust or no Crust?
There are arguments for both. The panade here retained the crust on the bread cubes. But I've done crustless versions before. If you decide you love a super oozy, silky panade, go crustless. If you like your panade to have more structure, keep your crust. Or go 50/50!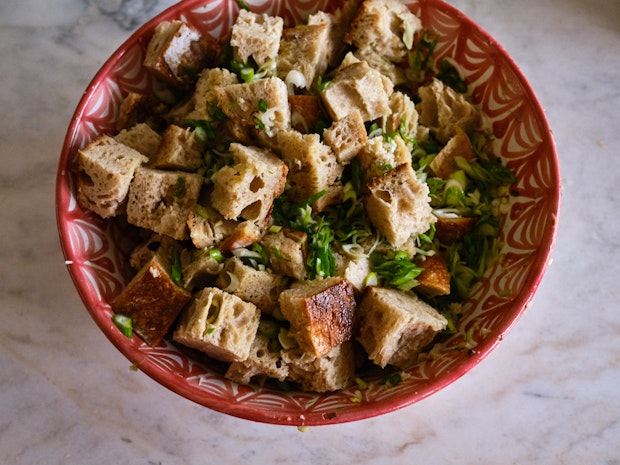 What is the Best Broth for Panade?
We tend to use whatever good-tasting broth we have around or in the freezer (defrost). I love an herby broth for this scallion and chive version, but if you're in a pinch grab a bouillon cube or two and go from there. Judy uses a chicken broth in her recipe (which doesn't work for vegetarians), but I've had great results with mushroom broth, and corn broth along with roasted cherry tomatoes and goat cheese in the panade. I've even used spicy bean broth.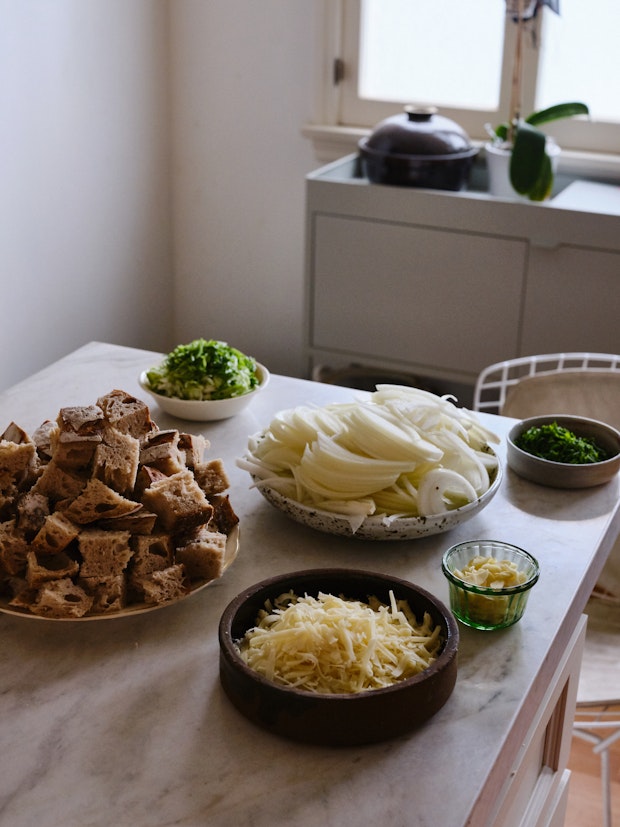 Can I use a Different Cheeses in this Panade?
You can! I call for Gruyere, but mention in the headnote that one of my favorite versions ended up being a blend of Gruyere, Parmesan, and Pecorino cheeses. I prefer slightly assertive cheeses for the panade, with at least a portion being a cheese that oozes when melted. For example, I wouldn't reach for a mozzarella – too mild.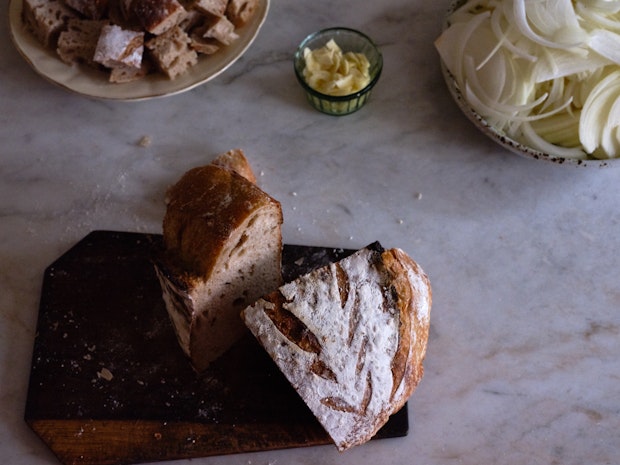 Can I Make this Ahead of Time?
I often make the caramelized onions ahead of time. And then any other fillings that I might be able to pre-roast. 
Soupy versus Dry-ish Panades
Again, this is personal preference. After you bake panade once or twice you'll start to get a sense of what style you prefer. You can go the soup-is route by adding more broth. Or lean into more of a stuffing vibe with less broth. The recipe below aims to hit the mark where the panade is transitioning from a stuffing-like texture, into silkier magic, not-yet-in-soup territory.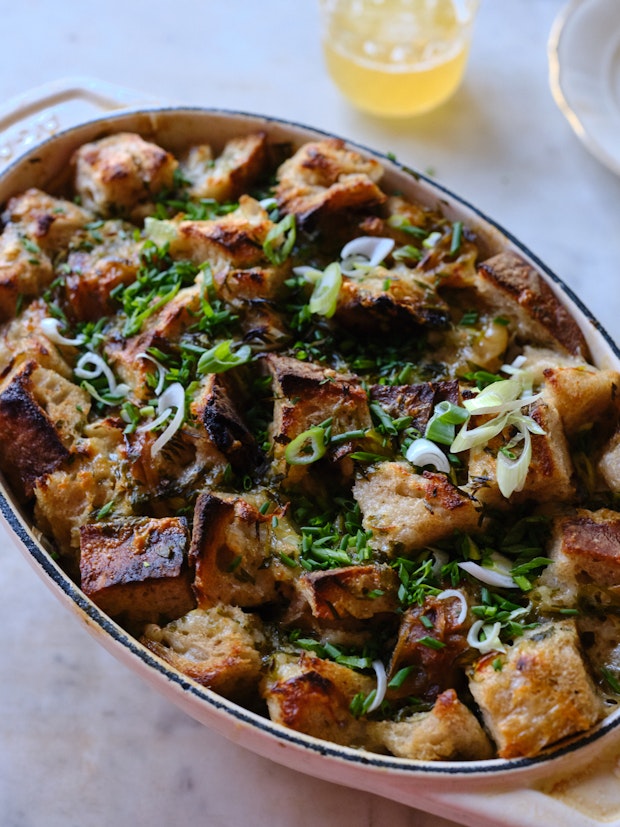 This recipe is a warming, hearty, winter warmer. It looks so rustic, but the silkiness down in the depths is what's incredibly surprising. It's the ultimate comfort dish that I hope you enjoy as much as I have over the years. Thanks to Jamie & Chanda & Bonni for our SF panade dinners, we miss them (and you) so much!
Continue reading A Rustic Scallion & Chive Panade on 101 Cookbooks