Wouldn't you know, my always popular soft amaretti cookies work surprisingly well in thumbprint form, filled with amaretto-spiked jam or chocolate ganache.
Amaretti cookies are a reader favorite for a reason: these soft and chewy almond cookies are incredibly easy and ever-so versatile, not to mention naturally gluten free! This fun thumbprint version can be filled with just about anything, and makes for a perfect addition to your holiday cookie plate.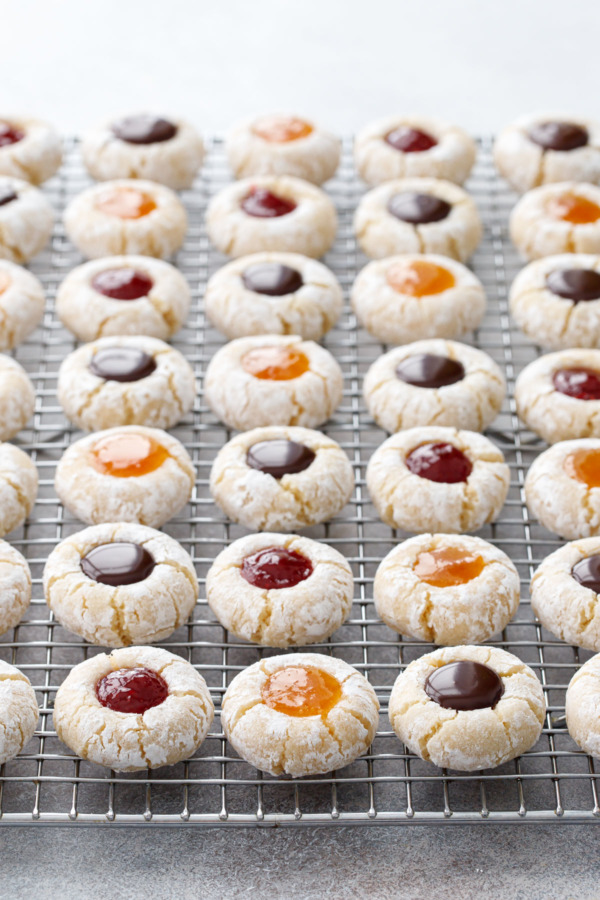 You all can't get enough of my amaretti morbidi, or soft amaretti cookies. I mean, I wouldn't have 11 variations in the archives if you didn't.
I mean, talk about a versatile recipe… so far we've tried all sorts of flavors from chocolate to ube, swapped the almond flour for pistachio and hazelnut, mixed in sprinkles, vegan-ified them, and even stuffed them.
But the question today is… will they thumbprint?
I was optimistic they would, considering they usually hold their shape quite well when baking.
The only potential issue I could foresee was the cracking, which I usually encourage in the regular versions (the cracks being what make these cookies so stunning to begin with!) But I worried the cracks would be too big and the filling would ooze out.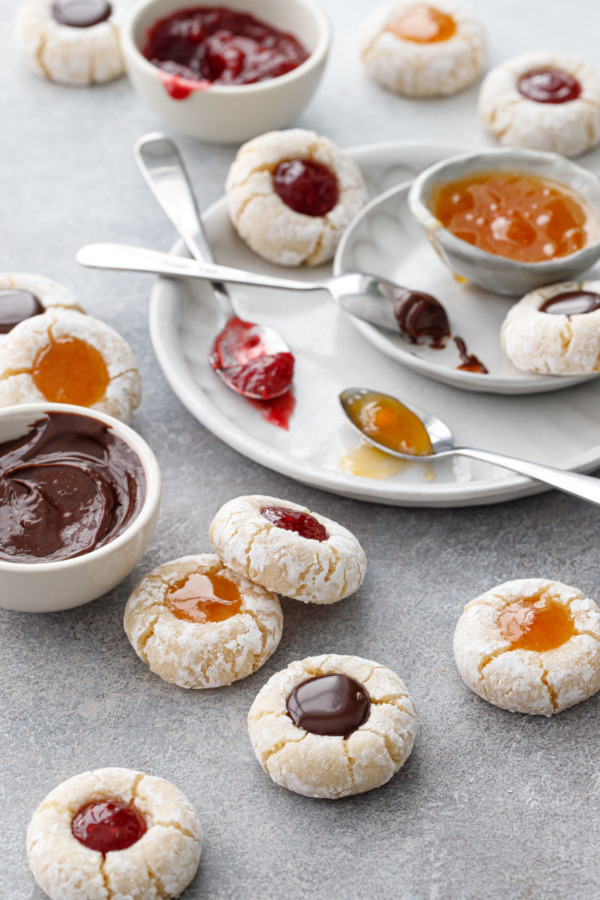 I was, however, pleasantly surprised at just how well they transformed into thumbprints (not all cookie recipes can claim such versatility you know).
The cracking is still a concern, but is manageable with a slightly different technique than you may be used to for other thumbprint cookie recipes. Basically, you just need to be very gentle when you're shaping the thumbprints not to let the cracks get too big, especially if you opt for a looser filling.
The thumbprint version bakes more quickly than the original cookies (give them a few more minutes if you want a bit of crunch on the bottoms), and I still recommend using two stacked cookie sheets to keep the bottoms from browning too quickly.