When I was writing the proposal for my second cookbook, one of the first recipes I'd made for it was a Thai green pea soup. This recipe is kind of a riff on that but instead has broccoli soup as its base with lots of extras thrown in. The peas and broccoli take so little time to cook, this is a definite weeknight-friendly dinner to make.
The flavour is gentle here, with coconut milk and coriander (cilantro to those in the US) plus a bit of ginger for a slight 'curry' flavour. I used miso for the salty savouryness but it isn't strong. I added frozen peas in here too which are a) super easy for adding bulk to a meal and b) naturally sweet so lift up the flavour of the whole broccoli soup.
When it comes to soup, I'm ALLL about the extras on top (…as you may have noticed by this broccoli soup recipe). Here I baked some smoked tofu with soy sauce for a salty, smoky hit, almost like bacon, to sprinkle on. I added crispy onions too (inspired by this Donna Hay recipe) which are SO delicious here – they're sweet and crispy and definitely worth the effort of making them. You should also be able to find big bags of crispy shallots/onions in Asian supermarkets which make things even easier.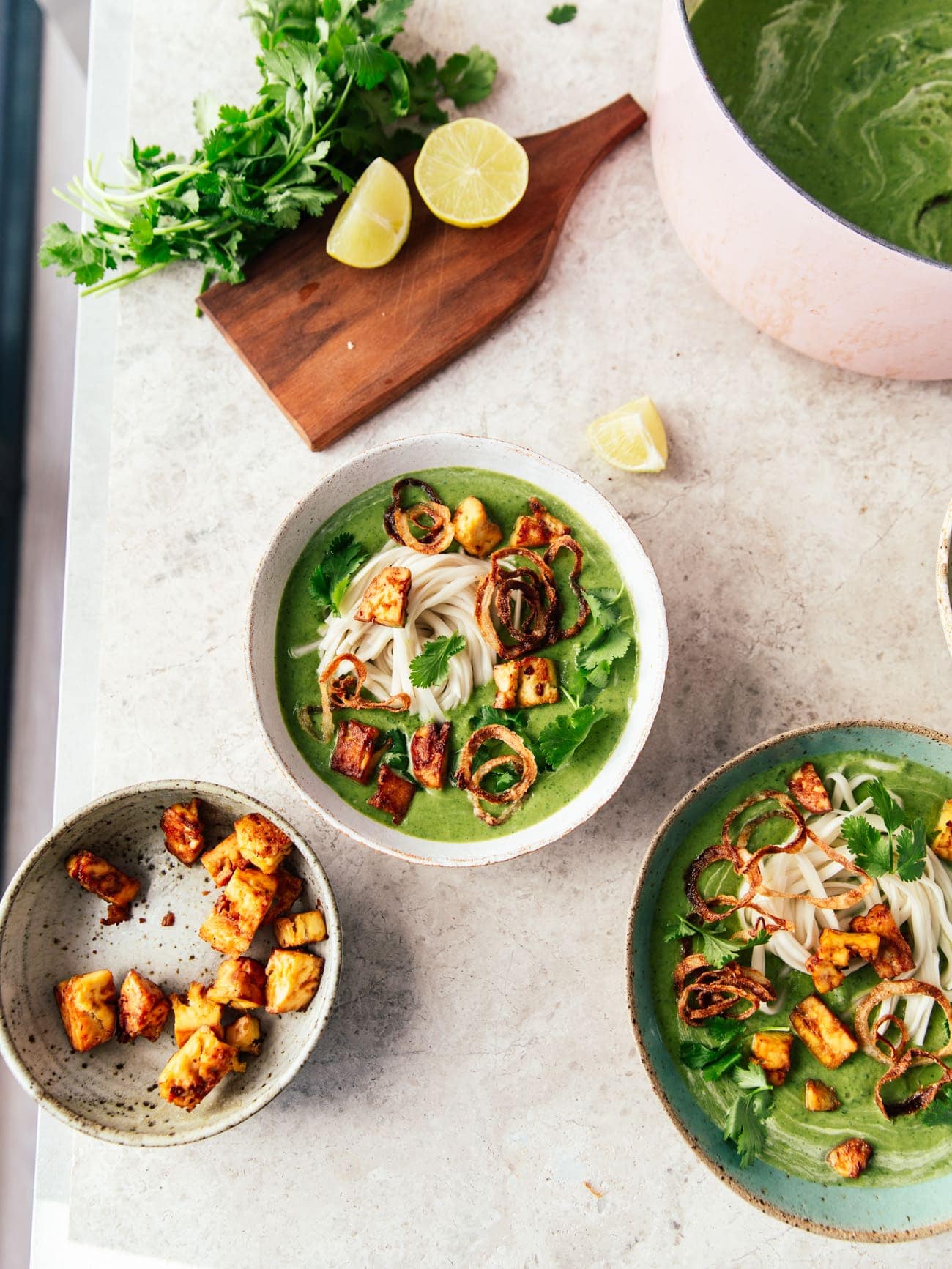 What should I do with leftover broccoli soup?
When I've made this for our dinner, we usually have enough soup leftover for lunch or dinner the next day. If you feel like freshening up those leftovers, the soup works great as a base for a Thai green curry – fry off some Thai green curry paste in a pot, stir in the leftover soup, add some veg (carrot coins, pepper chunks, sugar snap peas etc) and simmer covered until soft. Then just serve it up with rice for a delicious dinner!
Broccoli Soup with Coconut, Coriander & Noodles
Ingredients
For the soup:
1 tbsp vegetable oil
1 large white onion, roughly diced
1 tbsp finely grated ginger
500g (1 lb) broccoli
1 (400ml / 14 ounce) can coconut milk
250ml (1 cup) water
260g (2 cups) frozen peas
30g coriander (cilantro), leaves and stalks, roughly chopped
2 tbsp dark miso (or soy sauce)
For the tofu:
225g (8 ounces) firm tofu (I like smoked tofu here)
1 tbsp vegetable oil
1 tbsp soy sauce
To serve:
300g dried udon noodles
a handful of storebought crispy fried onions (or see recipe below for homemade crispy onions)
1 lime, quartered, to serve
Instructions
Heat the vegetable oil in a large pot over a medium heat. Add the onion and cook for 5-7 minutes, stirring often until softened and starting to brown.
Add the ginger to the pot and cook for 2 minutes, stirring often.
Finely chop the broccoli and add to the pot along with the coconut milk and water. Bring to a simmer, turn the heat down to low and cover the pot with a lid. Let the broccoli cook for 5-6 minutes until completely soft.
Add the peas to the pan and stir through until defrosted.
Remove from the heat and add the coriander and miso. Blend the soup until smooth - either using a hand blender straight in the pot, or by pouring the contents of the pot into a free standing blender. If needed, thin with a little more water and season with salt to taste (the miso added enough salt for my taste)
For the tofu:
Drain the water from tofu packet and wrap the tofu in a couple of layers of paper towel. Set on a cutting board with another board on top. Place something heavy on top (I usually use a stack of cookbooks!). Leave to drain for 5 minutes.
Meanwhile preheat the oven to 180°C (160°C fan / 350°F). Cut the tofu into ~1 cm chunks. Toss onto a baking tray with the vegetable oil and soy sauce to coat.
Bake for 15 minutes until crisp around the edges.
To serve:
Cook the noodles according to the package, then drain, rinse with cold water and set aside in a bowl of cold water until needed.
Ladle the warm soup into 4 bowls. Divide the noodles between the bowls and top with the crispy onions and tofu. Serve with a lime wedge for squeezing over.
Notes
If your blender isn't that powerful I'd advise that you peel your broccoli stalk and cut off the very base of it. Otherwise you may end up with stringy bits of broccoli in your soup!
If you have Thai green curry paste sitting in your fridge/freezer, feel free to throw a tablespoon or two of that into the pot as you cook the ginger at the start. It'll add a good punch of flavour!
You can also serve this without the noodles/tofu if you want a lighter meal. It's nice to sprinkle a few defrosted peas on top of the soup for added texture if you do this.


Homemade Crispy Fried Onions
Ingredients
1 white onion, peeled, thinly sliced (I use a mandoline)
1 tbsp white rice flour or plain flour
4 tbsp vegetable oil
Instructions
Toss the thinly sliced onion with the flour in a bowl until all coated.
Heat the vegetable oil in a small pot or frying pan over a medium heat. Once hot, add the sliced onion - you will probably have to work in batches so you don't overfill the pot.
Leave to fry, stirring occasionally - the oil will bubble up, the bubbles will recede and the onions will start to turn brown. Once they are all mostly brown, remove from the oil with kitchen tongs to a plate lined with paper towel to drain.
Repeat to fry all the onions.
Store excess, cooled, fried onions in a lidded container in the freezer.
Have you made this recipe?
I'd love to see how it went! Tag me on instagram @izyhossack and hashtag it #topwithcinnamon so I can have a look & reshare in my stories!
The post Broccoli Soup with Coconut, Coriander & Noodles (Vegan) appeared first on Izy Hossack - Top With Cinnamon.