Silky smooth and surprisingly light, with a texture and flavor that's like a cross between chocolate mousse and pumpkin pie, these chocolate pumpkin pots de creme would make the perfect alternative Thanksgiving dessert.
Chocolate and pumpkin make for a lovely combination in these pots of pure delight, with a hint of pumpkin spice and a silky smooth texture that'll have you licking the pot clean and clamoring for more.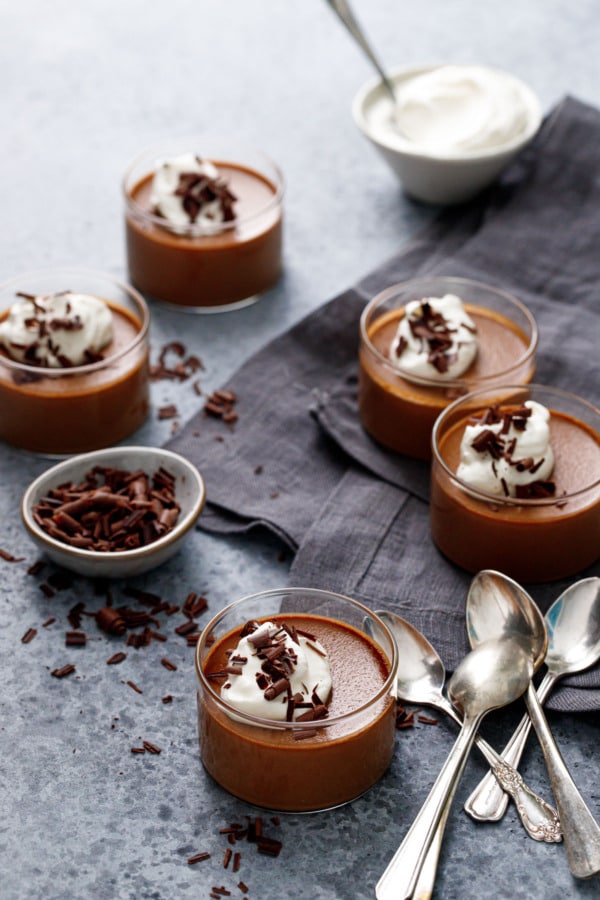 This Thanksgiving is going to look a little bit different from years past… most of us are (should be!) only cooking for a few people, in which case a full scale pumpkin pie really isn't necessary (although I do love leftover pumpkin pie for breakfast especially… but still, a whole pie for 2 or 3 people is… a lot).
Which is why this recipe is so perfect, perfectly scaled for a small gathering. It's almost like mini, crustless pumpkin pies. Except lighter and silkier. And with chocolate. (Honestly, it's pretty much the perfect dessert).
In terms of texture, the photos really don't show just how lovely it really is. It's silky smooth and surprisingly light, almost like a cross between pumpkin pie and chocolate mousse. The flavors of pumpkin and chocolate are perfectly balanced, neither one overpowering the other, with subtle notes of vanilla and spices that support without overwhelming.
If you're not a fan of pumpkin pie because of its dense, somewhat pasty texture, know that these pots de creme are notably different, surprisingly light, velvety smooth and not pasty in the least.