When the nacho craving hits, nothing satisfies quite like a mountain of hot and melty nachos. Our version is topped with savory smoked chicken and a creamy cheese sauce so flavorful you'll be tempted to eat it by the spoonful.
Way beyond your basic ballpark nachos, these loaded smoked chicken nachos are topped with all the good stuff including pickled jalapeños and pickled red onions (pickles are the secret to next-level nachos), plus olives, fresh radishes and micro cilantro.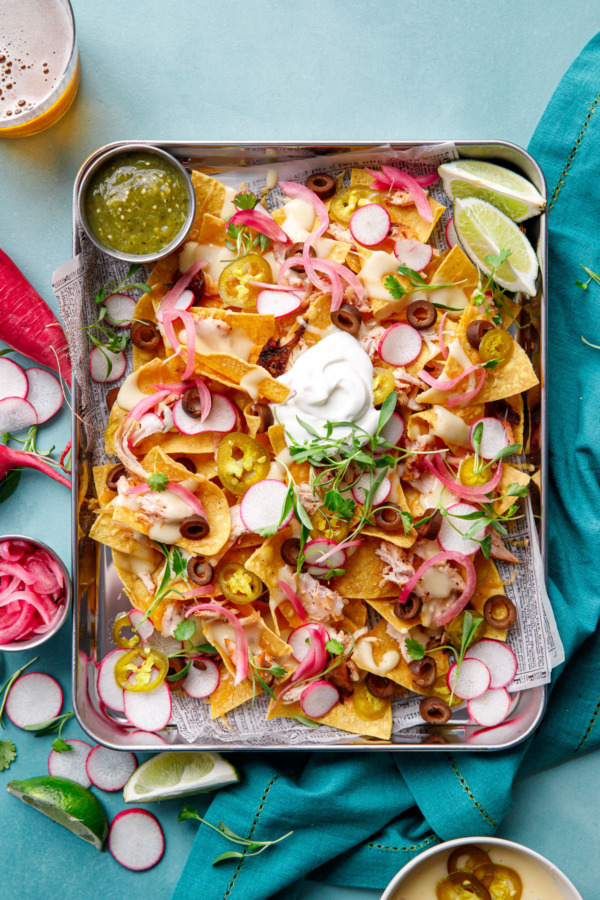 Ready for a little nacho history?
What we think of as nachos here in the US, a heaping mound of crispy tortilla chips drenched in globs of plasticky orange cheese sauce, looks nothing like the original nacho which originated in Northern Mexico in the 1940s. Invented by Ignacio "Nacho" Anaya as a simple and satisfying snack, the original nacho featured simple triangles of fried corn tortillas topped with melted shredded cheese and pickled jalapeño.
Heck, if I created such a brilliant snack I'd name it after myself too.
The "Nacho Special" eventually made it across the border to Texas in the 1970s, where it started to evolve into the ballpark snack we know today.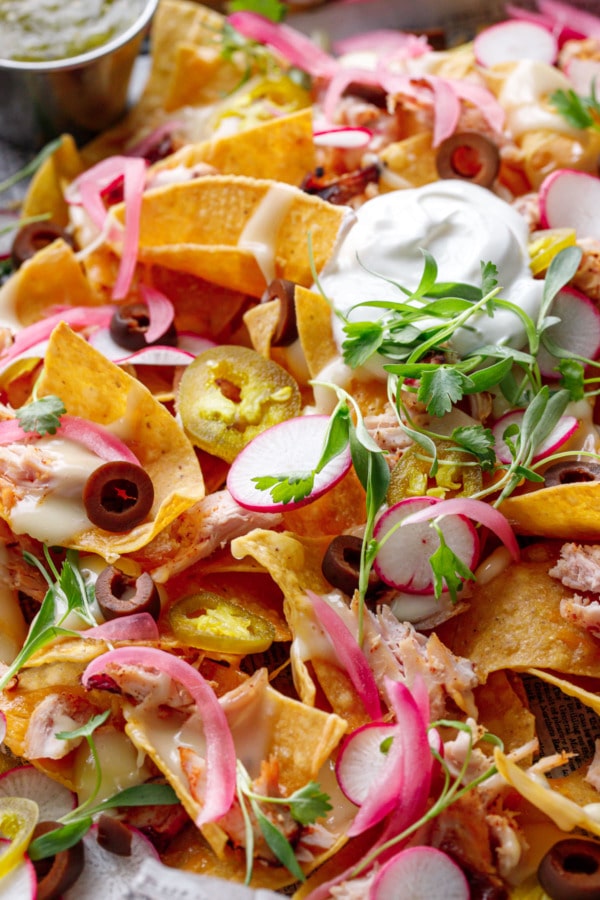 This recipe takes that original idea of chip, cheese, and pickled jalapeño (a perfect combination if there ever was one) and loads it up with even more goodness, including smokey shredded chicken, pickled red onions, black olives, sour cream and cilantro.
I mean, I'd argue that these nachos are less snack and more meal (and indeed, we thoroughly enjoyed a pan of them between the two of us for dinner).
The inspiration for this particular iteration of nachos comes from a Nashville bar called Bastion. Let me just say, their nachos are phenomenal, and I've driven across town more than once just to fulfill a craving.