This minimalist yule log roll cake is simple and sophisticated, with a faux wood-grain effect baked right into the light chocolate sponge cake, and a cloud-like chestnut whipped cream filling.
We've given the traditional European yule log cake a far-East twist, using a Japanese cake design technique to give the cake a unique wood-grain look, no fussy frosting required.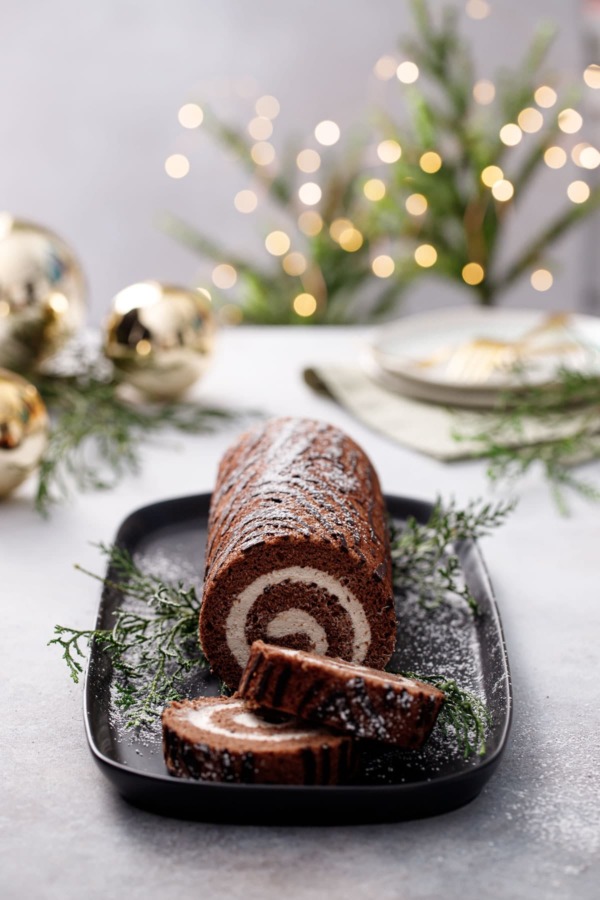 Yule Log cakes in general can be rather fussy, with fancy layers of frosting and meringue mushrooms and sugared cranberries and other decor that take hours to create. On the opposite end of the spectrum, we'll call this Japanese-style roll cake the minimalist's yule log: with a wood-grain design baked right into the cake itself, and a simple dusting of powdered sugar as the finishing touch.
It's a perfect option for lazy bakers and frosting haters, and for those who like their desserts a little less sweet.
The cake itself is a light cocoa sponge cake baked with a darker chocolate wood grain pattern (the color contrast necessary here, which is why I didn't make the cake too dark). The filling is a lightly sweetened whipped cream infused with chestnut creme and a splash of amaretto liqueur. It's a delicious and festive flavor combination that tastes like the holidays without being so in your face about it (like, ahem, peppermint or gingerbread flavors).
Chestnut spread, also called chestnut creme or creme de marron, is made from pureed candied chestnuts. We first tried this nutty spread in France (it's amazing on crepes), and promptly found a few cans at a local market to bring home with us. I'm not sure why chestnut creme hasn't made its way to the US, since chestnut trees grow so abundantly here. Luckily, you can get it online pretty readily or make it yourself from fresh chestnuts.
Chestnut creme is most often used in the classic French dessert called a Mont Blanc, and, actually, this cake could probably also be called a Mont Blanc bûche de Noël because of the similarity in flavor profiles (namely, chestnut cream and whipped cream).