Fall arrived with brilliant colors and cold temperatures. Now, the peak color of autumn has passed. There are more leaves on the ground than in the trees, and the word snow is frequently overheard in whispered conversation. Time, as has happened on so many occasions before, has gotten away from me again.
At the end of summer, I worried that I wasn't engaging meaningfully in my own life. I was going through the motions, but I felt detached—from myself and from my family. With the start of another school year on the horizon (and finding a new work-life balance), I feared this situation would only worsen.
And it did, for awhile, because finding a new normal takes time.
However, I gradually began to find the active role in my own life by adjusting my priorities and learning to let things go. I started going to the gym at 5:30 am (which I never thought I was capable of) because it gave me the time I need for myself and more goofy baby time with N when I get home in the afternoons (which eases that mama guilt).
My house is a dirty, cluttered mess and I'm learning to be okay with that. Sometimes it really is more important to sit on the couch with my husband and watch a television show together than to make sure the dishes in the sink are washed or the laundry is done.
I am leaving my oven turned off in favor of enjoying the quiet everyday activities of life—a cup of coffee to start the weekend with my husband, an afternoon walk as a family on a crisp fall afternoon, and sore knees while I crawl around with N on the floor (while she reminds me what I still need to baby-proof—how do I have a mobile baby already?).
I don't intend to paint a rosy picture here. There are still many days when my hopeful intentions come crashing down, but I am feeling better. After a difficult year of adjusting to my new identity as a mother, I am beginning to feel present again.
And though it may seem small, it is everything.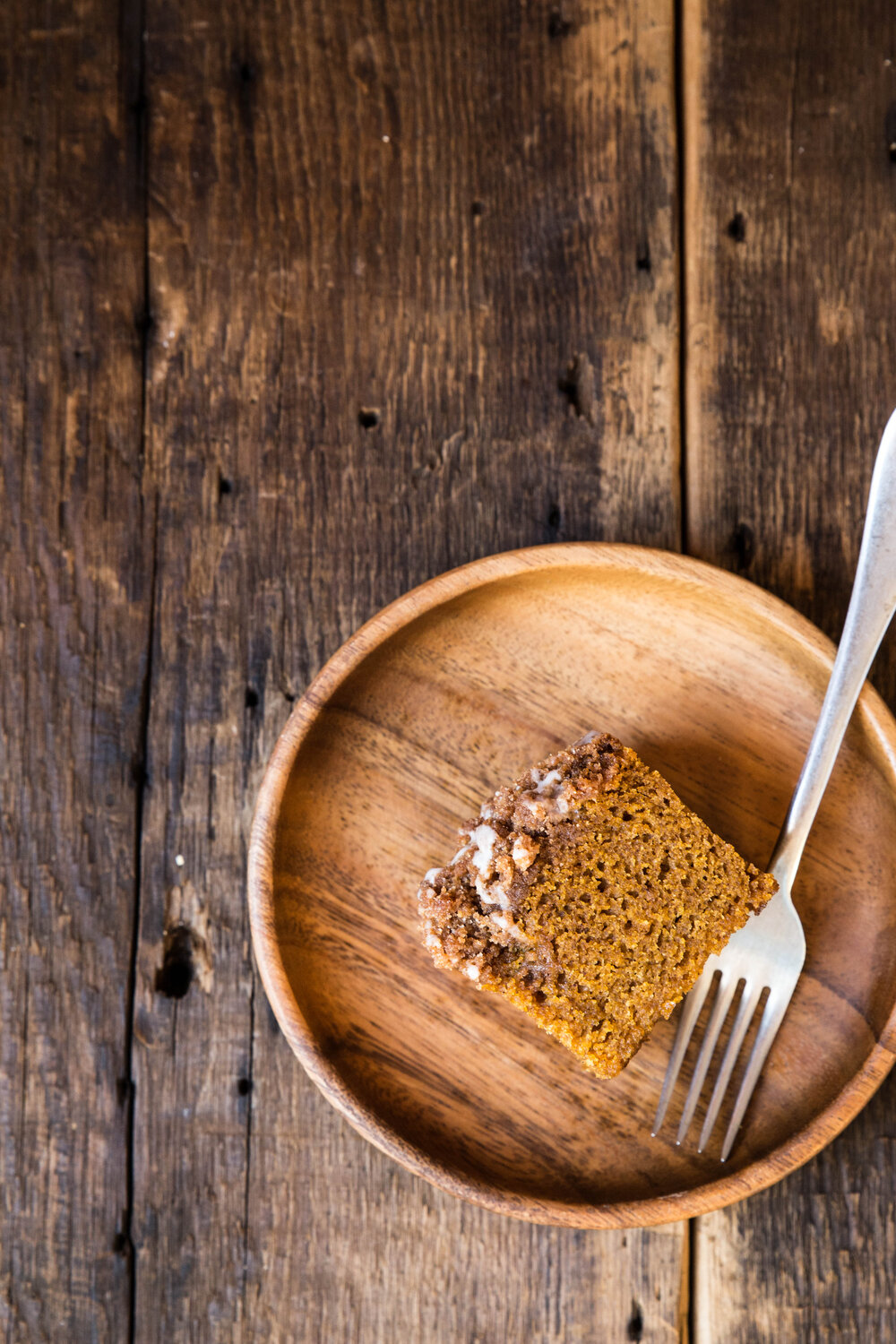 I made this Pumpkin Streusel Coffee Cake a few times over the last month, each time changing it slightly until I found my personal preference. I was looking for an easy way to give the cake texture without needing to pull out a mixing bowl to whip up a batch of frosting.
Inspired in part by these pumpkin streusel muffins, I quickly stirred together a cinnamon-scented streusel topping to top off the pumpkin sheet cake. This pumpkin cake recipe—generously spiced and heavy on the pumpkin—is my go-to during the autumn season and has been for many years.
While the powdered sugar glaze is optional, I do like the look it gives to the final coffee cake (and a little extra sweetness is just the icing on the cake, right?).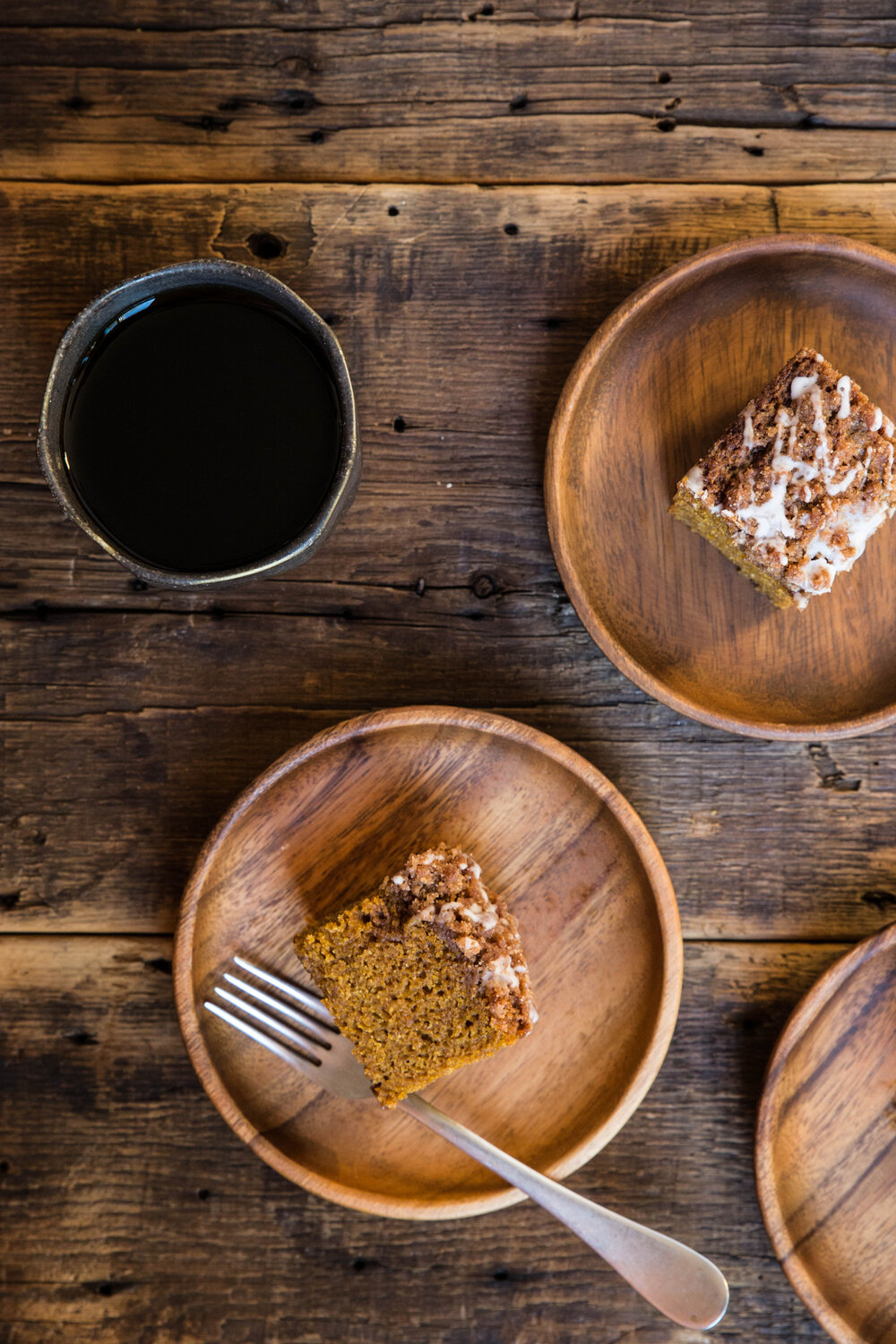 This Pumpkin Streusel Coffee Cake is easy to make and ideal for sharing. A sweet cinnamon streusel tops a moist pumpkin cake, adding texture to a classic flavor combination. With a powdered sugar glaze for appearance and extra sweetness, the cake is complete. Serve alongside a hot cup of coffee or a tall glass of milk.
Pumpkin Streusel Coffee Cake
Yields 9 x 13-inch cake
Pumpkin Cake
15 ounces (425 grams) pumpkin puree
4 large eggs
3/4 cup (177 mL) vegetable oil
1 cup (200 grams) brown sugar, packed
3/4 cup (150 grams) granulated sugar
1 teaspoon vanilla extract
2 cups (250 grams) all-purpose flour
2 teaspoons baking powder
1 teaspoon baking soda
1 1/2 teaspoons pumpkin pie spice
1 teaspoon ground cinnamon
1 teaspoon salt
Streusel Topping
1/2 cup (100 grams) granulated sugar
1/2 cup (100 grams) brown sugar, packed
1 cup (120 grams) all-purpose flour
1 1/2 teaspoons ground cinnamon
1/4 teaspoon salt
6 tablespoons (85 grams) butter, melted
Glaze
1 cup (125 grams) powdered sugar
2 tablespoons milk
Preheat oven to 350 degrees F (180 degrees C). Grease a 9 x 13-inch cake pan. Set aside.
For the pumpkin cake, beat together the pumpkin, eggs, oil, brown sugar, granulated sugar, and vanilla extract in a large mixing bowl until well blended. Stir in the flour, baking powder, baking soda, pumpkin pie spice, cinnamon, and salt until smooth and uniform in appearance. Pour into prepared baking pan and set aside.
For the streusel topping, stir together the granulated sugar, brown sugar, flour, cinnamon, salt, and melted butter in a small mixing bowl. Crumble the mixture evenly over the top of the pumpkin batter.
Bake for 30-35 minutes, or until a toothpick inserted into the center comes out clean. Allow cake to cool before glazing.
To prepare glaze, stir together the powdered sugar and milk until smooth. If the glaze is too thick, thin with a teaspoon or two of milk. Drizzle over the top of the cake. Allow glaze to set before cutting cake and serving.