The taste of springtime in one show-stopping tart: a velvety smooth Meyer lemon curd and a layer of bright strawberry jam nestled inside a lemon-scented shortbread crust, and topped with fresh strawberries and edible flowers.
Lemon and strawberry come together in a tart that's as bright in flavor as it is in color. Using Meyer lemons gives the curd filling a well-balanced sweetness with a vibrant lemon flavor, paired with fresh strawberries and a layer of strawberry jam for a perfect finish.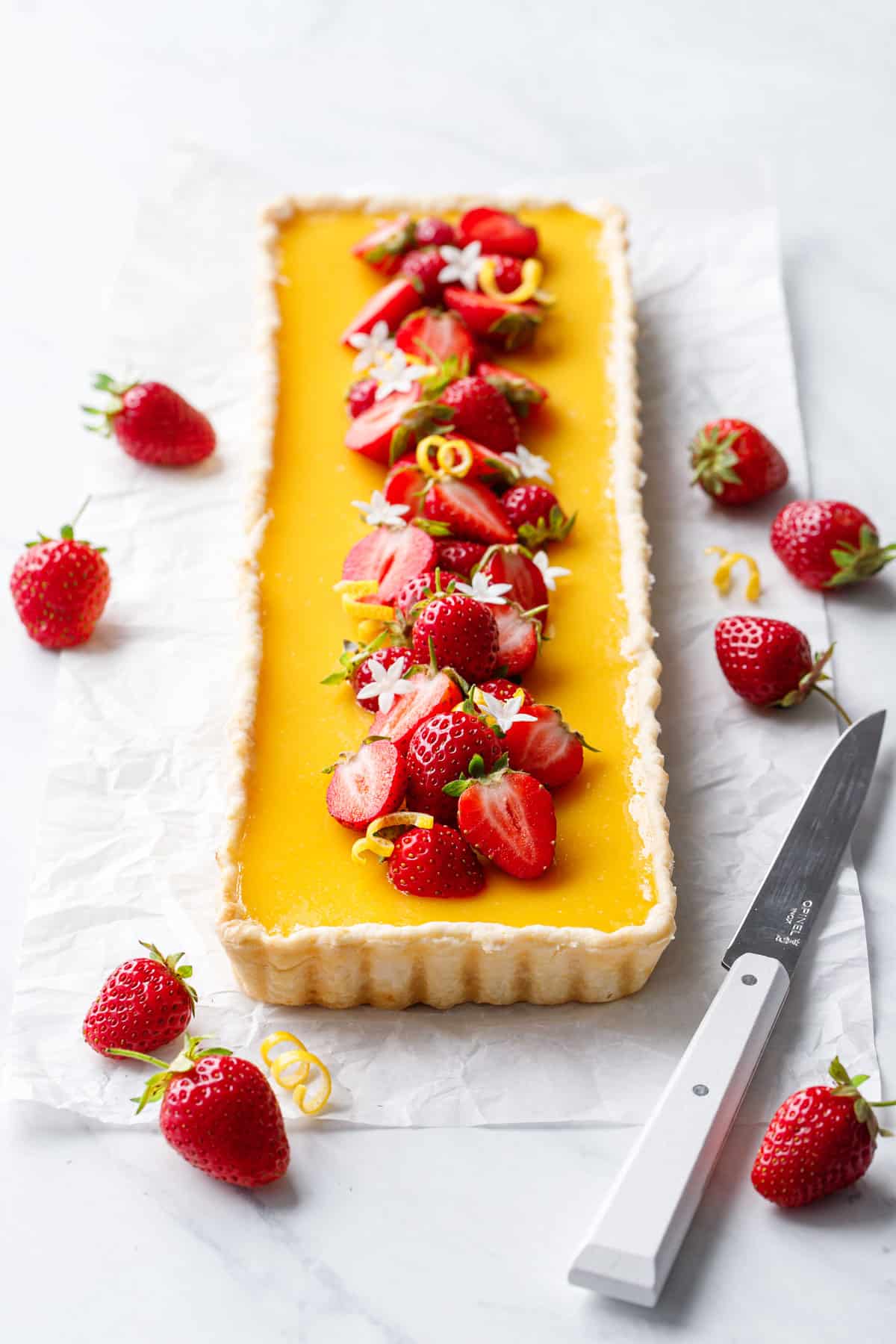 Technically lemon season is at its end, but, thanks to an over-eager tree trimmer, my aunt had a surplus of lemons that needed to be used immediately. Three days later (the postal service is an amazing thing) I found myself with yet another box full of gorgeous Meyer lemons.
After having already made a lemon loaf cake and lemon mousse cakes and a double batch of homemade limoncello, I decided to revisit an old lemon tart recipe to update and rephotograph.
Well, one thing led to another and I ended up making something entirely different (are you surprised? You shouldn't be).
Seeing that strawberry season is upon us, combining strawberries and lemons seemed like an obvious choice. While I toyed with the idea of mixing the strawberries into the lemon curd, or even adding a layer of strawberry gelée on top, I ultimately decided to keep it simple and spread a layer of fresh strawberry jam in the bottom of the crust. I was a bit worried the jam would mix with the curd or even migrate to the top in the oven, but, to my surprise, it came out as a beautifully defined layer of strawberry jam beneath a vibrant yellow lemon curd.