The soft floral notes of honey mingle with sultry vanilla bean in this show-stopping baked custard that's deceivingly easy to prepare.
Honey and vanilla make for a perfect combination in these perfectly petite, and perfectly adorable, pots de crème. The silky smooth texture is achieved by gently baking in a bain-marie or water bath.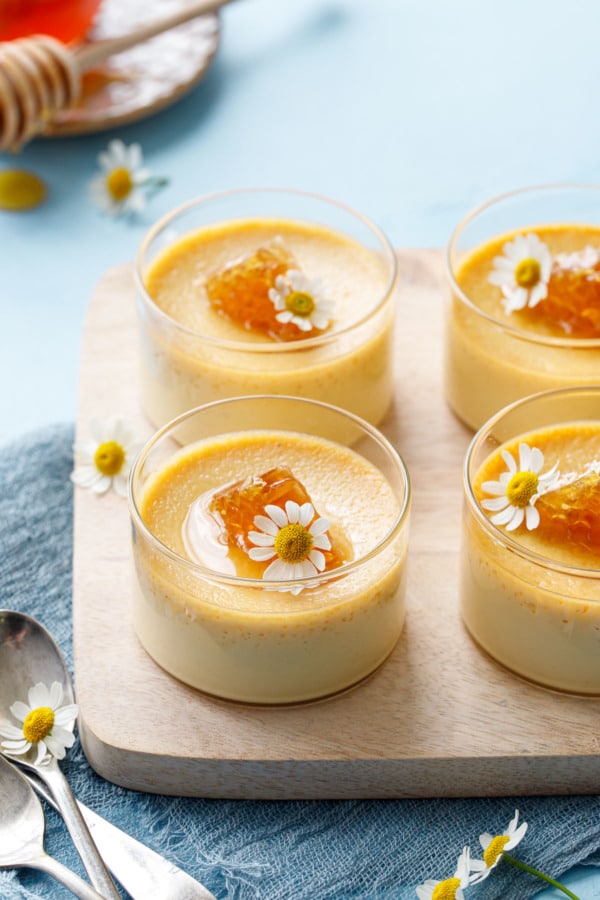 Part two of my edible flower obsession, this time featuring chamomile flowers. They are most commonly used as herbal tea, but the fresh flowers are a lovely edible garnish for any dish, sweet or savory.
I was unsuccessful growing my own chamomile flowers last summer, and this year my efforts to find a starter plant came up short. I filled my garden with other edibles, including dianthus and marigold, but had resigned myself to a chamomile-less existence.
Then I spotted fresh cut chamomile flowers at Trader Joe's, and immediately stashed a bunch in my cart (to Taylor's obvious confusion since I never buy fresh flowers… because, cats.)
I had been planning to revisit these lovely honey pots de creme for some time now, the recipe one we originally developed for a honey company years ago but never actually posted it here. I had a container of honey comb I'd been saving for just this reason as well, so it appeared the stars (and flowers) had finally aligned.