Fall for this autumn-inspired grilled cheese: with a layer of apple butter, thinly sliced fresh apples, sautéed shallots and thyme, and perfectly gooey, melty cheese that blurs the line between sweet and savory.
I call this French-toast style grilled cheese, battered and butter-toasted until it's perfectly golden brown, and let me tell you, it is life changing, falling somewhere in between a traditional grilled cheese and a monte cristo.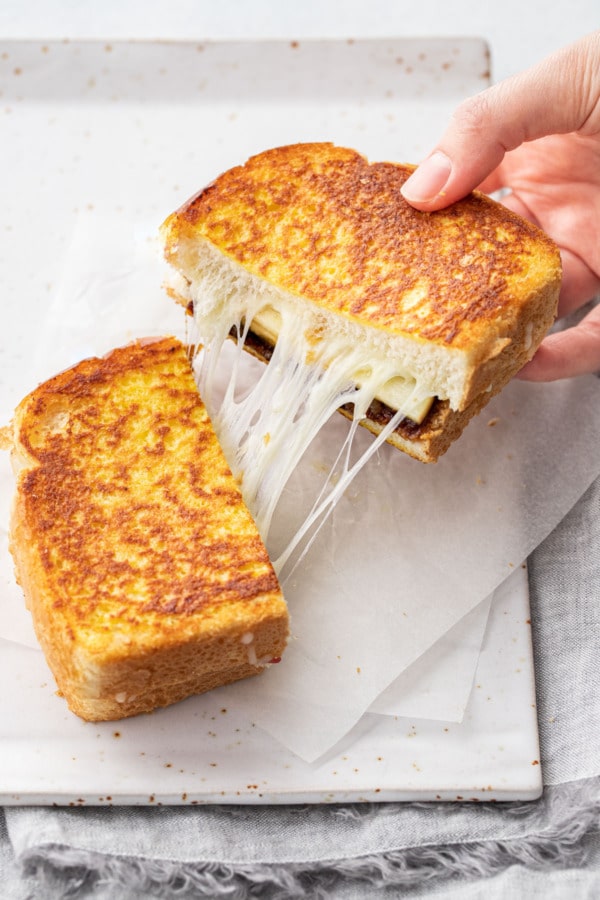 This recipe was created in partnership with Roth, award-winning cheeses made in Wisconsin with milk from local family farms. Now available at a store near you!
No, your tastebuds aren't tricking you, this next-level grilled cheese somehow manages to be both sweet and savory.
In one bite you'll taste the alpine-style cheese, nutty and mild and ultra melty. The next brings a hint of autumn spice and fruity sweetness from the apple butter, and a fresh crunch from the slices of thinly sliced apple. But then! There's the shallot, sautéed with a bit of butter and thyme, for a subtle savory push. And finally, the eggy bread, cooked to golden brown perfection that'll have your brain thinking you're eating a slice of perfect French toast.
It's a culinary mind melting experience, and I am here for it.
Cooking a grilled cheese French-toast style involves basically brushing the bread with an egg/milk mixture instead of butter. Doing so walks the line between sweet and savory, taking your tastebuds on a wild adventure. The egg wash also produces a gorgeously golden brown finish (and let's face it, we all eat with our eyes first anyway).
If you've ever had a Monte Cristo sandwich, it's a similar idea (although sometimes Monte Cristos are deep fried and topped with powdered sugar, and, well, let's just be reasonable here). You could even go full MC with this recipe and add a layer of thinly sliced ham or prosciutto in the mix.
Not only does the egg wash produce the most gorgeous golden brown crust, but it also gives the sandwiches a hint of egginess that just screams EAT ME FOR BRUNCH. Thought I'd be equally satisfied eating it for lunch. Or dinner, too, really (you know I'm always down for some B4D).