Crispy and chewy oatmeal cookies meet toffee-coated apples… it's a seasonal flavor combination you're sure to love!
These unique and delicious oatmeal cookies are a textural delight: crispy on the edges, soft and chewy in the center, and studded with chunks of cinnamon-spiced dried apples and crunchy toffee bits throughout.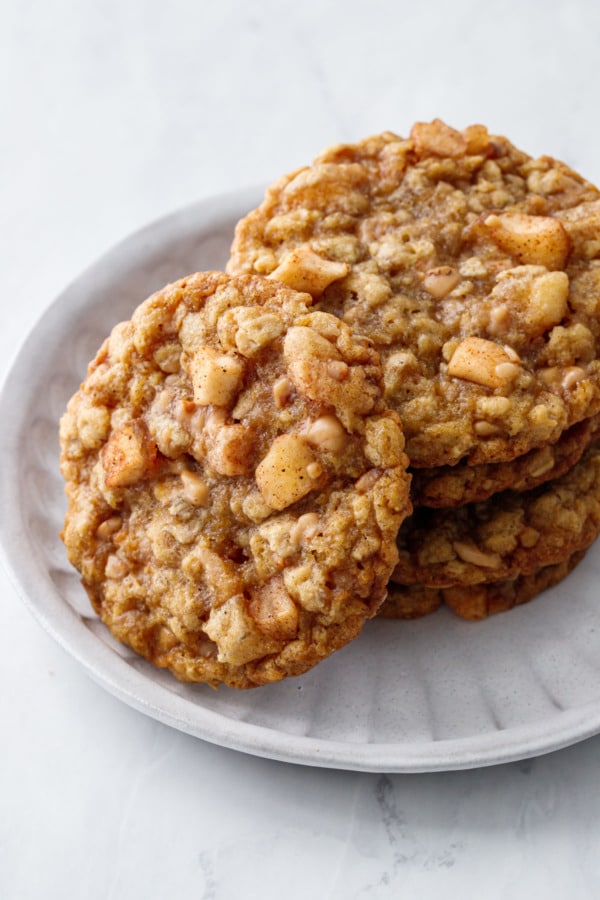 Look, when it comes to cookies I'll admit to being lured by the fancy: the filled and the frosted, the stuffed and the sprinkled. I tend to write off anything else as boring and not worth my time. I mean, I don't even have a classic chocolate chip cookie recipe on this site for gosh sakes.
That said, despite the fact that these toffee apple oatmeal cookies are decidedly not fancy, not to mention not the least bit photogenic, they may just be one of my favorite cookies of the year.
Texturally, they're a delight, something that's incredibly hard to convey with photos. I'd describe them as both chewy AND crispy, proof that the impossible is possible.