Holiday baking season is upon us, and these pistachio-flavored cutout cookies are the perfect canvas for holiday decoration.
These incredibly soft, subtly green sugar cookies are flecked with bits of chopped pistachios and decorated with a drizzle of candy coating and a flurry of sprinkle snow.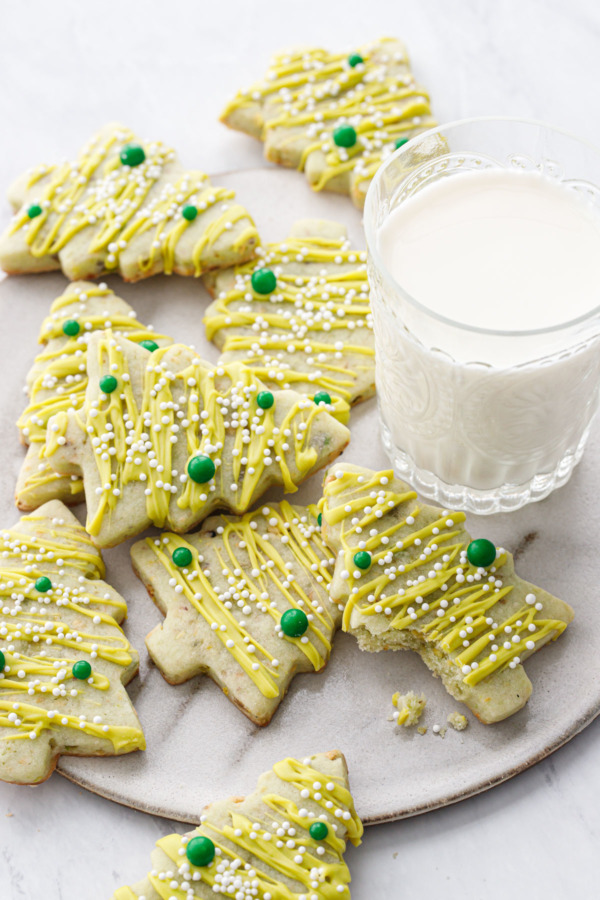 This recipe was created in partnership with Wilton, bringing the love of baking and decorating to everyone, everywhere, every day. This post contains tracking and affiliate links.
It's official, 2019 is the year of the pistachio.
I'm seriously obsessed (as you can very well tell), and have no intentions of letting up anytime soon.
Sweet or savory, from cookies to ice cream to snacks, pistachios are a particularly versatile nut.
Here we bring out their sweet side in a pistachio variation of a classic soft sugar cookie recipe. It might just be a new holiday favorite!
The recipe itself is very similar to my vanilla almond sugar cookies, with the addition of finely chopped pistachios for crunch, pistachio extract for flavor, and a hint of green food coloring to give the cookies a gorgeous pistachio hue.
That hint of green makes this dough particularly suitable for Christmas cookies, a perfect blank green canvas for whatever festive decoration your heart desires!