With a cookie-like crust, tangy cream cheese, and sweet cherry pie filling, this layered cherry cheesecake dessert is a simple way to enjoy cheesecake any day of the week.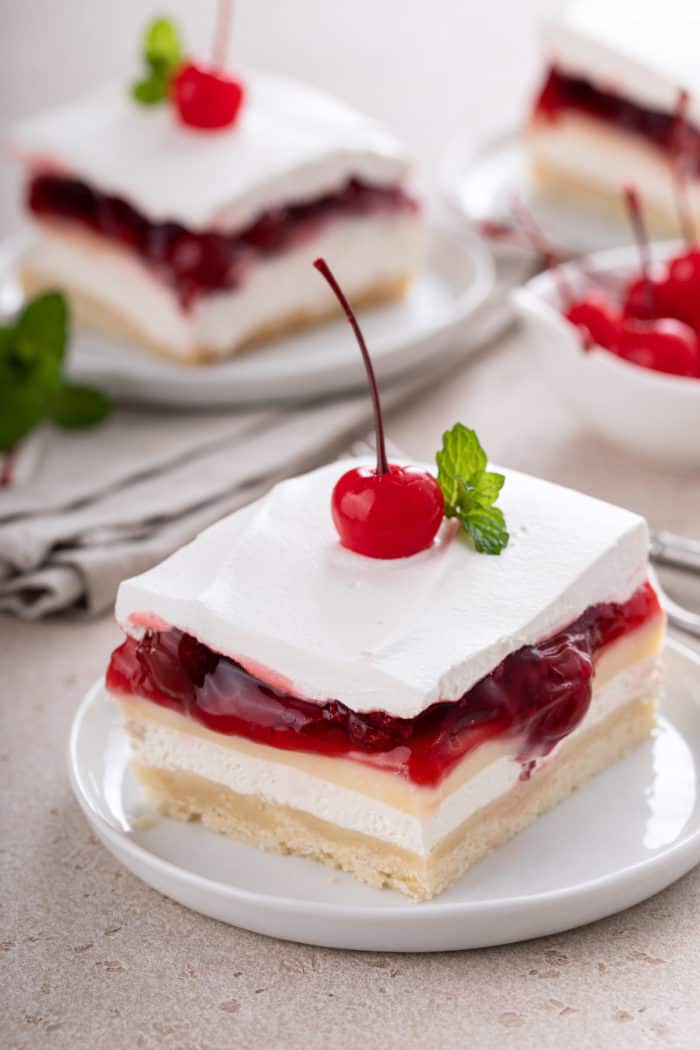 If you've been around here for a while, you know how much I love cheesecake. Cheesecake recipes are some of my very favorite things to make.
And one of my favorite types is cherry cheesecake. It's such a classic, and there's just something special about the combination of tangy, silky cheesecake and sweet cherries.
But I don't always have the time or energy to make a fully cheesecake from scratch, so that's when I like to come up with ways to get those same flavors with a lot less effort.
That's where this layered cherry cheesecake dessert comes in. It's cool, creamy, and delicious, and looks totally fancy with all of the pretty layers.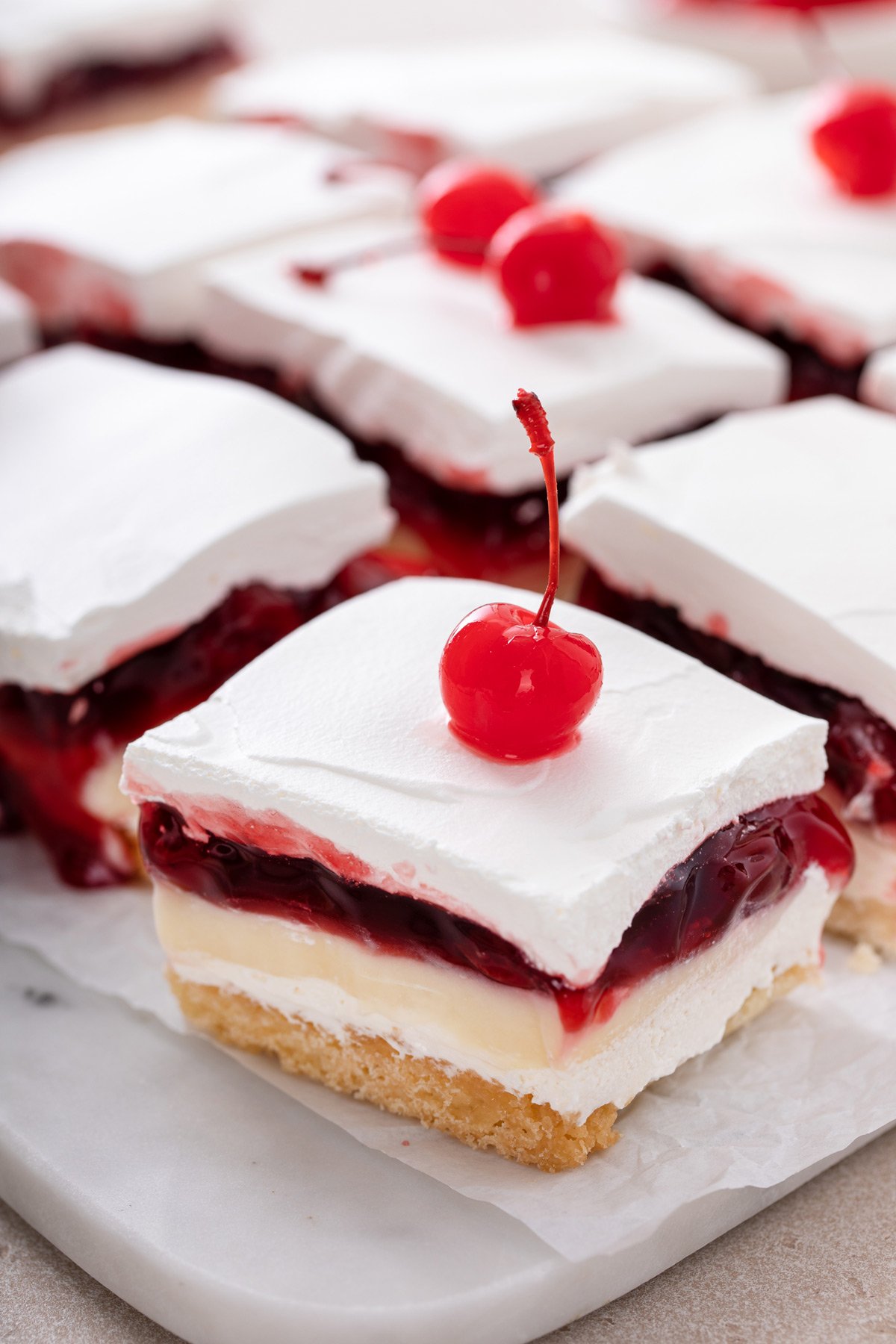 WHAT IS LAYERED CHERRY CHEESECAKE DESSERT?
Yes, I'm back with another layered dessert. You had to know it was going to happen!
These layered desserts are so much fun. They're easy to make and look so impressive since you can see all of the layers in every slice.
They're also what I call a "low-bake" dessert – once you're done baking the crust (which only takes 15 minutes), everything else is no-bake. Perfect for days when you don't want to have your oven on for hours at a time.
This version has the same cookie-like crust as my layered lemon dessert and the rest follows a similar pattern to my layered pistachio pudding dessert: a fluffy cream cheese layer followed by a cheesecake pudding layer, then a layer of cherry pie filling and a final layer of whipped topping.
It's got all of the tangy goodness of cherry cheesecake with a fraction of the work.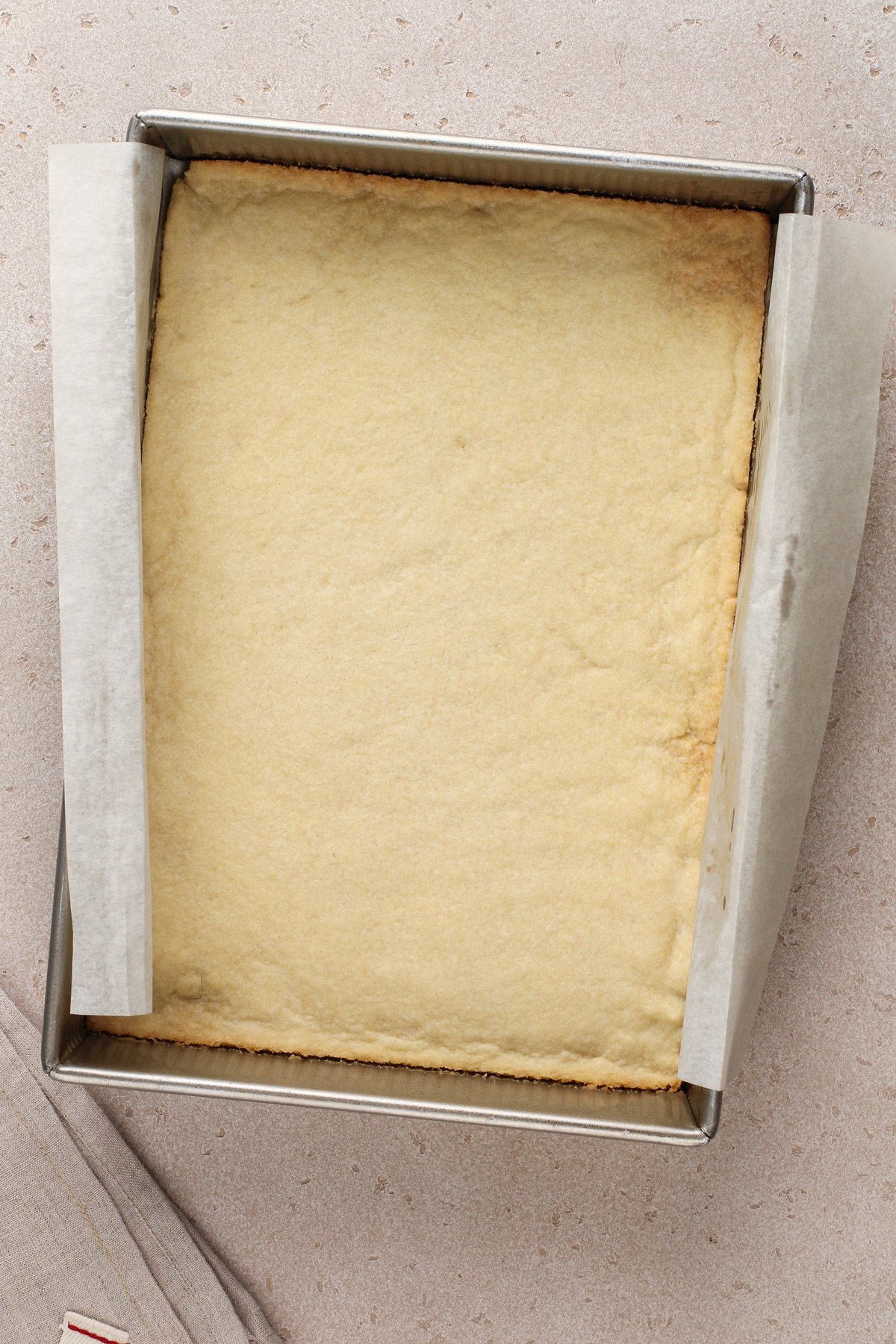 HOW TO MAKE THIS RECIPE
Don't let the multiple layers fool you – this layered cherry cheesecake dessert is simple to make! Let's talk about it.
Ingredients and substitutions
For this recipe, you will need:
2 cups all-purpose flour
1 cup unsalted butter, room temperature
3 tablespoons granulated sugar
pinch of salt
8 ounces cream cheese, room temperature
1 cup powdered sugar
1 ½ teaspoons vanilla extract
16 ounces frozen whipped topping (Cool Whip or TruWhip), thawed
2 (3.4-ounce) packages instant cheesecake pudding mix
2 ½ cups whole milk
2 (21-ounce) cans of cherry pie filling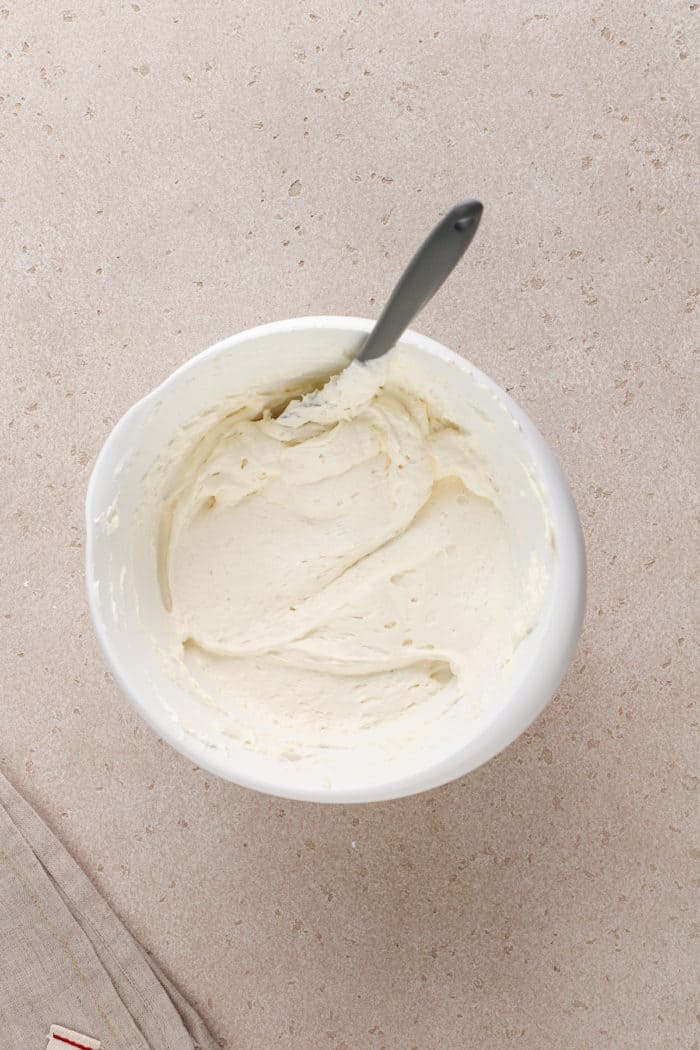 Not a fan of whipped topping? That's ok. You can use stabilized whipped cream frosting instead.
I don't recommend using plain whipped cream as it doesn't hold up as well over time, but the stabilized whipped cream frosting will handle the chilling time really well.
I also usually just grab a couple of cans of cherry pie filling at the store to make this dessert super quick and easy. I usually look for the brands that have "extra cherries" in them.
But if you happen to have some homemade cherry pie filling on hand, that would be delicious here!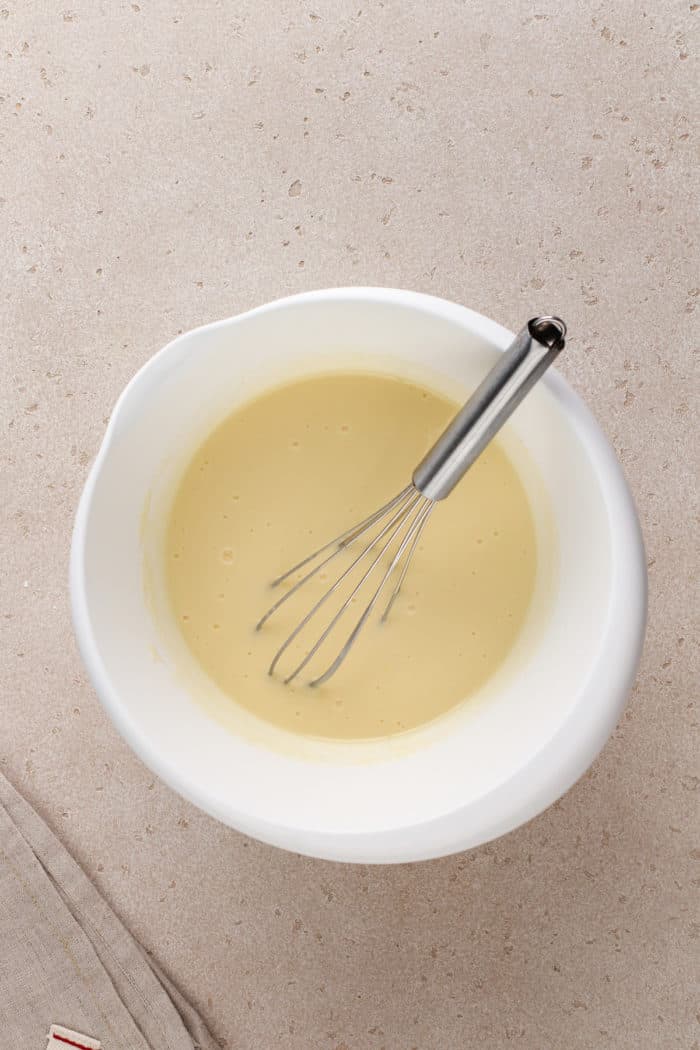 Helpful resources
To make sure your crust turns out perfect every time, make sure you know how to measure flour correctly before you get started.
You will want your butter and cream cheese to be at room temperature for making the crust. If you forget to set them out ahead of time, check out some of my tips for how to soften butter and how to soften cream cheese.
Don't stress if you run out of powdered sugar. I have instructions on how to make powdered sugar – feel free to use that substitute when making the cream cheese layer in this cherry cheesecake dessert!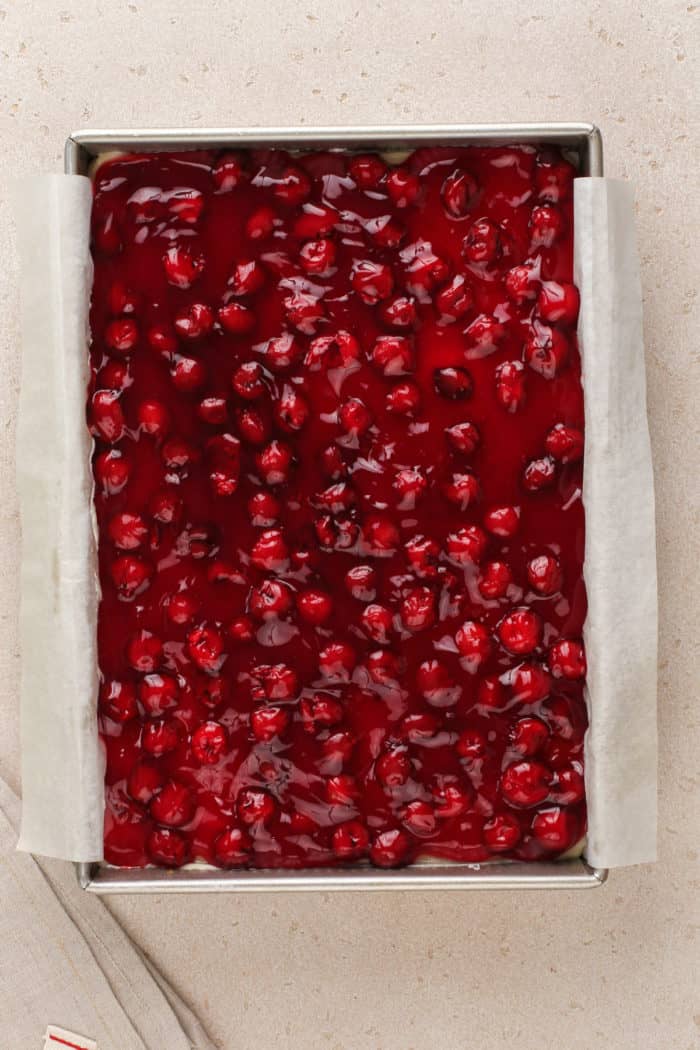 Making layered cherry cheesecake dessert
The first layer for this layered cherry cheesecake dessert is the crust.
Line a 13×9-inch pan with parchment paper and give it a spritz with some nonstick spray.
Use a stand mixer fitted with the paddle attachment to mix together the flour, butter, granulated sugar, and salt until combined. The mixture will be crumbly – that's ok.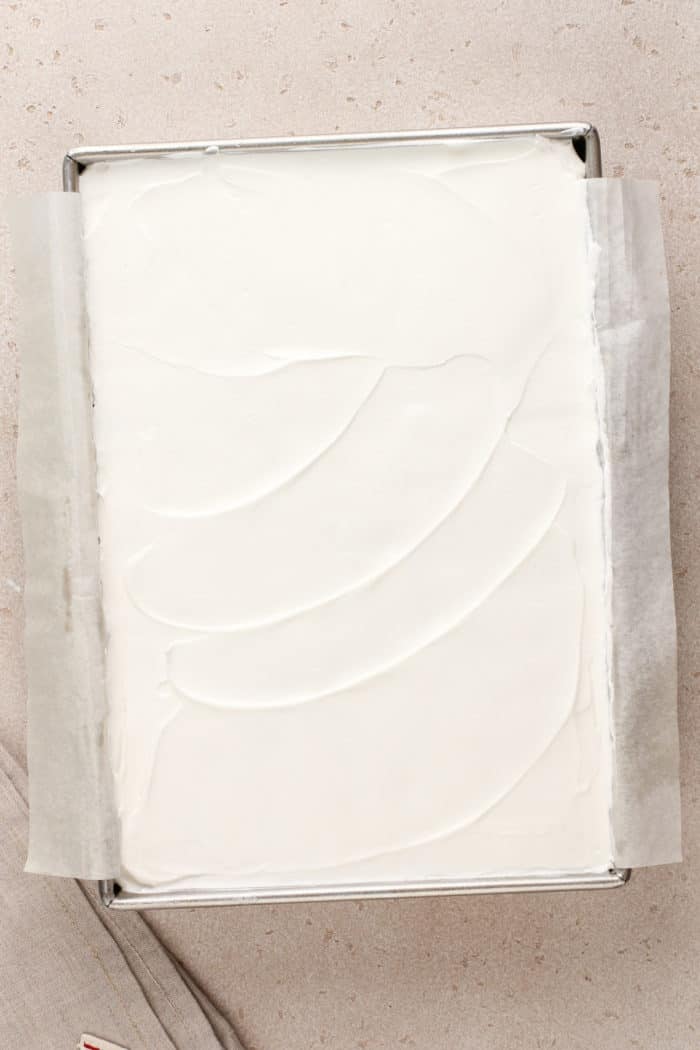 Press the crust mixture into the lined pan using your hands or the bottom of a measuring cup. Once the dough is pressed into an even layer, bake it for 15 minutes, or until golden. Let the crust cool completely before moving on to the next step.
For the cream cheese layer, beat the cream cheese, powdered sugar, and vanilla together with an electric mixer until smooth and creamy. Switch to a rubber spatula and fold in half of the whipped topping, then spread this over the crust.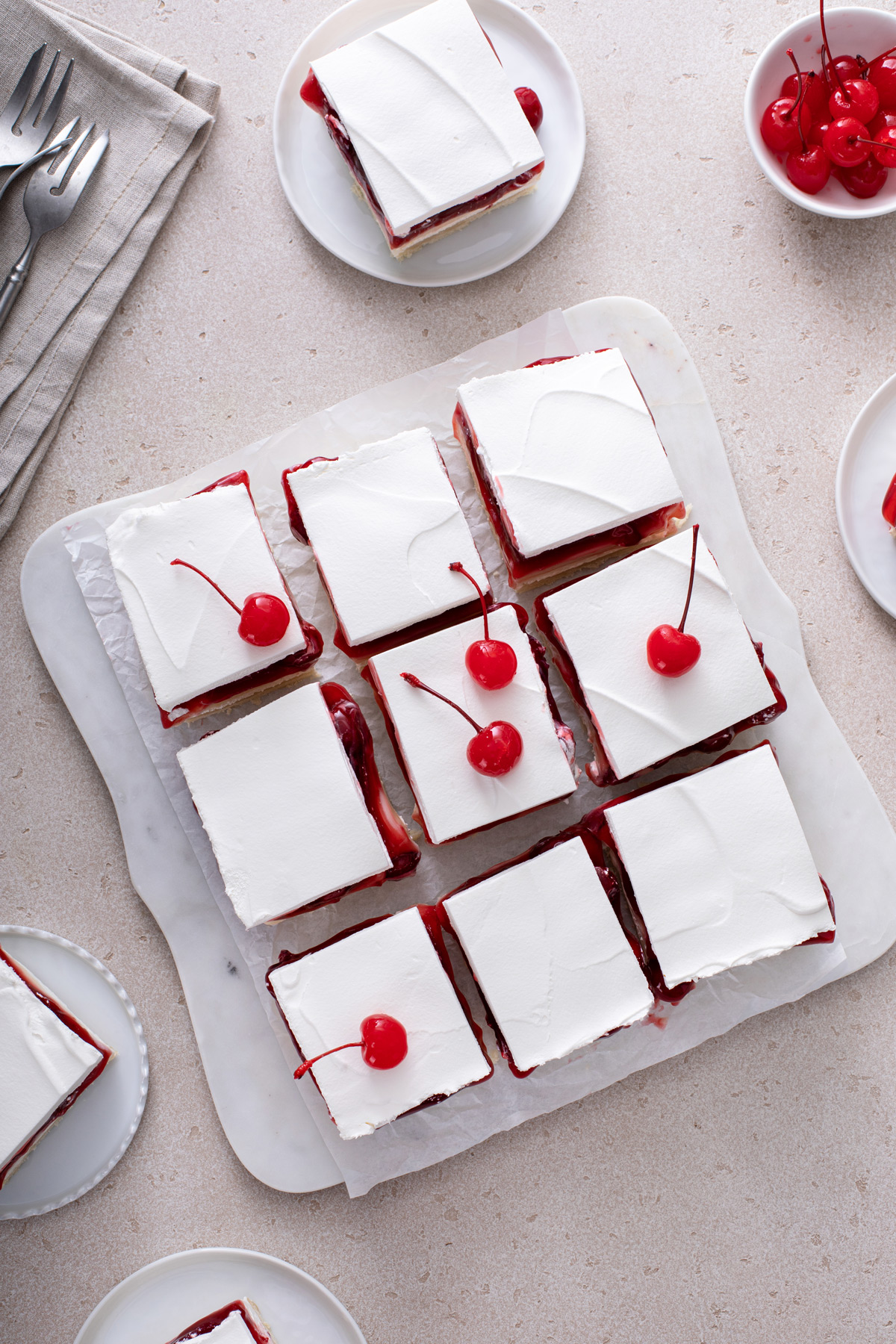 For the pudding layer, whisk together both of the pudding mixes and the milk. Let this thicken for about 5 minutes before spreading it over the cream cheese layer.
Spread the cherry pie filling over the pudding layer, then top the whole thing with the rest of the whipped topping.
Cover and refrigerate the entire thing for at least 6 hours before cutting and serving.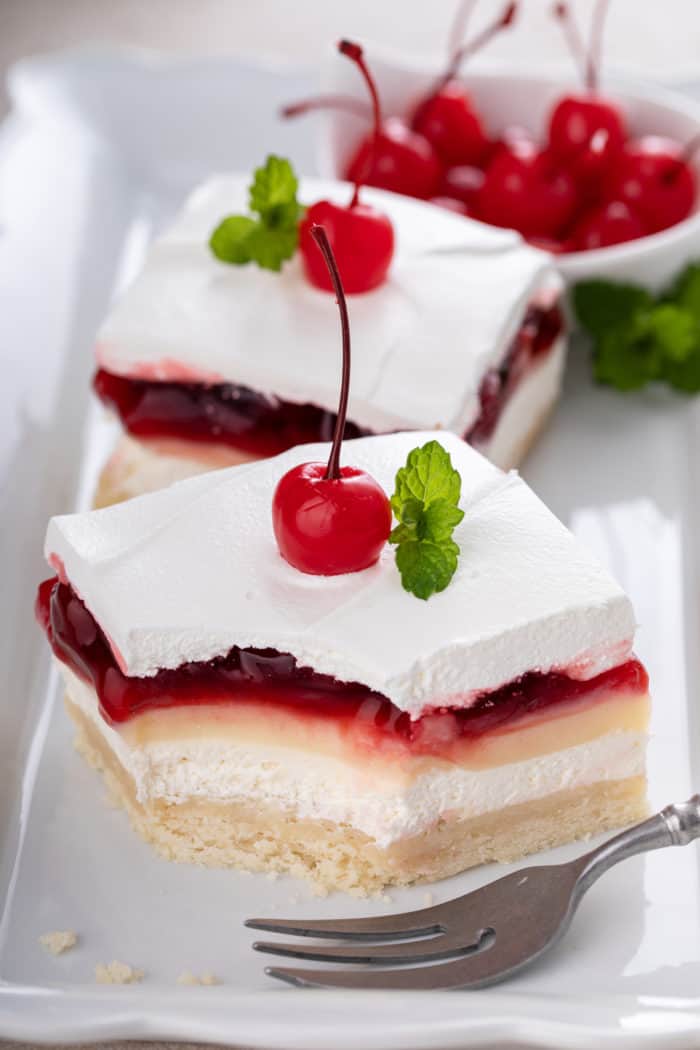 MORE CHERRY-CHEESECAKE-INSPIRED RECIPES
Love this layered cherry cheesecake dessert? Well, you're in luck, because making cherry cheesecake desserts is one of my favorite things to do! Check out these recipes for more of that perfect cream cheese and cherry pie filling combo: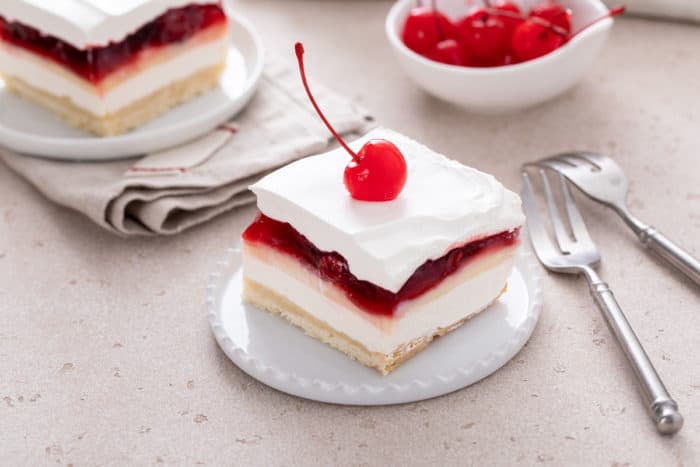 The post Layered Cherry Cheesecake Dessert appeared first on My Baking Addiction.