This classic shrimp boil recipe is incredibly easy to make with zesty seasoning and a dreamy lemon garlic brown butter sauce.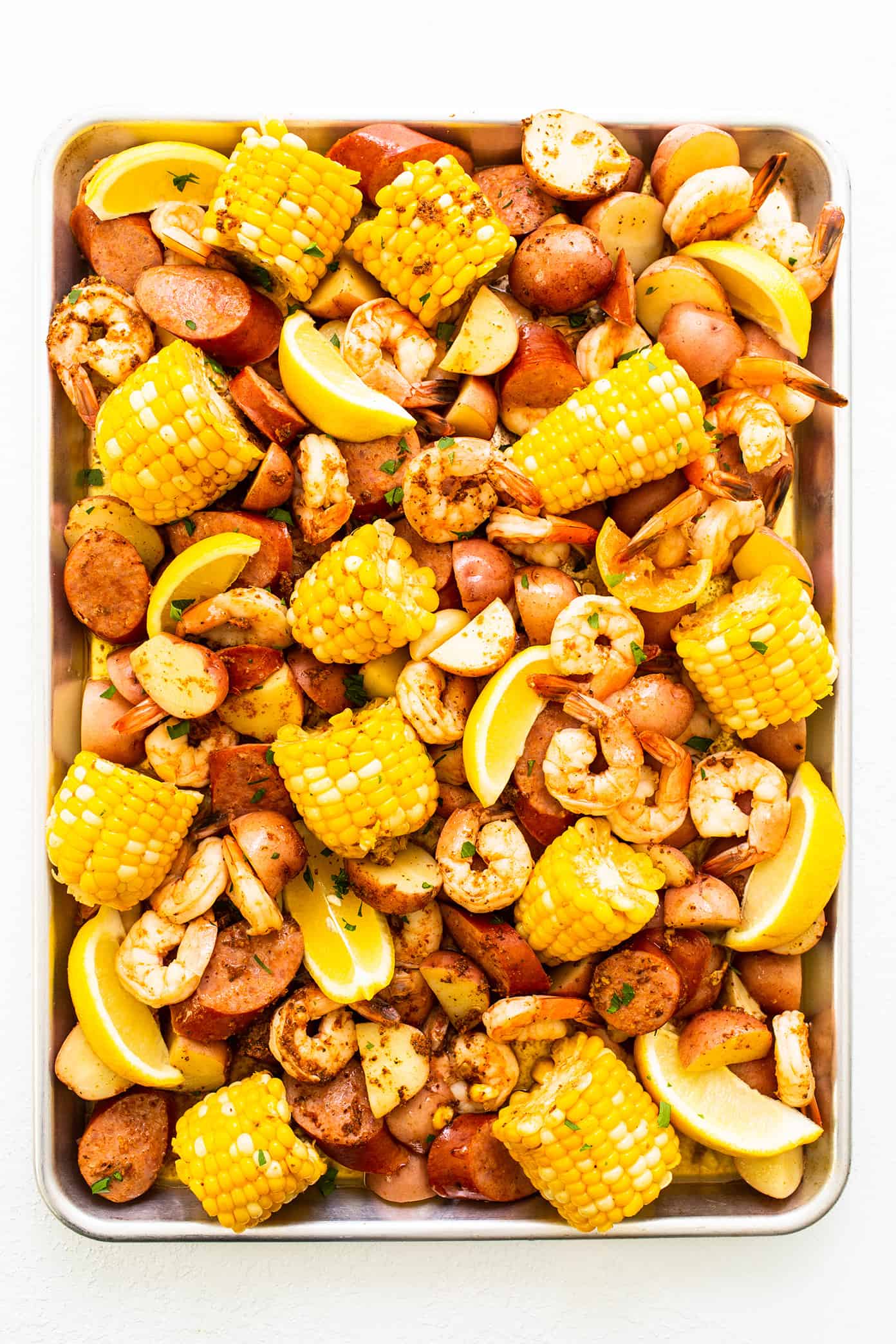 Does it get any more fun than a good old-fashioned shrimp boil?!
I have to say that this American tradition has been one of my absolute favorites that we've brought with us across the ocean to Barcelona. (Made possible in part by the cartons of Old Bay that I religiously stuff in my luggage each time we're back home in Kansas.) Growing up, I was always my grandma's eager sous-chef when she cooked up her annual shrimp boil for the entire family, keeping close watch over the boiling pot beside her as the shrimp magically went from gray to pink to "just perfect." Now, years later, it's turned out to be incredibly fun to introduce new friends (and now, even our little toddler!) to the joy of this family tradition too.
To be sure, a shrimp boil is easy enough to make on a normal weeknight and serve up on basic dinner plates with silverware. But if you feel like making things a bit more festive, I'm one who can never resist the nostalgia of a shrimp boil served atop newspaper-covered tables (no plates or silverware needed!), with bibs all around (a family tradition), and plenty of hot sauce nearby for the topping (a must for me). It's such a simple but fun way to eat and always makes things feel like a party. And hey, it makes cleanup a breeze too!
My grandma always served our family shrimp boils with classic cocktail sauce for dipping, which will always be a delicious option. But in recent years, I've become a fan of instead drizzling on a lemon garlic brown butter sauce over the boil just before serving, which is still so easy to make and tastes downright heavenly. So choose whichever option sounds best to you. (Or hey, go wild and serve both!) Feel free too to use Andouille or kielbasa or whatever variety of sausage you love best. Or if you prefer to go the pescatarian route, we've made ours before with some spicy plant-based sausage and can vouch that it worked great!
Bottom line, if you've never made a shrimp boil before, it's one of those meals that scores super high on fun and flavor while being surprisingly low on fuss and prep time. So the next time your favorite people are together, bring home a big batch of shrimp and pull out your largest pot, and let's boil some shrimp together! ♡