No matter the toppings, homemade pizza is sure to be a crowd pleaser. And the foundation of good homemade pizza is, of course, the crust. Once you find a reliable, go-to pizza crust recipe, you'll be set for life.
We've made dozens of different crust recipes over the years, and this one is our all-time favorite: an overnight pizza dough recipe that uses what's called a poolish, or pre-ferment, to develop a lovely depth of flavor without the need for a sourdough starter. It's thick (but not too thick) and perfectly chewy, with an open, airy crumb and a delightfully crisp bottom.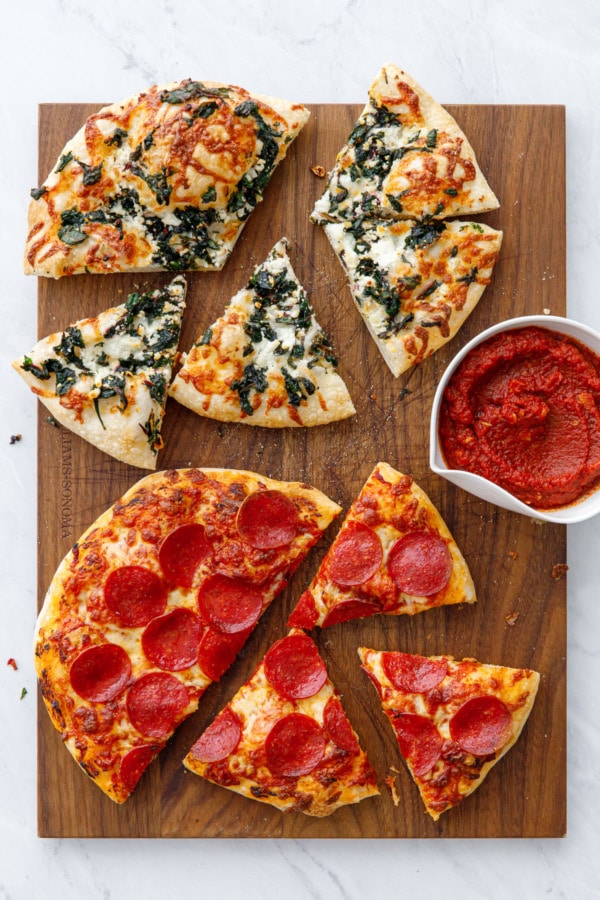 As much as I love sourdough, I find most sourdough pizza crusts too tangy for my tastebuds. But often times recipes using instant yeast are downright flavorless. This pizza dough, however, strikes the perfect balance of flavor and fermentation, and it does so using what's called a poolish, or pre-ferment, which gives the dough a lovely depth of flavor without the harsh undertones of sourdough.
This post and recipe is really focused the dough: what you put on top of it is up to your personal taste and limited only by your imagination.
Our favorite go-to pizza assembly includes a thin layer of extra thick pizza sauce (recipe coming in a separate post!) plus slices of creamy mozzarella and lots of pepperoni (I have to say, I never used to be a pepperoni person but lately it's been growing on me). Sometimes we'll add a sprinkle of parmesan or some fresh basil leaves to finish it off.
If I happen to have fresh chard on hand, this pizza bianca with goat cheese is quite possibly my favorite pizza of all time (just ignore the old crust recipe in that post, ok? This new one is better).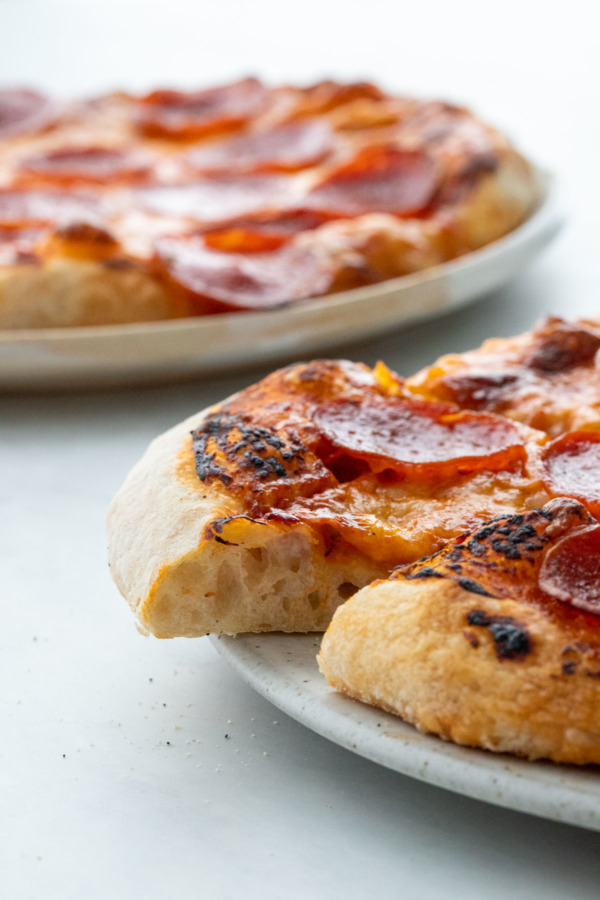 This recipe is scaled and adapted from one of my favorite bread books, Flour, Water, Salt, Yeast. The book actually has four different pizza dough recipes, including a sourdough pizza dough and a same-day pizza dough. But this one, an overnight dough made with a poolish or pre-ferment, has emerged as our favorite. I've scaled it down, as the original makes 6 balls of dough and frankly, I don't have a container big enough for that much dough.