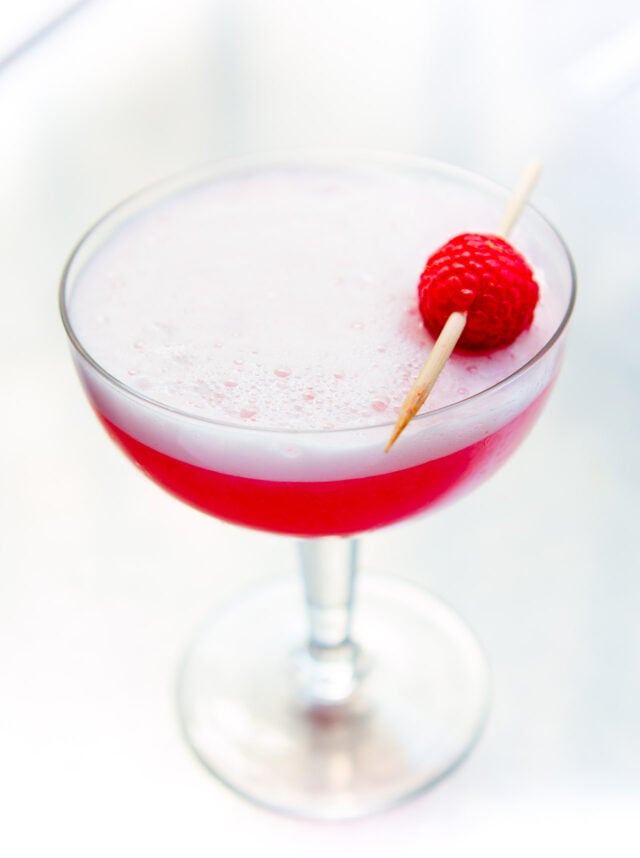 I'll admit to being the kind of guy that likes a pink drink every now and then, but I don't like to admit that I'm the kind of guy that buys raspberries in the winter. Writing cookbooks with deadlines that don't always flow with the seasons, if I need a few cherries in the winter to test a recipe or a few cups of blueberries, I'll resort to frozen or, uh…"fresh" if I really have to get the job done. I used to look down on people that bought out-of-season fruit at the markets or grocery stores, or the ones who inspected every single piece of fruit on offer like it was a rare gem, until I realized they were all recipe developers or food stylists and they were just doing their jobs.
I'll also admit after making this Clover Club cocktail, which has a dash of raspberry syrup added for color and flavor, perked me up this winter. Although vacation is off the table for a while, I felt like I was taking a little trip to somewhere exotic when I took that first ruby-color, raspberry-flavored sip. To be honest, it felt a bit illicit. And I loved it.
Continue Reading Clover Club Cocktail...