Sweet and spicy, festive and fruity, this cranberry pepper jelly makes for a perfect holiday appetizer.
Today I'm sharing a holiday twist on my favorite pepper jelly recipe, adding fresh cranberries for a unique flavor and gorgeous ruby red color. Despite the mix of peppers and cranberries, it's still a pepper jelly first and foremost, rather than a spicy cranberry sauce (let's just clear that up from the getgo).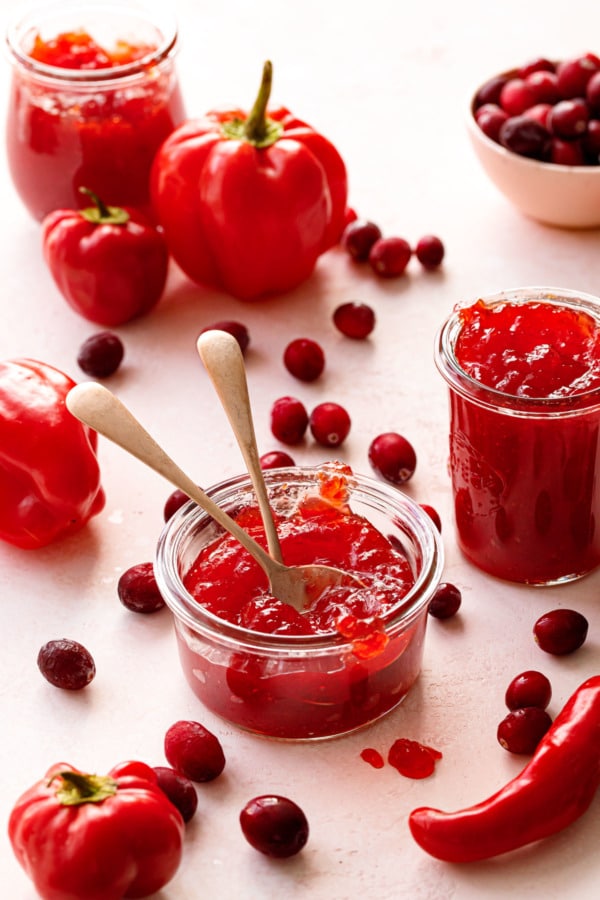 Look, I know I just posted a pepper jelly recipe all of 2 minutes ago (actually, it was 2 months ago, but we all know that in this alternate universe we're living in time has no meaning anymore so…)
The thing is, the peppers just keep on coming. It's mid-November and we're still getting piles of both hot and sweet peppers with our bi-weekly CSA deliveries from Caney Fork Farm. Circumstances have made me extra-conscious about food waste, and that, paired with the fact that I just really don't like peppers very much (so sue me), have led to batch after batch of pepper jelly (which at least has the benefit of being shelf-stable and more easily giftable than the fresh peppers themselves). I've made so much I'm actually running out of jars (oh, the horror!)
This holiday-variation pairs tart cranberries with sweet and spicy red peppers and just a hint of orange zest. I used mainly sweet red peppers, with two red Cayenne peppers thrown in for just a hint of heat (but you can easily customize this recipe to be as spicy as you'd like, as long as the final prepared quantity of peppers is the same, it doesn't matter what proportion of that is hot versus sweet).