Perfection is these soft and chewy sugar cookies stuffed with a dark chocolate ganache and topped with a burst of freeze-dried strawberries.
Love is in the air… love for the timeless combination of chocolate and strawberry, that is! Also, my love of stuffed cookies is seemingly endless (am I the only one that finds a plain, not-stuffed cookie so incredibly boring now?)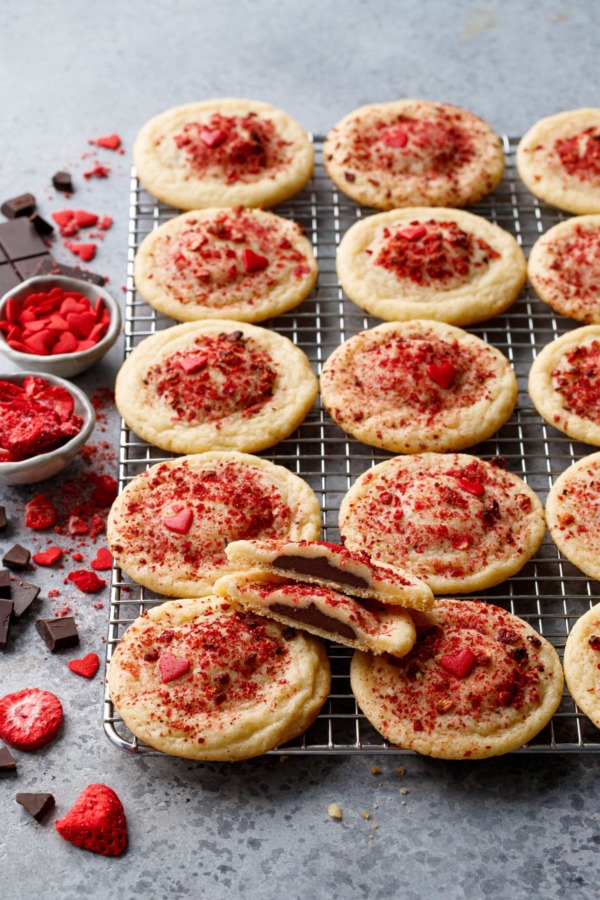 Yes I realize I made the perfect Valentine's day cookies in the middle of summer but, you know what? My love of chocolate and strawberry lasts all year round.
My first test run of these cookies resulted in two versions, one with the ground up freeze-dried strawberries mixed into the dough, and the other with plain dough and a coating of crushed berry powder before baking.
While the strawberry flavor was lovely on both versions, the strawberry-in-the-dough batch turned a not-so-enticing mauve color when baked. Nothing like the pretty pastel pink I envisioned. But such is life when you're using natural colorings.