Well soup de doo, would you look at that luscious black bean soup! Not to mention it's naturally vegetarian and gluten free (vegan too if you skip the dairy-based toppings!)
Starting with dried black beans produces a robust bean stock that is then pureed with the cooked beans, fire-roasted tomatoes, and other aromatics for a thick and creamy soup without the need for additional stock.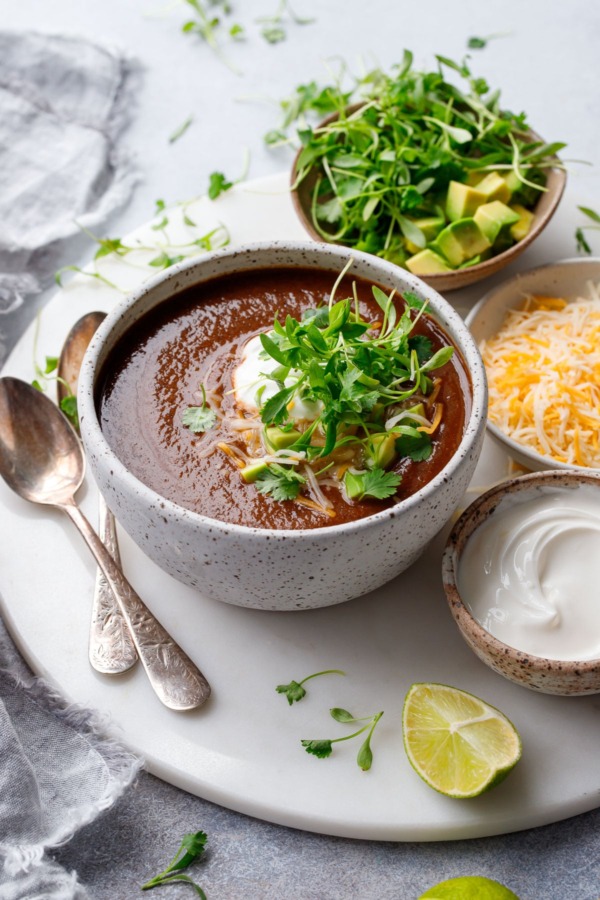 I know, I know, it's still like 800 degrees outside, but that doesn't mean fall isn't on my mind (and fall, of course, means soup). Clearly I don't have an issue with enjoying soup for dinner during the summer months, and this recipe is no exception.
Made using dried black beans, this soup is thick and creamy and super satisfying. All that protein inherent in black beans makes for a hearty and filling soup that's a satisfying meal in its own right.
When topped with melty cheese and sour cream, it could also be called bean dip soup which really describes it perfectly. I love to eat it alongside a bowl of salty corn tortilla chips, adding an element of crunch to the otherwise smooth consistency.