In the last few weeks of pregnancy with Baby N, one of my goals was to fill the deep freeze with meals for after baby arrived. I hoped having a stash of easy-to-prepare meals would make the recovery and transition to motherhood smoother.
After haphazardly throwing together an ingredient list (and making a memorable trip to the grocery store with a very full shopping cart), I spent most of a Saturday in the kitchen prepping meals. Ingredients were tossed into freezer bags to create over a dozen crockpot meals. A soup pot filled with oatmeal boiled away on the stove. The oven ran at a steady 350 degrees for hours. My husband dutifully chopped ten large onions by hand, doing his best to fend off the tears.
It was a production.
With a newly filled freezer, I collapsed on the couch, exhausted but pleased to cross another item off the pre-baby to-do list.
Ironically, a full three and a half months into parenthood, the deep freeze is still full of freezer meals. Although the breakfast sandwiches and oatmeal disappeared quickly, the rest of the thoughtfully prepared meals continue to wait their turn.
Although we hadn't anticipated it, the act of cooking dinner each evening helped to keep us grounded. In our new role as parents—where everything felt new and unknown—we enjoyed the familiar routine of turning on the stove and cooking simple meals.
It was a way to connect our new lives with the old, as we evolved from a family of two into a family of three.
Lately, however, there is increasingly less space for the frozen meals as the freezer space is steadily being replaced with bags of breastmilk. It's time to start enjoying the fruits of our labor.
While reorganizing the freezer last weekend, I was delighted to find a hidden loaf of this Banana Oat Bread buried beneath a bag of Italian chicken and a marinated pork shoulder. Needless to say, it disappeared quickly (nursing hunger is real). Unfortunately for me, there are no more loaves hiding away (I double checked), so I'll have to bake up another one to take its place.
With my free time for baking being limited since going back to work, it would be nice to have a reason to spend an afternoon in the kitchen again. My husband already said he'd take the baby for an afternoon so long as he gets a slice warm from the oven.
I think that's a fair trade, don't you?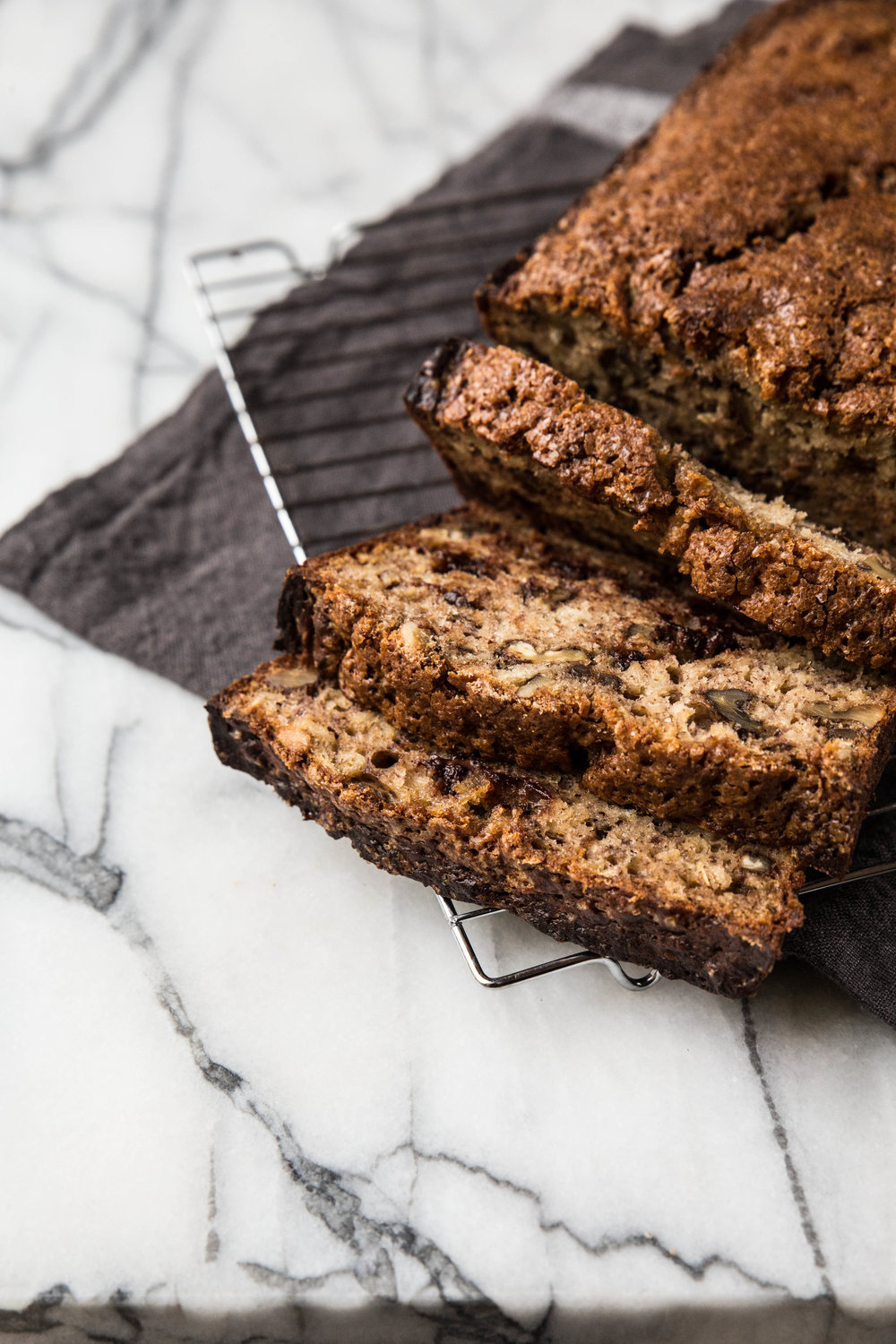 This Banana Oat Bread is simple in construction and customizable to your taste, The bread itself is subtly sweetened with maple syrup, which allows the banana flavor to shine. The addition of oats adds a comforting flavor to the loaf. My preference is to add chocolate chips and chopped walnuts to my loaves, but you can choose your own mix-ins (or forego them completely). While I like to toast each slice and slather it with butter, the bread is equally delicious served at room temperature straight from the pan.
Banana Oat Bread
Yields 5 x 9-inch loaf

4 large ripe bananas, mashed (about 2 cups or 450 grams)
1/2 cup (156 grams) pure maple syrup
1/2 cup (100 grams) vegetable oil
2 large eggs
2 teaspoons vanilla extract
1 teaspoon ground cinnamon
1/2 teaspoon ground nutmeg
1 teaspoon baking powder
1/2 teaspoon baking soda
1/2 teaspoon salt
1 1/3 cups (160 grams) all-purpose flour
1 cup (80 grams) old fashioned oats
1 cup (113 grams) chopped walnuts (optional)
2/3 cup (113 grams) chocolate chips (optional)
1 tablespoon raw or demerara sugar, for topping (optional)
Preheat oven to 350 degrees F (180 degrees C). Grease a 5 x 9-inch loaf pan. Set aside.
In a large mixing bowl, whisk together mashed bananas, maple syrup, vegetable oil, eggs, and vanilla extract until uniform. Whisk in the cinnamon, nutmeg, baking powder, baking soda, and salt. Gradually stir in the flour and oats. Fold in the chopped walnuts and chocolate chips. Set aside.
Pour batter into prepared pan and smooth until level. Sprinkle raw sugar evenly over the top. Bake for 55-65 minutes, or until a toothpick inserted in the center comes out clean. Cool in pan for 10 minutes before removing and placing on a cooling rack to cool completely.