A typically sweet breakfast favorite gets a savory makeover: with salty chorizo and shredded manchego cheese, topped with a bright and lemony lettuces.
Dutch babies are as fun to make as they are delicious to eat, puffing up in the oven to form mountainous folds of egg, flour and flavor. Whether you go sweet or savory, they are bound to make an impression.
This recipe was created in partnership with Lodge®, makers of our favorite cast-iron cookware manufactured right here in Tennessee!
I've said it before and I'll say it again: German pancakes are one of my all-time favorite brunch recipes. I could easily polish off the entire thing by myself (though I usually resign myself to share with Taylor because I'm a good wife like that).
Normally I smother mine with powdered sugar and maple syrup. But, I got to thinking… what if we took it in a more savory direction?
Going savory isn't hard to do with this versatile recipe: just remove the vanilla extract and replace it with whatever savory seasonings, mix-ins and toppings you desire.
We tried out a few flavor variations, including an everything bagel-inspired pancake topped with smoked salmon and creme friache. Tasty? Very. But this Spanish-inspired variation, with crispy bits of salty cured chorizo sausage and melty, crispy-around-the-edges Manchego cheese, ultimately won us over.
We topped our extra meaty and ultra cheesy creation with a pile of spicy baby greens, that, when tossed with a splash of olive oil and lemon juice, cuts the fatty richness of the cheese and sausage perfectly.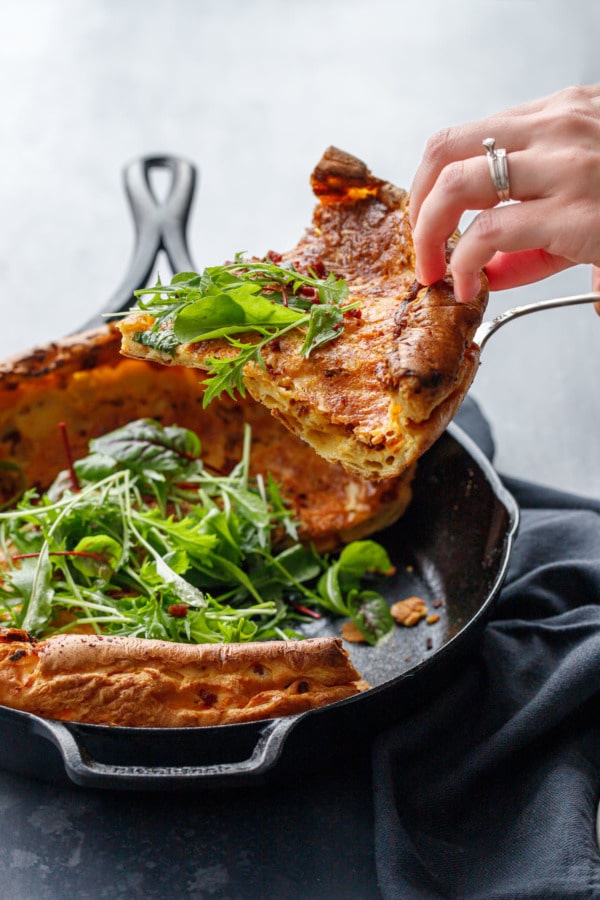 German pancake and Dutch baby are two names for the same thing, though one is usually made in a casserole dish and the other in a smaller skillet.
I've always called them German pancakes, which I attribute to some twisted telephone translation of Dutch baby (Dutch = Deutsch = German, or something along those lines.) Some attribute the origins of this to the German Pfannkuchen, which could be where it gets its name, though I can't really see the resemblance beyond the egg and flour. As it turns out, this recipe is entirely an American invention, more similar to a super-sized popover or Yorkshire pudding than anything German or Dutch. Go figure.
Whatever you call it, there's no denying these mountainous, super-sized pancakes are downright delicious.