This one pot farro recipe is slow-simmered with Italian sausage, cherry tomatoes, herbs, greens and finished with a sprinkling of pine nuts and Parmesan. Impressively easy to make and SO delicious.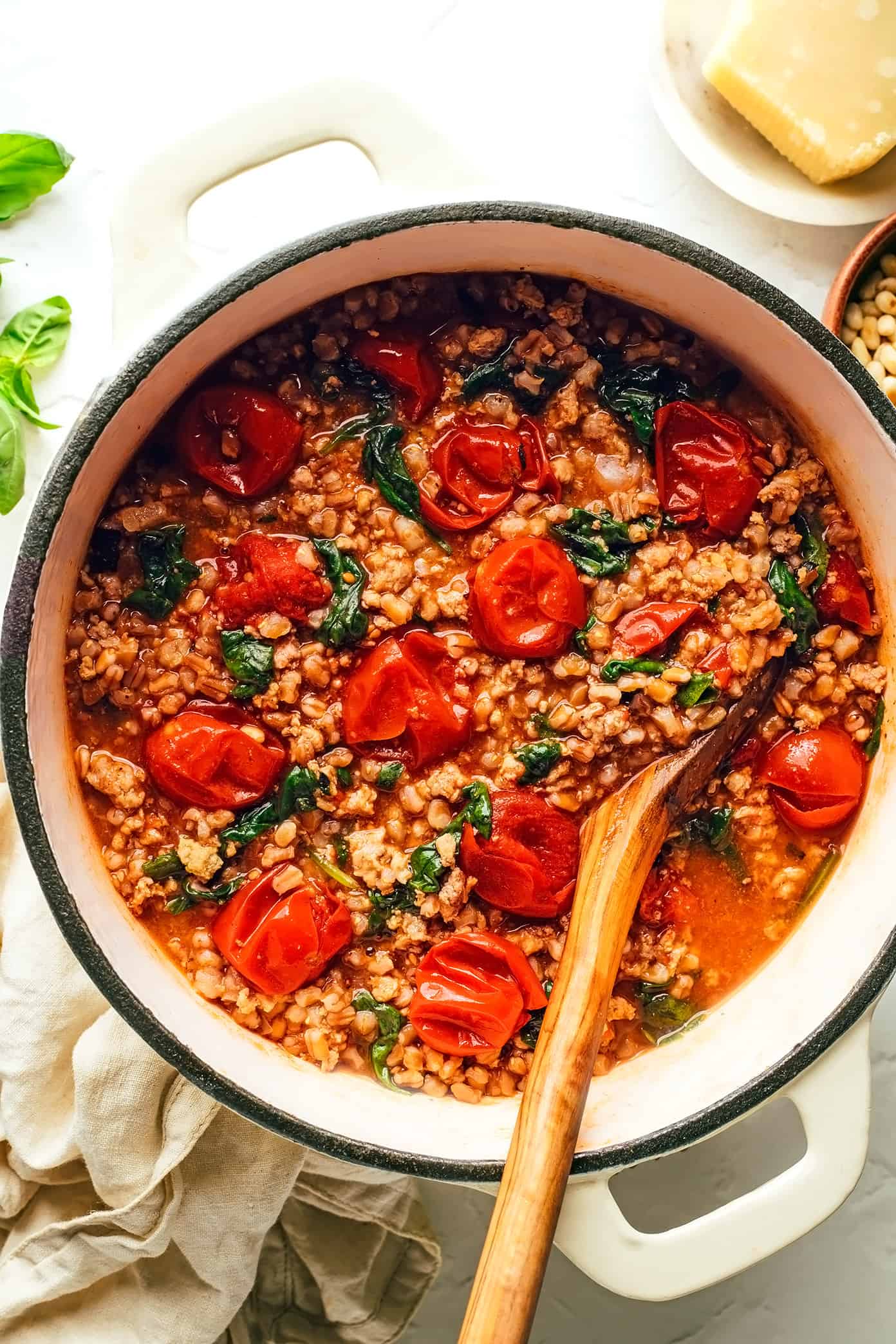 Run, don't walk, to grab the ingredients for this one. ♡
I fully give all of the credit here to Smitten Kitchen, whose famous one pot farro with tomatoes is the brilliant base for this recipe and has been a family favorite in our kitchen for many years now. Over time, though, we've found ourselves gussying up this side dish to turn it into more of an entrée, adding in lots of zesty Italian sausage (either traditional or plant-based, both work!), a few handfuls of greens (either baby spinach or kale), extra flavor boosters (veggie stock and more fresh basil), and a sprinkling of toasted pine nuts (for buttery flavor and crunch). And especially this time of year when juicy cherry tomatoes are in peak season, we find ourselves craving this farro nonstop. It's just the best!
It's incredibly cozy and flavorful and hearty, without feeling too heavy. It's wonderfully hands-off once you have browned the sausage, since the farro and tomatoes will simmer together until perfectly tender. It's super-easy to customize with any of your other favorite add-ins (hello, extra veggies that are hanging out in the crisper drawer, maybe a can of beans for extra protein, or a drizzle of cream for an indulgent finish…you name it). And of course, who can complain about just one pot to wash?!
Let's make some farro!