A classic eggs Benedict with a Jewish twist: a crispy potato latke topped with smoked salmon and a jammy poached egg, all smothered in a rich and creamy hollandaise.
Latkes are one of my favorite foods, so I'm going to grab any opportunity I can to eat them. Including this jaw-dropping brunch recipe, where the crispy latkes take the place of the traditional English muffin in a classic eggs Benedict.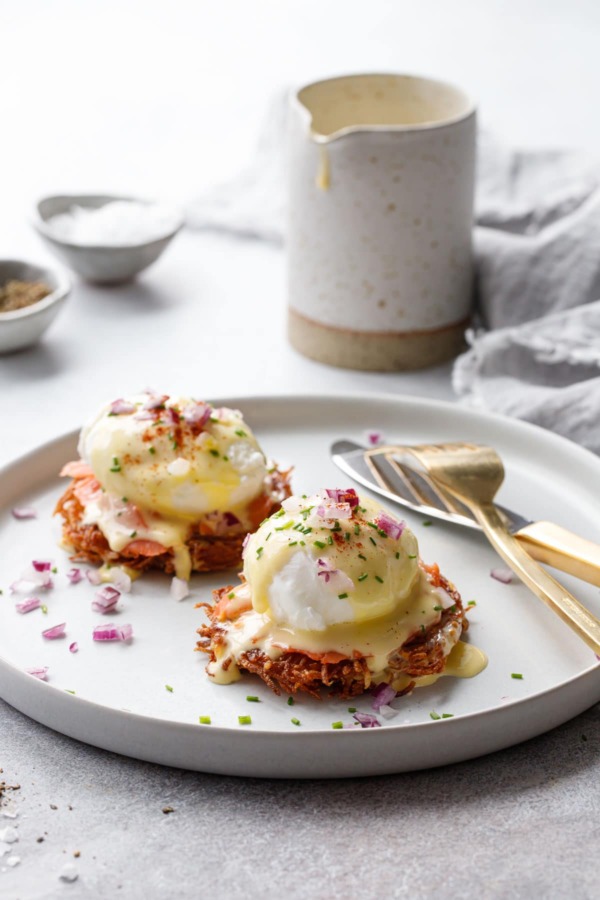 One of my most memorable meals of 2021 was a weekday brunch back in June (you know, back when things were looking up. Was it memorable because it was one of the 2 times we actually ate inside a restaurant the entire year? It's definitely possible, although I really think this meal would've stood out even if we'd been eating out weekly.) Anyway. Back in June, we decided to treated ourselves to our first meal out in over a year: a nice leisurely brunch on a Tuesday morning when we were practically the only patrons in the place.
The newly-opened restaurant, called Shep's, took over the location of one of our favorite brunch spots that closed last year. The place is billed as a Jewish delicatessen, which I was obviously excited about because I could seriously eat latkes all year round and the prospect of someone else making them was too good to be true.