Peach and bourbon come together in this delightfully tipsy drunken peach jam. With ripe summer peaches, a splash of lemon juice and more than a splash of bourbon, this might just be your new summer jam.
Homemade jam is a perfect way to preserve the best of summer peaches to enjoy throughout the year. I mean, what's better than a spoonful of sunshine in the dead of winter? How about a boozy spoonful of sunshine (indeed!)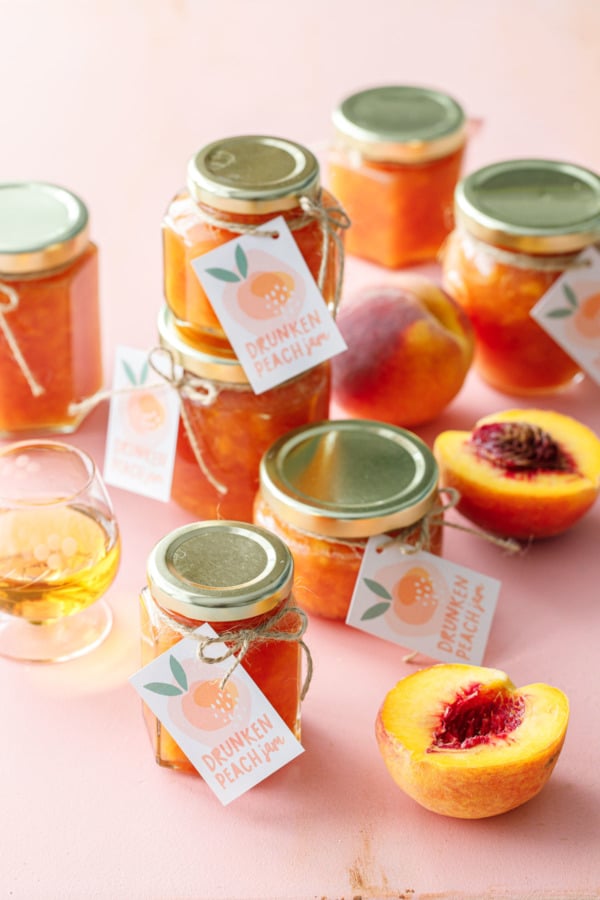 Peach season is far too short, if you ask me.
May is really too early, even if you see peaches starting to pop up at the markets they are usually not the best, having been picked prematurely.
June is when the peaches really start to shine, and by July, when the heat of summer has infused the fruit with liquid sunshine and sugar, well, that's your cue to eat all the peaches your stomach can handle.
But for the rest… the extra peaches sitting on the countertop, starting to soften and wrinkle… why not turn those peaches into homemade jam so you can enjoy them all year round?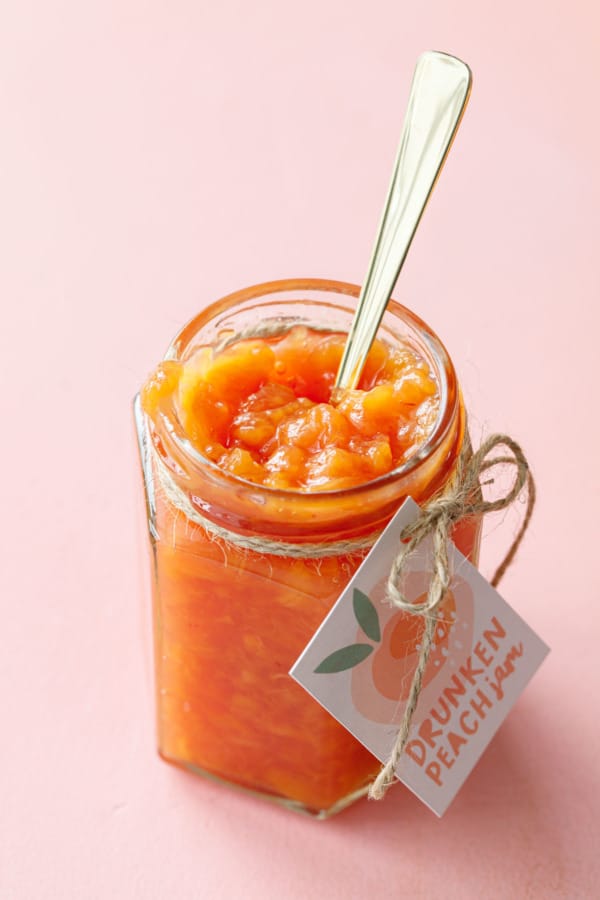 I really haven't felt like making much jam lately. Let's just say I'm all jammed out. Which, if you count just how many jars of jam I've made over the past few years, sort of makes sense.
But… when faced with a giant box of seconds peaches, ripe and juicy and just begging to be used, I simply couldn't resist getting out my canning pot, gathering a mishmash of random leftover jars, and diving right in to a big bubbling batch of this beautiful boozy jam.
Seconds are a great option if you're willing to accept a few bumps and bruises. But for jam, since you're peeling and processing the fruit anyway, it's really not a problem (just cut out any bruised areas and make sure the fruit hasn't gone rotten, otherwise it doesn't matter what the peach looks like as long as it's ripe and juicy!)