Gooey, chewy, and naturally dairy free, these olive oil rice crispy treats use extra virgin olive oil in place of the typical butter.
This twist on a classic is just as easy as the original, it simply replaces the butter with extra virgin olive oil. You get a hint of that lovely olive oil flavor in the final product, plus a touch of sea salt to really make the flavors sing.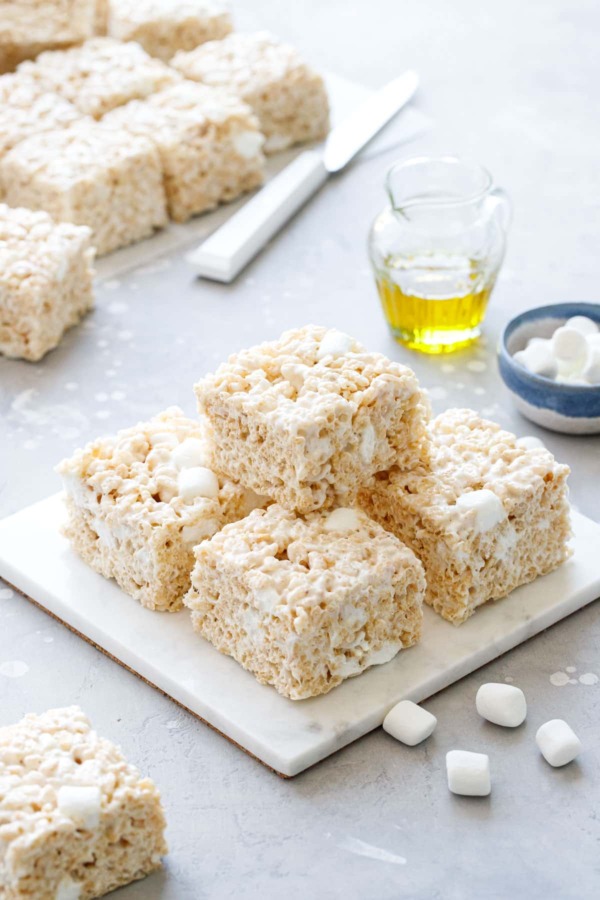 Another recipe from the archives that deserved a makeover. This one first published back in 2012 when I celebrated the blog's 5th birthday with a lime green extravaganza. I had an equally fun party for #10, but alas, with things as they were last year I neglected to celebrate year 15 as I rightfully should have. Maybe we'll need to have a extra sweet sixteen celebration this February?
Anyway. The original olive oil rice krispies treat recipe is basically the recipe on the mini marshmallow bag, simply swapping the butter for olive oil and adding a pinch of sea salt.
The updated recipe, on the other hand, is thicker, softer, and with a few whole marshmallows folded in at the end for good measure.