Soft and chewy and ready to party, these birthday cake amaretti cookies are studded with rainbow sprinkles and flavored with almond and cake batter extract.
Rainbow sprinkles make everything better, and my popular amaretti cookies are no exception! With pops of bright color peeking through the sugary cracks, and a nostalgic cake batter flavor with a hint of almond, there's no denying these confetti amaretti are little bites of fun!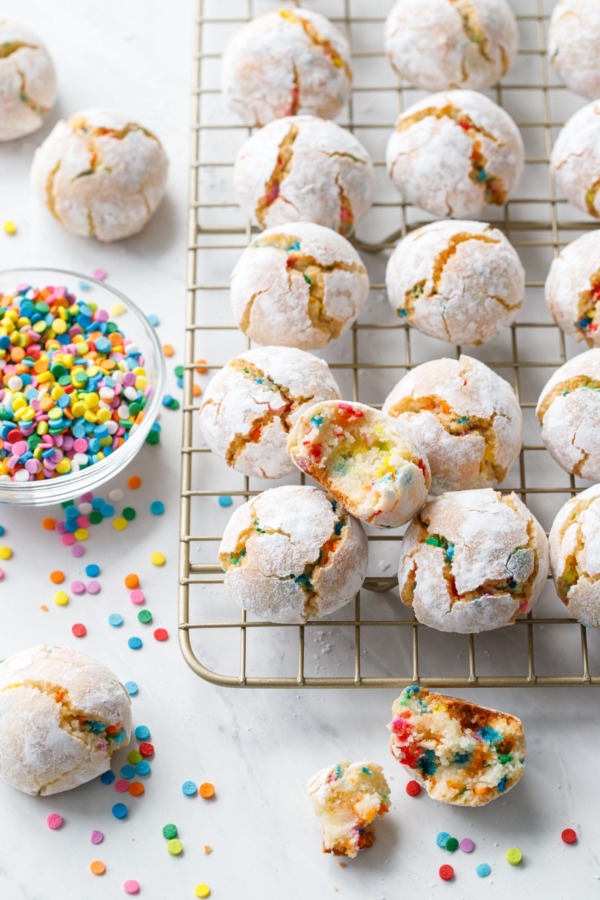 With the half dozen different amaretti flavors I've posted so far, I'm actually kind of shocked I didn't think of this sooner. Especially considering my obsession with wordplay and recipe names (funfetti fours, strawciatella, cookies 'n cream puffs, the list goes on. I often name a recipe before I develop it for this very reason.)
I mean, if there was any cookie more destined for a funfetti/confetti adaptation, it's amaretti. Funfetti amaretti. Confetti amaretti. Spaghetti amaretti? (Ok, nix that last one).
It's virtually impossible to look at these cookies and not feel just a little bit better about the world.